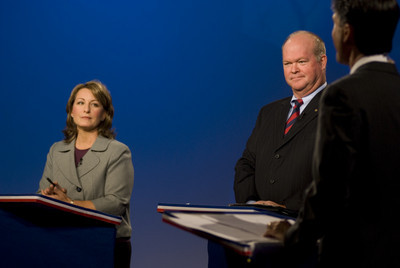 Democratic state Senate candidate Allison Copening used to have an A rating from the National Rifle Association. Not anymore.
The pro-gun lobby lowered its grade to B last week after learning that Copening agrees with the slew of independent ads on her behalf that slam her opponent, incumbent Republican Bob Beers, for his proposal to allow grade-school teachers to carry weapons.
Carrie Herbertson, the NRA's state liaison, said local members wanted to know why Copening deserved an A given all those Democratic Party-sponsored television and mail advertisements.
The A was based on Copening's answers to the NRA's candidate questionnaire, which the association keeps confidential but which included a question about guns on campuses. Though the question specified universities, the association believes it should also apply to grades K-12, Herbertson said.
"One of our big issues is allowing concealed carry on university campuses," Herbertson said. "If you're a trained concealed-carry permit holder, you should be able to carry everywhere. Safety is safety, and if anything, our younger kids are more vulnerable."
Beers, who in 2007 sponsored the gun bill in question, has an A+ rating from the NRA and the group's endorsement. The Democrats' ads call him dangerous for wanting to "allow kindergarten teachers to carry loaded weapons in the classroom."
Herbertson talked to Copening to give her a chance to explain herself and was "disappointed" with her answers.
"Obviously she did not put the ad out, but she did not repudiate it, and if you are not repudiating it, you're endorsing it," Herbertson said.
Copening said she agrees with the NRA that adults who have concealed weapon permits should be able to take guns onto university campuses, but "there's a vast difference between that and a situation with children. I respect the NRA and their members, but at the very core of my being, I don't believe there should be guns in elementary school classrooms."
FROM GUNS TO COPS
Anyone attempting to referee that state Senate race between Beers and Copening would have tired arms and a worn-out whistle by now. Another dispute centers on whether Beers can claim to be supported by law enforcement.
A recent mailer to some Beers constituents stamps a "FALSE" legend on one of Beers' own mailers and says, "Senator Beers would like you to believe he has the support of the men and women who put their lives on the line everyday to keep our community safe. But it is simply not true." The pro-Copening flier is from the Southern Nevada Conference of Police and Sheriffs, or SNCOPS, an umbrella organization of Clark County law enforcement.
The mailer tagged with the "FALSE" stamp features Beers and the badge logo of the Peace Officers Research Association of Nevada, or PORAN.
Another Beers mailer contends, "In the race for state Senate District 6, law enforcement is split. Peace officers endorse state Senator Bob Beers. Unions endorse PR spokeswoman Allison Copening."
Beers does indeed have PORAN's endorsement, but David Kallas, president of SNCOPS, said he is making too much of it.
"He has an endorsement from PORAN, a Northern Nevada group, none of whose officers work in or live in our community," Kallas said. The "peace officers" of the group's title, he said, include fish and game wardens, cattle brand inspectors and gaming control board agents, but not police officers.
"He does not have the support of a single police organization in Clark County for one reason, and that's that he does not support us," Kallas said.
Beers' crusade against public employee salaries has long drawn the ire of police and other government unions.
Beers said he sees a distinction between police associations that are concerned mainly with salaries, which he sees as essentially labor unions, and those that are "concerned about policy issues."
PORAN, he said, includes many enforcement agencies that "function statewide," and he considers them police. "They carry badges and guns," he said. "They're post certified. To say no police support me is silly."
NO JUSTICE FOR ENSIGN
He may be a member of the same political party, but Sen. John Ensign of Nevada didn't mince words last week about what he thinks of President Bush's Department of Justice.
During an appearance Tuesday at the National Press Club, Ensign lambasted the department's handling of its case against Sen. Ted Stevens, R-Alaska, who is charged with lying on Senate financial disclosure statements to hide $250,000 in home renovations and other gifts.
Stevens is in a tight race for re-election. Ensign is chairman of the National Republican Senatorial Committee, and his job is to save Stevens' seat.
"They've had this evidence way ahead of time and to wait, and to have this happen right during the election when there's really no time to defend yourself — I thought it was pretty outrageous for our Justice Department to do that," Ensign said.
Ensign also said the department waited until the last day it could to press charges against Stevens, "and I thought that that was pretty unfair."
This is not the first time Ensign has lashed out against the Justice Department.
Last year, the senator charged the department "completely mishandled" the dismissal of Daniel Bogden, who was one of seven U.S. attorneys fired in a controversial move that led to the resignation of Attorney General Alberto Gonzales.
OF PORK AND PLUNGERS
It is what they call the silly season in politics, and the campaign of Republican presidential nominee John McCain has cornered the market.
Today, the campaign is scheduled to hold an "Iron Chef Nevada" competition. Unlike the television show, the two competing chefs, a couple of campaign staffers, know the secret ingredient in advance: It's pork, satirizing Democrat Barack Obama's record on pork-barrel spending.
Over the past few weeks, the campaign has handed out tire gauges at gas stations labeled "Obama's Energy Plan," ridiculing the Democrat's suggestion that monitoring tire pressure could save just as much gas as the United States could potentially get from offshore drilling.
It has held barbecues with 94-cent hot dogs (in honor of Obama's 94 votes for higher taxes) and $1.30 hot dogs (mocking his nearly 130 "present" votes in the Illinois state Senate).
And lest you forget that Obama's running mate, Joe Biden, once said he thought it was "patriotic" for rich people to pay more taxes, the hot dog and hamburger prices were augmented with a "non-optional Biden patriot tax."
McCain campaign spokesman Rick Gorka said, "You try to have as much fun as possible while conveying a serious message. When you get a serious message out there in a tongue-in-cheek manner, that allows it to be more memorable."
The Obama campaign held a "Carve for Change" pumpkin-carving event last week, but that's whimsical, not sardonic.
Obama spokeswoman Kirsten Searer said that there's nothing wrong with lightening things up sometimes, but that the McCain camp's stunts reflected a desperate campaign.
Gorka denied that stunts cheapen the political discourse. "We spend a lot of time talking about serious issues," he said. "This is a way to have a little fun."
If you're interested, the Iron Chef contest is at 6 p.m. today at the campaign's headquarters in Henderson. It's at 8935 S. Pecos Road., near the intersection with Interstate 215.
Stephens Washington Bureau writer Tony Batt contributed to this report. Contact reporter Molly Ball at mball @reviewjournal.com or 702-387-2919.