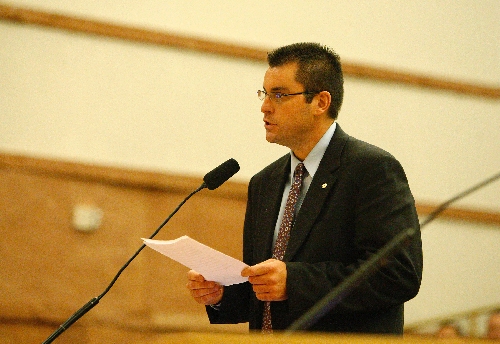 Clark County officials are keeping mum about the results of a study they're poised to release on firefighter overtime.
Yet the results aren't expected to be a surprise. Instead, they're expected to reflect what county finance officials have been saying all along:
Paying firefighters overtime is cheaper than hiring more firefighters.
Still, to date county officials have favored hiring more firefighters, perhaps because of public outrage over firefighter salaries and overtime. They won't reveal details of the study, which is being fine-tuned and won't be released for a few weeks.
Overtime is worth 1.5 times regular pay. Hiring new firefighters, whose benefits are worth 1.55 times regular pay, is a small price to pay to reduce overtime costs, a county source said.
During a 2010 arbitration proceeding over a contract dispute with the firefighters union, George Stevens, the county's chief financial officer, acknowledged it's cheaper for the county to pay overtime in the Fire Department than it is to hire new employees.
This year, the county will spend an estimated $8 million out of the general fund on overtime and callback pay, which is overtime and an additional retirement account contribution. A firefighter receives callback pay for returning to work sooner than 12 hours after finishing a shift. That number, which fell from $18 million in 2008 to $10 million in 2011, is expected to decline further to about
$5 million next year.
Thirty-five firefighters were hired since January, and still more could be hired this year, a county source said.
Ryan Beaman, president of the International Association of Firefighters Local 1908, blamed increased overtime costs on county officials, who are charged with staffing the department. He pointed to 40 positions among three newer fire stations in CityCenter and elsewhere that were filled by employees working overtime. Some of their equipment had been shut down to cut costs.
"We don't have the right to staff," Beaman said. "It's all on the county. We shouldn't get blamed for it as the union. … We've always said if you want to reduce overtime, hire more people."
Overtime pay was included in an internal county investigation into allegations of sick leave abuse by some Fire Department employees. In 2010, overtime helped push county firefighters' average pay to $130,000 and battalion chiefs' to $183,000.
"For a little bit more money, we can bring overtime down significantly," the county source said.
Firefighters' sick leave can be costly because the tight staffing often requires those who fill in for absent co-workers to be paid overtime and usually for 24 hours.
Sick leave fell 57,000 hours in the two years county officials began questioning whether some were abusing the system in 2009. According to the most recent annual employee compensation report, the average salary and benefits for firefighters fell to $175,000 in fiscal year 2011, from $189,000 in fiscal year 2010.
The county hired Jeremy Aguero, principal analyst with Applied Analysis, to research the past few years of staffing history and vacancy rates and to determine the optimal staffing rate to limit overtime and make the department cost effective. The county paid less than $50,000 for the study.
Aguero confirmed Monday he is looking into how changes in Fire Department staffing levels will affect overtime in the county but declined to comment further, citing company policy regarding ongoing projects.
To save more money, county and Fire Department officials reached a tentative three-year contract last week expected to save the county about $60 million over 25 years.
The deal eliminates longevity pay for new hires and freezes cost-of-living adjustments for the first two years with the option of allowing either party to renegotiate the third year.
Union members are scheduled to vote on the agreement April 10-12. The County Commission is expected to ratify the agreement at its April 17 meeting.
Contact reporter Kristi Jourdan at kjourdan@reviewjournal.com or 702-455-4519.