Cruz delivers speech to influential Republican Jewish Coalition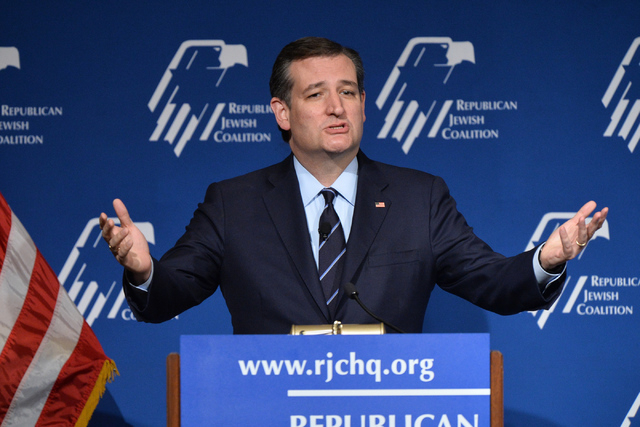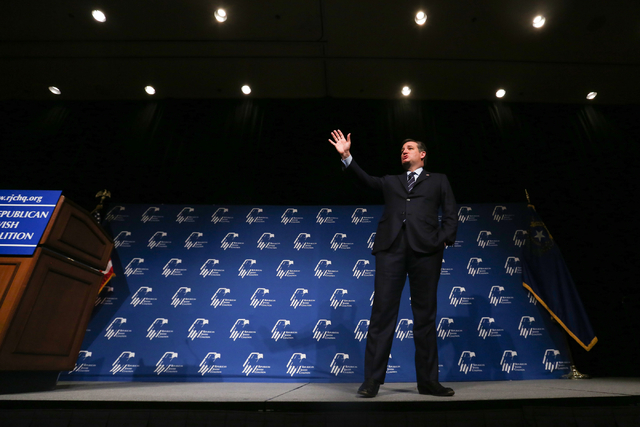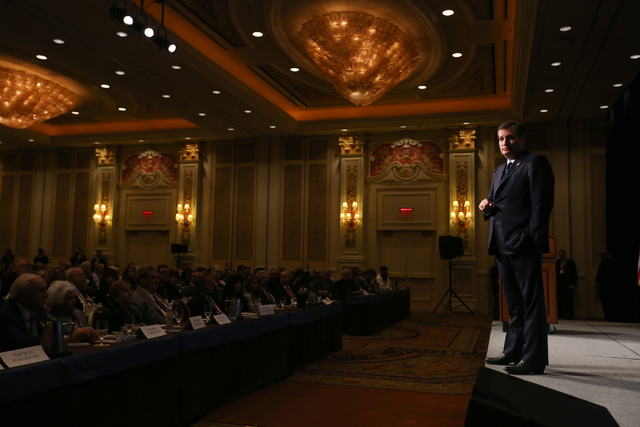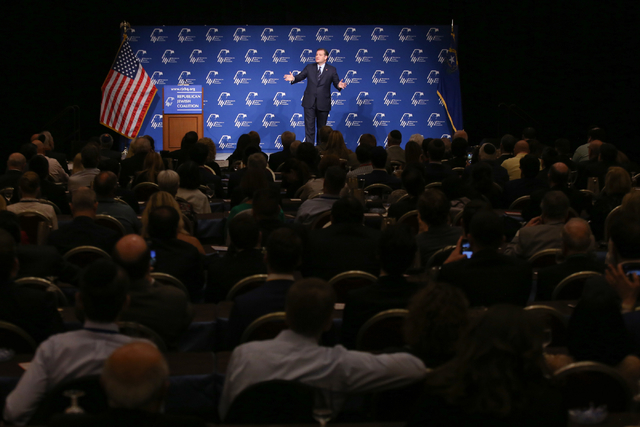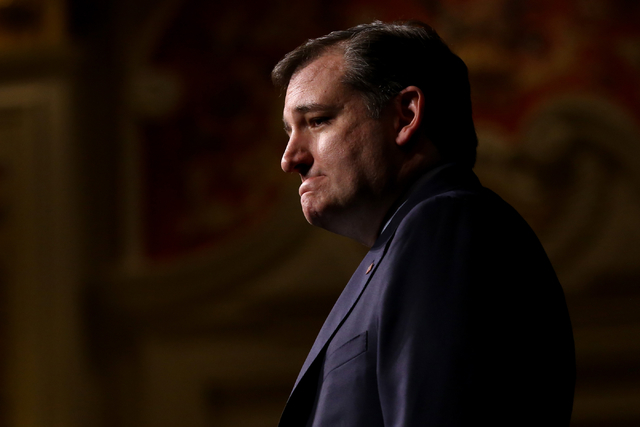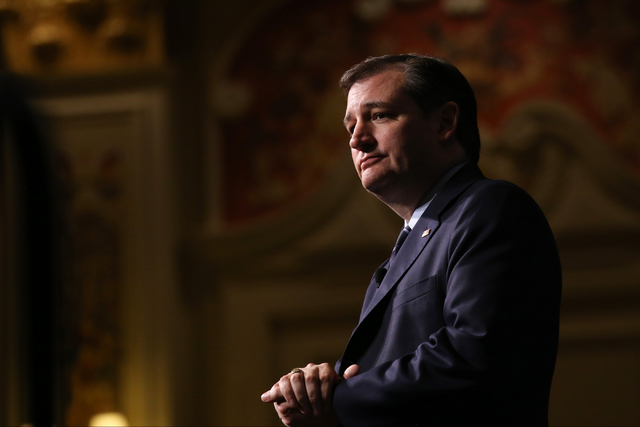 Republican presidential hopeful Ted Cruz made a stop in Las Vegas this weekend to garner the support of an influential Jewish group.
After a weather delay, the Texas senator spoke Saturday evening at the Republican Jewish Coalition's Spring Leadership meeting. The other remaining candidates, businessman Donald Trump and Ohio Gov. John Kasich, were invited but did not attend the meeting at The Venetian. Pro-Cruz Super PACs, which operate independently of candidates, were set up inside The Venetian to take donations.
Speaking to a friendly audience of more than 500 people, Cruz took advantage of his rivals' absence, criticizing Trump for saying in February that he would be neutral regarding the Israeli-Palestinian conflict. Audience members booed the businessman.
"As president, I will not be neutral," Cruz said, drawing applause from the crowd.
After pledging to move the U.S. embassy in Israel from Tel Aviv to Jerusalem if elected president, Cruz received a standing ovation.
In other remarks, Cruz said that job creation comes from small businesses and vowed to cut through bureaucratic regulations that are "hammering the living daylights out of small businesses."
Cruz also repeated his campaign promises to repeal Obamacare and abolish the IRS.
Only the Saturday evening speech was open to media, but others slated to speak during the three-day event ending today were Wisconsin Gov. Scott Walker, Texas Gov. Greg Abbott and Florida Gov. Rick Scott.
The meeting has been called the "Sheldon Adelson primary" because of RJC board member and billionaire casino magnate Sheldon Adelson who has heavily bankrolled candidates in the past. Adelson, who is chairman of Las Vegas Sands Corp, which owns The Venetian and other properties, was not present for Cruz's speech.
In November, Adelson gave individual contributions of $2,700 to the Cruz and Jeb Bush campaigns but has yet to endorse a candidate. In 2012, Adelson gave more than $90 million to Republican candidates including Newt Gingrich and Mitt Romney.
Cruz said the race for the GOP nominee started with a "talented" and "diverse" field and that his campaign welcomed "everybody who supported somebody else."
Corey Breier, a member of the Republican Party of Miami-Dade County, said he liked Cruz's speech, particularly his stance on Israel and national security.
Breier, who previously supported Marco Rubio said he was not yet ready to commit to Cruz, but that he would support whoever wins the Republican nomination.
Massachusetts physicians Stuart and Illeana Berman, who also saw the speech, said they were "at that 80 percent threshold" regarding Cruz's positions. Stuart Berman said they agreed with his ideas for the economy and national defense but that the Texas senator was "a little right of us" on social issues.
Citing his winning of delegate majorities last week in Wisconsin and Colorado, Cruz painted himself as a candidate on the rise, who could win easily a contested convention.
After earlier referencing polls showing a majority of Republicans disliked Trump, Cruz was asked by an audience member how he would unite the chunk that does support the New York businessman.
Cruz responded that Trump supporters are angry at both political parties because they feel lied to. He noted that he's not exactly "beloved" in Washington, D.C. "In terms of earning the support of those voters, that is very important," he said.
Cruz also spoke at the event last year, receiving standing ovations for his remarks condemning Secretary of State John Kerry who predicted an "apartheid situation" for Israel and Palestine if a two-state solution was not reached.
The Review-Journal is owned by the family of Las Vegas Sands Chairman and CEO Sheldon Adelson.
Contact Alexander S. Corey at acorey@reviewjournal.com or 702-383-0270. Find him on Twitter: @acoreynews