CSN Spanish Club addresses need for bilingual grads
December 9, 2013 - 9:08 pm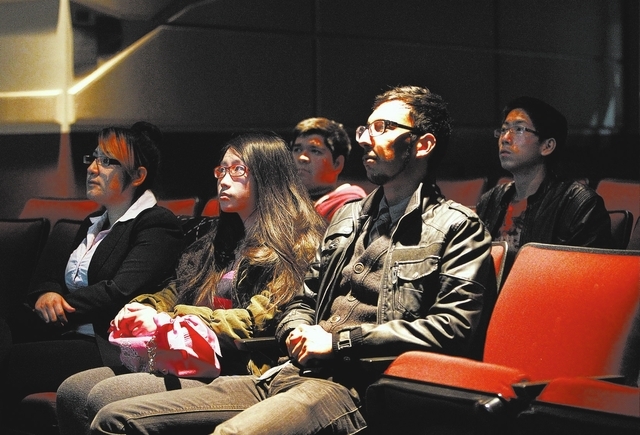 Will Spanish ever become America's official second language?
Some College of Southern Nevada students think it could. They say the United States is falling behind other countries, where people are multilingual. The United States needs to prepare for a majority-minority future that already has arrived, they said.
"That's how I see it," said Michelle Mendez-Yela, 19, who acknowledged the topic can be controversial and is part of reviving CSN's Spanish Club. "Maybe it will or maybe it won't."
For the first time, ethnic and racial minorities make up about half of the nation's under-5 age group, according to U.S. Census Bureau statistics released in June.
Census figures also showed Hispanics remain the nation's second-largest ethnic group.
"Spanish has become one of those things that has to be in your survival tool kit," Mendez-Yela said last week.
Business and companies are looking to hire bilingual employees, with the main second language being Spanish, she said.
Mendez-Yela, who is studying health information technology, is one of more than 30 CSN students spreading that word as they work to expand a Spanish Club that faded away about five years ago.
Members want to make the club more official this time. They received approval in November from the student government to form the club. They are working to increase membership.
"We are going to be active in the community," said student Monica Barney, 32. "Now we are here to stay."
The push to resurrect the club comes as CSN plans to apply for the federal designation of Hispanic-Serving Institution next fall.
Deborah VanDamme, a Spanish instructor at CSN and adviser for the club, said she heard about the old club when she arrived at the college this fall. She thought it would be a good idea to bring it back, especially given the large Hispanic population at CSN's Cheyenne campus, which most student members attend.
CSN's preliminary enrollment figures for fall 2013 show Hispanics account for 25.92 percent of students, according to Nevada System of Higher Education calculations
VanDamme said the club is for all students. They just need to have an interest in Hispanic cultures. Club members also will be involved in community service and helping nonprofit organizations, VanDamme said.
"It's vital for people in the community to be knowledgeable about the Latino community," she said. "It's always been here."
The club began to meet once a week in November, and members converse in Spanish for about 20 minutes. Members come from various ethnic backgrounds, and they don't all speak fluent Spanish. But they want to learn.
"The limit of your words is the limit of your language," said student Vivien Wu, 20, president of the club, who is studying hospitality management.
Student Danny Boxley, 25, studying Spanish, said he joined the club because he is interested in the language. Also, his girlfriend Spanish.
"I definitely think it will help," he said.
Nevada's Hispanic population was 27.1 percent in 2011, according to the U.S. Census Bureau. In Clark County, Hispanics accounted for 29.7 percent of the population.
Those interested in joining the club can call 702-651-4104.
Reporter Yesenia Amaro can be reached at 702-383-0440, or yamaro@reviewjournal.com.