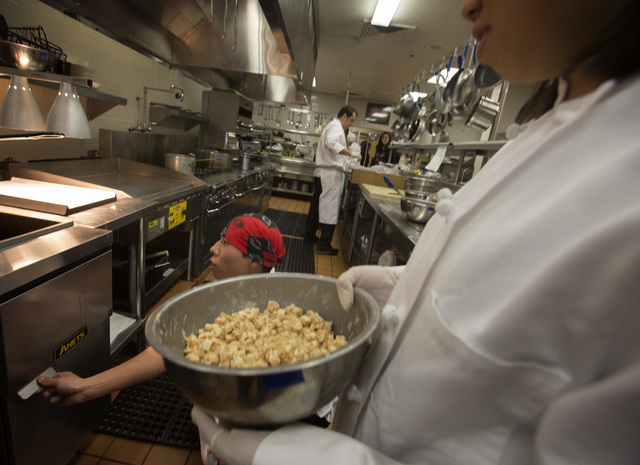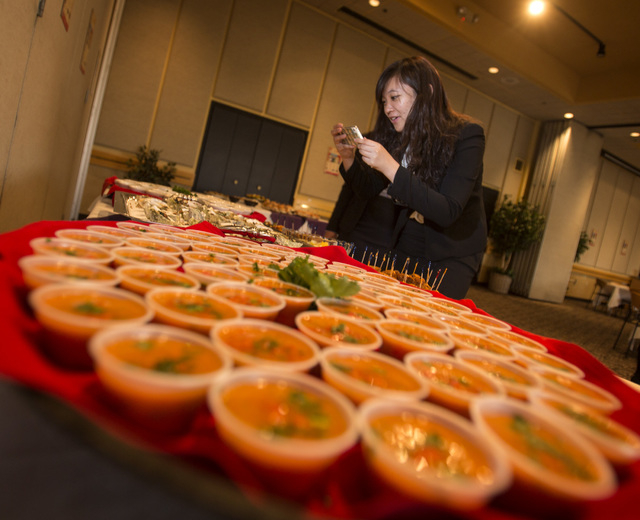 UNLVino isn't just about wine.
"It's becoming a food and wine festival," UNLVino director Mohsen Azizsoltani said. "We want to cater to everyone, not just wine lovers — the beer lovers, the spirit lovers."
Thursday, UNLVino student managers tested their menu for the Grand Tasting at Cleveland Clinic Lou Ruvo Center for Brain Health.
Student chefs zipped between stations, rolling pizza dough, prepping shrimp cocktails and slicing fruit.
Oysters Rockefeller, white fish ceviche, pulled pork sliders, chicken satay, ahi poke and fried mac and cheese were among a few dozen menu items that were narrowed down from 400.
Twenty-four UNLVino student managers plan the event, from menu to event management to marketing. The culinary team secures food donations and prepares the dishes. The events team recruits hundreds of volunteers, and the marketing team sells tickets and spreads the word.
The event is staged with Southern Wine &Spirits. Eric Davison, wine analyst with Southern Wine &Spirits, was there Thursday to teach students about wine, from opening a bottle to detecting ingredients.
It is the second year the students have created their menus first before seeking food donations from companies such as Get Fresh, Cisco and Supreme Lobster. In years past, students would design their menus around whatever food was donated.
"I wanted to help students create a menu, and I think we've really upped the game," said culinary director Mark Sandoval, who instituted the change. Sandoval is the executive chef at Wolfgang Puck's Postrio at The Venetian. "We want to outdo ourselves and make it really, really special."
This year, UNLVino is marking its 40th anniversary.
Founders Larry Ruvo and Jerry Vallen will be celebrated at the Grand Tasting. Ruvo is Southern Wine &Spirits' senior managing director, and Jerry Vallen is dean emeritus of UNLV's hotel college.
The Lou Ruvo Center is named after Larry Ruvo's father.
Azizsoltani said the goal of UNLVino is to teach students how to manage large events and teach the public how to make better choices in beverages.
Proceeds from the festival fund scholarships for hotel administration students. Last year, the event raised about $100,000.
"To be able to give back is a big thing," UNLVino volunteer and scholarship recipient Cheyenne Vallette said. "I know what a difference it makes in people's lives."
Learning and gaining experience is central to the event, said senior hospitality management major Lewis Kary, who works on the culinary and marketing teams.
"I think everyone who walks in the door deserves to be treated the same regardless of how much money they spend," Kary said. "That's what I believe, and that's what the school teaches us."
Contact reporter Kristy Totten at ktotten@reviewjournal.com or 702-477-3809. Follow @kristy_tea on Twitter.