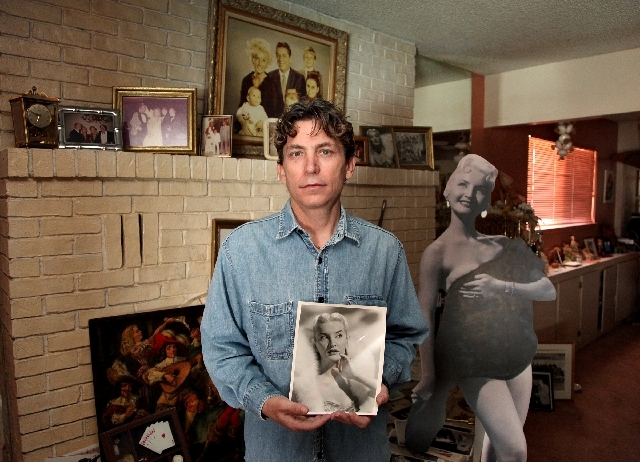 The Strip restaurant was crowded, but even from across the room it was easy to see the Vegas power couple was fighting again.
She was a reformed chip hustler with a showgirl's figure and a budding drug habit. He was an arrogant numbers genius who ran the gambling joint and secretly reported to the Chicago Outfit.
When their argument boiled over and they started to leave the restaurant, they interrupted the dinner of a striking older woman who expressed her disdain without saying a word.
While I can't recall the names of that warring husband and wife in Martin Scorsese's Vegas gangster epic "Casino," I would recognize the pretty face of Kim Krantz just about anywhere. If you've lived here long enough to remember the Boulevard's pre-implosion era, you probably would have recognized her, too.
In her considerable prime, the showgirl, part-time actress and all-around neon character never missed a party and appeared in scenes in Nevada-based movies ranging from "Casino" to Arthur Miller's "The Misfits." She was often used by directors as window dressing, but as a guy from Vegas Past might say, "Would you get a look at those drapes?"
The Kim Krantz I was acquainted with would have laughed at such a compliment and come back with a story or a joke. She had a million of them in a wild, quintessentially Vegas life that ended recently at age 80.
"I came to Vegas to meet a cowboy or Indian and wound up meeting a wiseguy from the Bronx," she would say of her marriage to the late Flamingo executive and junket manager Danny Krantz. The couple raised four children in Las Vegas.
As Kim's son Kerry Krantz welcomes me into the family home, I see the kitchen table is covered with clippings and photographs of his mother with celebrities and swells, and occasionally in various stages of undress. She was, after all, a star in the lineup of hotties in the "Latin Quarter" show that stormed into Las Vegas 60 years ago during the golden era of the showgirl.
She was a covered dancer, but, well, not very. Kerry, 45, was his mother's caregiver in her difficult final days. But even he can set aside his grief and applaud his mother's amazingly colorful story.
As if to punctuate the point, on the living room hearth stands a larger-than-life cardboard cutout of his statuesque mother strategically wearing a mink during her showgirl heyday. Among her stops: the Desert Inn, Riviera and Dunes. She was one of a group of sequined hall-of-famers whose reunion highlighted the 50th anniversary of the venerable Riviera casino.
Born Delores Kim Dalkowski, she was a Jersey City girl who left school and home in the eighth grade to join the Cole Brothers' Circus. She hopped from horseback to horseback and eventually became the lithe rider of the circus elephant before being discovered by tightrope king Karl Wallenda.
With Wallenda, "she became one of the girls at the end of the tightrope."
From there she negotiated the equally high-wire walk from a New York floorshow in 1953 to mobbed-up Las Vegas. She would become an original Minsky's Burlesque girl.
Although she gave up dancing after marrying the well-connected Danny, the couple opened the King o' the Sea lobster house in 1964, and as a member of the Screen Actors Guild she built a long list of appearance movie and TV credits, including "The Godfather Part II," "The Electric Horseman" and "Smokey and the Bandit." Her last bit part came as a blackjack player next to the about-to-be-dearly-departed guest star on the hit TV series "CSI."
She often played a gambler or the "typical Vegas lady: drink in one hand, cigarette in the other," Kerry says fondly.
Her Las Vegas life was anything but typical. And it wasn't exactly a "Father Knows Best" atmosphere for her kids, either.
"At times it seems wild, but at other times it seems so normal," Kerry recalls. "Like, we would have Thanksgiving dinner in the (Flamingo's) Bugsy Suite. My dad was the convention manager at the Flamingo before the tower, and we would be with all the managers' kids. It seemed quite normal, like 'Don't you have Thanksgiving dinner in the Bugsy Suite?' You just assumed that everyone else was doing the same thing."
Holding the clippings and the photos depicting the adventures of his marvelous mom, whose sexy cigarette-scarred voice was unmistakable, the loving son talks about the doctors' diagnosis of pancreatic cancer and the day they gave her the awful chemotherapy options. After a life filled with dancing and drama, mobsters and movie stars, and a loving family, too, she didn't hesitate.
In her deep voice, she politely told the doctors to get stuffed and declined treatment.
A celebration of her life is set for noon July 6 at Our Lady of Las Vegas Catholic Church. Kerry Krantz, of course, hopes his mother's memory plays to a packed house.
That reminds him of a story. When he got older and accompanied his mother to a Las Vegas casino or Hollywood restaurant, she never failed to turn heads.
"She was like a magnet," he says. "People were drawn to her, definitely."
Kim Krantz had presence on every stage.
She knew how to enter a room, and when to make her exit.
John L. Smith's column appears Sunday, Tuesday, Wednesday and Friday. Email him at Smith@reviewjournal.com or call 702-383-0295.