Democrats seize control of state Senate
November 5, 2008 - 10:00 pm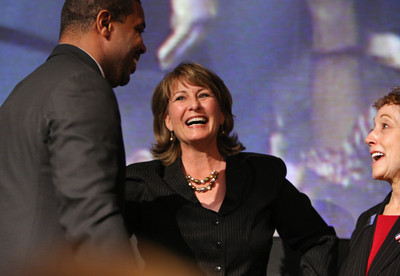 CARSON CITY — Democrats captured control of the state Senate on Tuesday, with election results showing that Democrats Allison Copening and Shirley Breeden defeated incumbents Sens. Bob Beers, R-Las Vegas, and Joe Heck, R-Henderson.
The victories give Democrats a 12-9 edge over Republicans in the state Senate. The last time Democrats were in the majority was during the 1991 legislative session.
With the victory, Sen. Steven Horsford, D-Las Vegas, will become Senate majority leader. He will be the first African-American in state history to lead the Senate.
With all precincts reporting, Copening defeated Beers in District 6 by a margin of 53 percent to 47 percent. In District 5, Breeden won by 765 votes over Heck, defeating him 47 percent to 46 percent, with remaining votes going to minor party candidates.
"I feel this wonderful, amazing sense of hope," said Copening of her victory. "We are going to move this state in the right direction."
Beers said Democrat President-elect Barack Obama's coattails contributed to Copening's victory and helped all Democrats.
"It was the biggest Democratic year in 30 years," said Beers, who added that he had a hard time blaming one party over the other for the economic problems in Nevada and the nation. "Where we go from here, I don't know. It can't get any worse."
Horsford, who won re-election by a 3-to-1 margin, thanked voters for turning out to support Democrats.
"We had candidates who worked tirelessly," said Horsford before final votes were tallied. "It looks like Allison Copening definitely will join us in Carson City and that Shirley Breeden will hold onto her slight advantage. We are very excited about having the majority for the first time in 18 years."
Heck said that he was hurt this election "by the general toxic brand of being a Republican."
Heck, a physician, and Beers, a fiscal conservative, were targeted for ouster by the Democrats in negative advertising leading up to the election.
At the same time, Democrats picked up an additional seat in the Assembly. They will have a veto-proof 28-14 margin during the 2009 Legislature.
Assembly Speaker Barbara Buckley, D-Las Vegas, credited U.S. Senate Majority Leader Harry Reid, D-Nev., with electrifying the Democrats when he secured the presidential caucus for Nevada.
"That was the jump-start we needed," Buckley said during a Democratic victory party. "It energized everybody, and we, as a party, caught fire."
In Assembly District 5, Marilyn Dondero Loop defeated Donna Toussaint 51 percent to 40 percent as she took a seat held by Republican Valerie Weber, who lost her race for the Clark County Commission.
In District 21, Democrat Ellen Spiegel won a 366-vote victory over Republican Jon Ozark, defeating him 51 percent to 49 percent.
But Republican Melissa Woodbury defeated Democrat Allison Herr 52 percent to 48 percent in District 23. That had been a Democratic seat held by Rose-Mary Womack, who did not seek re-election.
In District 13, Assemblyman Chad Christensen, R-Las Vegas, came from behind in late returns and defeated Democrat Andrew Martin by a narrow margin of 49 percent to 48 percent.
Democrats also lost two other Republican seats that they had hoped to win.
Republican John Hambrick beat Carlos Blumberg by a 50 percent to 45 percent margin to retain a District 2 seat held by retiring Assemblyman Garn Mabey, R-Las Vegas.
In District 4, Republican Richard McArthur defeated Craig Ballew 49 percent to 46 percent to hold onto a Republican seat. McArthur had defeated Assemblywoman Francis Allen, R-Las Vegas, in the Republican primary.
At the same time, Assemblyman David Parks, D-Las Vegas, won the state Senate District 7 seat in a landslide over Lindsay Madsen.
Parks replaces 20-year Sen. Dina Titus, D-Las Vegas, who won election to the 3rd Congressional District seat.
Also easily re-elected to Clark County Senate seats Tuesday were Democratic incumbents John Lee, Valerie Wiener and Mike Schneider.
Democratic incumbents who won easily in Assembly re-election bids were Marilyn Kirkpatrick, Peggy Pierce, Harvey Munford, Morse Arberry, Tick Segerblom, Joe Hogan, Ruben Kihuen, James Ohrenschall, Ellen Koivisto, Kathy McClain, John Oceguera, Kelvin Atkinson, Mark Manendo, Jerry Claborn, Mo Denis, William Horne, Harry Mortenson and Marcus Conklin.
Republican incumbents Joe Hardy and Lynn Stewart also scored easy victories over Democratic opponents.
In District 29, Democratic newcomer April Mastroluca defeated Republican Sean Fellows to keep in Democratic hands a seat held by Democrat Susan Gerhardt, who did not seek another term.
And in District 41, Democrat Paul Aizley defeated Republican Tim Rowland to keep in Democratic hands the Assembly seat vacated by Parks.
Contact reporter Ed Vogel at evogel@reviewjournal.com or 775-687-3901.