Dion's husband OK after heart work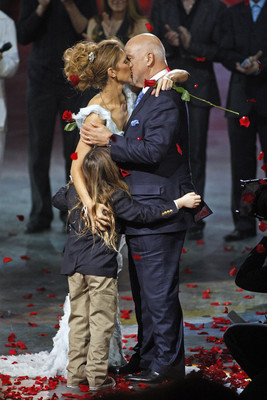 Celine Dion's husband, Rene Angelil, has undergone a heart-related medical procedure, Dion's publicist confirmed Thursday.
The Palm Beach Post, quoting a source, said Angelil, 67, had arterial blockage.
Dion's Los Angeles-based publicist Kim Jackwerth e-mailed me Thursday, saying Angelil's procedure — "not heart surgery" — had been planned for months. "He's back home," Jackwerth said.
The Post noted that Angelil has acknowledged in past interviews that he suffered a near-fatal heart attack when he was 50. He was diagnosed with throat cancer in 1999.
Dion, who left Caesars Palace in December 2007 after a highly successful five-year run, finished her world tour earlier this year and is reported to be planning to undergo in vitro fertilization again to have a second child.
They have a son, Rene-Charles, who turned 8 in January.
There are unconfirmed reports that Dion, whose No. 1 hit "My Heart Will Go On" was the theme of the blockbuster film "Titanic," plans to return to Caesars Palace in June 2010.
THE SCENE AND HEARD
Say sayonara to the Sahara you once knew. It's still alive but barely: Room service and the keno lounge were scuttled last month and the buffet is currently closed on weekdays. Now there are rumblings that the House of Lords Steakhouse, a celebrity magnet during the Rat Pack era, and Paco's Mexican restaurant are closing this month. Senior management has been bailing. Can't be long before the new owners close the doors and start the hip transformation. … A half-hour interview of Danny Gans with TV personality Tony Sacca in 2002 will be broadcast at 5 p.m. Sunday on KTNV-TV, Channel 13. … British radio personality Russell Brand, in town to shoot scenes for "Get Him to the Greek" with Sean "P. Diddy" Combs and Jonah Hill, among others, sent this Twitter "tweet" to Combs at 1 a.m. Wednesday: "Please! We have to work in the morning. Go to bed or we'll never be recognized by those 'haters' at the Academy." On filming in Vegas, he said, "God meant it to be a desert."
MAY I RECOMMEND …
Parrothead alert! They'll be flocking to the street party at Jimmy Buffett's Margaritaville Cafe from 11 a.m. to 6 p.m. on Saturday before winging it to Buffett's 8 p.m. concert at MGM Grand. Admission is free to the street party.
SIGHTINGS
George Clooney, shooting scenes and reacting to fans outside Bally's on Thursday for Paramount's "Up in the Air." Later, Clooney shot scenes at a vacant hotel across from Mandalay Bay on Las Vegas Boulevard. When filming wrapped, he was seen hugging and thanking everyone he worked with. … Gwen Stefani of No Doubt, at "The Lion King" (Mandalay Bay) on Wednesday with her son Kingston, who turns 3 on May 26. … At Cathouse (Luxor) on Wednesday: dethroned Miss Nevada USA Katie Rees with nightlife organizer Tiffany Masters; former heavyweight champion Mike Tyson, canoodling with a galpal, and Cage and Tool Box of VH1's new reality show "Daisy of Love." … Tom Colicchio of Bravo's "Top Chef," dining at Dos Caminos Mexican Kitchen and Lounge (Palazzo) on Wednesday night. He's in town shooting the Las Vegas "Top Chef" episodes. At another table: comedian Eddie Griffin. … No Doubt's Adrian Young and Tony Kanal, hanging out Monday at the J-Pop (formerly the Coral Reef Lounge at Mandalay Bay), taking in The Limit. Young joined The Limit for a song. Young and Kanal invited The Limit guitarist Michael Ellis to their headlining performance at Tiger Jam XII on Saturday at the MGM Grand. … Welterweight champion "Sugar" Shane Mosley, dining with friends Wednesday at Joe's Seafood, Prime Steak & Stone Crab (Forum Shops).
THE PUNCH LINE
"Miss California (USA) Carrie Prejean blames the wind for blowing her shirt open and blames unscrupulous photographers for releasing topless shots of her. Here's an idea: If you don't want photographers releasing naked pictures of you, don't stand in front of a camera with your clothes off." — late-night TV host Jimmy Kimmel
Norm Clarke can be reached at (702) 383-0244 or norm@reviewjournal.com. Find additional sightings and more online at www.normclarke.com.