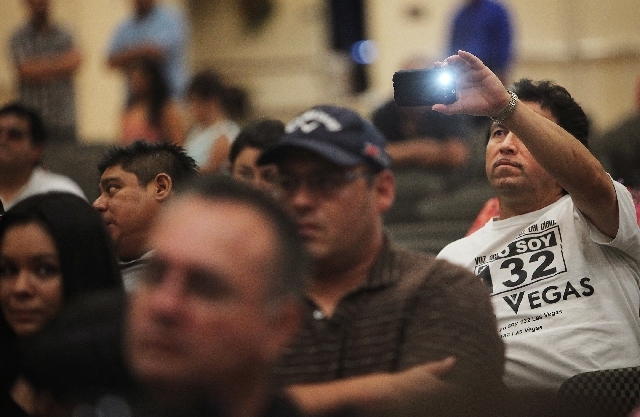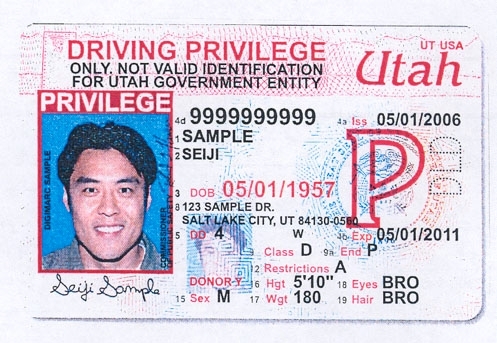 The Nevada Department of Motor Vehicles, taking a wide variety of living situations into consideration, has tripled the number of documents it will accept from those who are in the country illegally and apply for the new driver authorization cards.
Motel room receipts for up to 30 days, college photo IDs, college enrollment records, even out-of-state driver's licenses will be accepted from the 60,000 Nevada residents who are expected to apply for the card but who must first prove their identity and Nevada residency.
Because most of the new drivers are expected to be foreign born, the DMV will honor birth certificates and passports from different countries along with identification cards from different consulates around the world. Only originals and certified copies will be accepted.
The list was expanded over the past few months, then added to a host of other DMV regulations that are being drafted to implement the new law.
The cards, which will cost $22 a piece, are expected to raise at least $1.3 million for state government when the law takes effect on Jan. 2. The cards are also expected to boost the state's economy, based on the prediction that the new drivers will buy more cars and purchase insurance.
"We just want to make sure that the new drivers are going to be from the state of Nevada, and that they don't come from other states," said Kevin Malone, a spokesman for the DMV.
"So we've broadened the list to include all sorts of possibilities. But to our credit, we have excellent training in spotting fraudulent documents, so now is not the time to try and hand over some fraudulent document to the DMV," he said.
The proposal won overwhelming legislative support earlier this year, partly to deal with the problem of uninsured motorists whose identities sometime become a problem for police during traffic stops.
While a few legislators maintained the law provides a privilege that people living in the United States illegally do not deserve, state Senate Majority Leader Mo Denis, D-Las Vegas, and other supporters said it would improve driving because the immigrants will have to pass written and driving tests to get the card.
Details about the new driver authorization cards will be discussed at a teleconferenced public workshop around the state Wednesday. Nevadans are being invited to say what they think about the new rules. The intent is to help the DMV fine-tune the regulations.
DMV spokesman Kevin Malone said the agency is only taking suggestions, and couldn't guarantee that any changes would be made to the regulations.
The law was patterned after similar laws in Utah, Washington state and New Mexico.
concerns of critics
Under the law, the driver authorization cards cannot be used for identification purposes, a fact that will clearly be stated on the front of the card.
But that hasn't lessened the concerns of some critics who feel the card could take on a life of its own and become an unofficial but credible ID.
"There's something wrong with this picture: they're coming here legally, and we're letting them drive legally, no questions asked," said state Sen. Don Gustavson, R-Sparks, the sole legislator who voted against Senate Bill 303. "I've never liked it, and my constituents didn't like it. I don't have a problem if they are here legally, but they aren't.
"The entire process is flawed."
Allen Lichtenstein, an attorney with the American Civil Liberties Union of Nevada, begs to differ. He thinks that the card should be used for identification purposes, and that the stamp invalidating the card is nothing more than a form of "branding" that doesn't really make sense, given the greater scope of the illegal immigration situation in Nevada and the country.
"What people don't realize is that many of the people who've been living here illegally for years are going to continue living here, and the best thing we can do is normalize the situation, and allowing them to drive is a good start," Lichtenstein said.
And yet the driver authorization card and its distribution is not an exact science. New Mexico, for example, has had problems with out-of-state residents applying for them. That has spawned plenty of fraudulent documents, a scenario that Nevada wants to avoid.
'COUNTERFEITERS CAN COUNTERFEIT'
Michael Harris, an assistant special agent in charge of Homeland Security Investigations, in Las Vegas, said of the situation: "It's just another form of ID that counterfeiters can counterfeit."
Earlier this year, in the 2000 block of Walnut Street, a Mexican national was arrested for fabricating hundreds of Nevada driver's licenses and just under 100 birth certificates, selling the licenses for $120 each and birth certificates for $50, Harris said.
Also seized in the Feb. 22 raid were fake college and high school diplomas and federal tax returns.
One problem with the new cards that might be difficult to fix is whether they can be used in other states, particularly states without such cards. Utah and New Mexico have forms of driver authorization cards, but not California.
Traditionally states honor licenses issued in other states, said David Fierro, a DMV spokesman. But this might not be the case in states like Arizona "where the philosophy on undocumented immigrants may result in a different approach," he added.
Consequently, Fierro said the DMV is advising people to check with the states where they might travel to make sure the Nevada card is accepted.
Capital Bureau Chief Ed Vogel contributed to this report. Contact reporter Tom Ragan at tragan@reviewjournal.com or 702-224-5512.
WORKSHOP WEDNESDAY
Anyone who has something to say about how to implement Nevada's new driver authorization card for immigrants in the country illegally can show up at a workshop at 9 a.m. Wednesday in Las Vegas and other places in Nevada.
The teleconferenced workshop will be held in Room 4412 of the Sawyer Building, 555 E. Washington Ave., Las Vegas, in the Legislative Building in Carson City and at Great Basin College in Elko.