Donny Osmond recalls old friend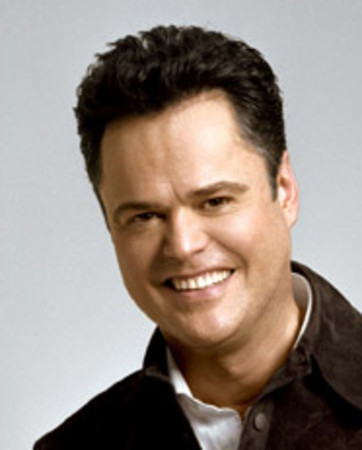 Their last conversation was about 18 months ago. Close friends throughout their iconic careers, Michael Jackson and Donny Osmond stayed in touch by telephone over the years.
"We met when we were about 13," Osmond recalled Friday, a few hours before taking the stage for the Donny & Marie Show at the Flamingo Las Vegas.
The teen idols bonded over an uncanny number of coincidences: Both were members of famous musical families before they reached their teen years. Both were from families with nine children. Both were the seventh child.
"Our mothers were even born on the same day," said Osmond, "and our fathers were both extreme disciplinarians, although my father was not a Joe Jackson."
At 14, Jackson had his first No. 1, "Ben," in 1972. It was written for Osmond, but he was later told they couldn't reach him because he was touring.
That made 'em even. "One Bad Apple," The Osmond family's' No. 1 hit in 1971 (when Donny was 14) "was written for Michael."
The similarities continued. Donny and Marie had a TV show. So did Michael and Janet, briefly.
"Michael said he hated every second of it," said Osmond.
Jackson was living in Las Vegas when they last talked.
During that last conversation, Osmond remembers asking Jackson, "Where are you?
"I can't tell you," said Jackson.
"You can't tell me?" said Osmond, gently chiding his longtime friend.
"Please don't tell anyone," said Jackson.
"I rented a motor home and I'm down in Arizona. I just want to hide. I want to get away from people," said Jackson.
Osmond invited him to drive up to Utah. Jackson said, 'I'm going to take you up on that."
But that was it. "He shut it down after that," said Osmond. "He isolated himself after that. His life was in shambles," from financial setbacks and scandal.
Jackson, 50, died of cardiac arrest Thursday at home in the Holmby Hills area of Los Angeles.
"It's been a tough day," Osmond said Friday. It was audible in his voice. In a matter of days, three show business people he knew had died. Ed McMahon, Farrah Fawcett and Jackson.
He recalled another telephone call, maybe three or four years ago. This one came from Stevie Wonder, who invited Osmond over to his recording studio.
When he got there, they chatted, and Wonder cut to the chase.
"What I really wanted you here for is to get closer to Michael because he really needs some help," Wonder told him.
Osmond did a cover of Wonder's 1976 No. 1 hit "I Wish" and took it to Jackson's Neverland Ranch to play it for him. That was the kind of friendship they had.
When Jackson's megahit "Thriller" came out in 1984, "I went to see him to see if he could help me get my career back on track.
"I asked him, 'How do I get back on the charts?"
"Change your image," said Jackson, "and your name."
DOCTOR'S NOTE
Michael Jackson's physician, Dr. Conrad Murray, notified employees in his Las Vegas medical practice 11 days ago that he was leaving temporarily. His note was on his letterhead, according to TMZ.com, the celebrity news Web site. "I am deeply saddened to leave you at this point," he wrote, "but please know my absence is not permanent." He continued, "In my absence, I will continue to manage the practice, and be involved as much as possible but from a distance." He added that the move was "not permanent." TMZ reported that AEG, the Los Angeles-based entertainment giant, had put Murray on the payroll. …
THE SCENE AND HEARD
Caesars Palace headliner Cher is returning to the big screen, after a 10-year absence. She will sing while playing Christina Aguilera's mother in "Burlesque," which begins shooting in November.
A sighting that appeared here earlier this month of comedian-actor Richard Lewis and his wife, Joyce, at Double Helix Wine Bar (Shoppes at Palazzo) indicated, based on a press release from the wine bar, that he joined a group of friends in drinks. Lewis' publicist sent an e-mail this week noting that he has been "an outspoken sober-guy" for 15 years. He was "happily enjoying the location, his friends and his sobriety, but not the champagne," she said.
SIGHTINGS
Tyra Banks, having lunch at Vintner Grill on Friday… Wayne Brady, observing a moment of silence for Michael Jackson during his show (Venetian) on Thursday. As a tribute to Jackson, Brady performed "I Want To Rock With You."
THE PUNCH LINE
"Mahmoud Ahmadinejad held an election victory party. At the party, he thanked the 148 percent of the people who voted for him." — David Letterman
Norm Clarke can be reached at (702) 383-0244 or norm@reviewjournal.com. Find additional sightings and more online at www.normclarke.com.