Downtown attraction adds some zip
October 18, 2010 - 11:00 pm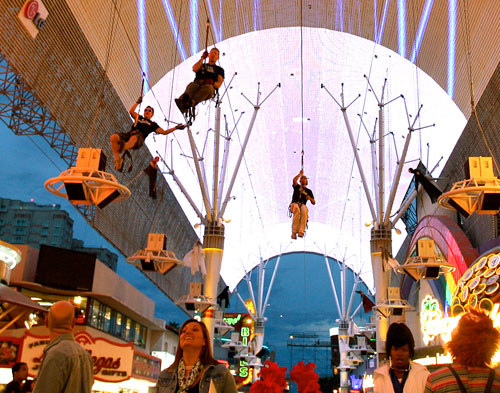 One set of scaffolds at the Fremont Street Experience is 67 feet tall. The other set, about 800 feet away, is 15 feet off the ground.
Between them are four zip lines on which anyone with the price of admission and the willingness to step into thin air can ride between the crowd below and the Fremont Street Experience video canopy above, landing near the Four Queens casino.
"That thing was awesome!" exclaimed Tony Ramirez of Oklahoma, who along with his just-turned-21 friend Kaeci Harjo were the first visitors to ride the lines Monday night.
"Once you step off — they tell you that's the hardest part, and it's true. But after that it's a breeze."
Jason Kurtz, visiting from Calgary, Alberta, finished his first ride and said he's going back for more.
"If I wasn't going to a show first, I'd go right back," said Kurtz, adding that he plans to do the Stratosphere Sky Jump while in town as well. "It's amazing. You're trusting yourself to that little line.
"If you're not scared of heights, you'll do fine."
This experience is not for everyone, as this sign at the ride's entrance attests: "Attention Guest: If you have a fear of heights, please visit the 5th floor observation deck before purchasing your ticket."
Officially, the ride will be open 2 p.m. to midnight Sunday through Wednesday and 2 p.m. to 2 a.m. Thursday through Saturday, although the schedule will vary based on visitor volume and maintenance. Rides are $15 before 6 p.m. and $10 for a re-ride; after 6 p.m. it's $20 and $15 for a re-ride.
So far it's being advertised as a Halloween event, but plans call for the zip lines to be in place for about 90 days.
If successful, the lines might be extended to run the length of the video screen canopy.
BC Flightlines, which operates zip lines in Boulder City, operates the Fremont line.
Contact reporter Alan Choate at achoate@reviewjournal.com or 702-229-6435.
A trip down the Fremont Street Flightline
Fremont Street Flightline information