Downtown Las Vegas' newest resort opens
October 27, 2013 - 6:48 pm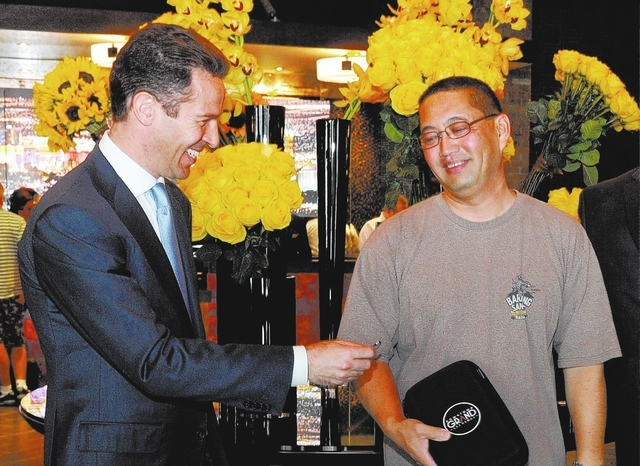 Seth Schorr's vision for the Downtown Grand Las Vegas was always different from the typical resort. The hotel-casino, which blends into the urban core of downtown more than other properties, opened on Sunday as the first guests checked in, restaurants opened, and the race and sports book took its first bet.
But Wynn Resorts Ltd. CEO and Chairman Steve Wynn was the main attraction.
Wynn, who worked with Schorr's father, Marc, for years starting at the Golden Nugget gave him the honorary job as vice president of kids marketing at the hotel when he was 9-years-old, christened the casino with a $200 bet on the craps table.
Wynn and Schorr's father each received $5,000 in chips to open the casino. Like most visitors to a casino, the two longtime friends gambled away $10,000 in about 15 minutes.
"There is so much going on here," Wynn said. "It's really interesting. We are getting back to our roots when Fremont Street was available to (guests) of any income level."
Wynn said the Downtown Grand reminded him of a quote political columnist George Will said on a former episode of Assignment America on PBS that was filmed in downtown Las Vegas. "Here in Las Vegas in the eyes of Lady Luck everyone is equal," Wynn said. "This is what Fremont Street is all about. Seth and his team have brought it back."
The price of the renovation, redesign and transformation of the Lady Luck into the Downtown Grand alone was about $100 million. The Downtown Grand at 3rd Street and Ogden Avenue will hire 800 employees.
The Downtown Grand features 634 rooms, about 600 slot machines and 30 table games.
"This has been three years in the making," said Schorr, CEO of Downtown Grand. "We've created nearly 800 jobs. That's a dramatic impact on the Las Vegas economy."
Schorr described the Downtown Grand as an "urban hospitality experience." As for opening on the same weekend as the Life is Beautiful festival, Schorr called it "great timing."
Schorr said the Downtown Grand will host a ribbon cutting ceremony on Nov. 12.
Situated on the corner of Stewart and Ogden avenues, Downtown Grand is the anchor of Downtown3rd, an entertainment district that is home to restaurants and bars, including Triple George Grill.
Downtown Grand includes an 18-story Casino Tower and a 25-story Grand Tower. The exterior of the hotel casino blends multiple storefronts with brick and granite facades and includes a variety of indoor and outdoor experience, including a William Hill sports betting window.
Schorr said the design of the casino was to get away from the typical design found on the Strip. Those designs encourage guests to never leave the building by providing every amenity.
Downtown Grand was built to encourage guests to leave the building and walk around downtown Las Vegas. That means there are a number of doors to go in and out of the casino.
"We took a different approach," Schorr said. "Guests don't have to walk through the casino to get to a restaurant. There are indoor and outdoor spaces. There is even outdoor gaming."
On Sunday, Schorr welcomed Alan Oshiro of Torrance, Calif., as the first guest at the Downtown Grand. Oshiro stayed at the former Lady Luck many years ago and as the resort's first quest received tickets to Life is Beautiful and a $100 chip.
"This is the first we stayed on Fremont Street. We probably wouldn't have it this wasn't here," said Dawn Odenbach, who checked in Sunday with her husband, Randy.
Schorr, who partnered with Jeffrey Fine to create Fifth Street Gaming, oversaw every detail of the property's redevelopment and his firm will now manage the casino-resort for developer CIM Group.
The 743-room Lady Luck closed in February 2006 and sat vacant until CIM Group acquired the property in 2007. The New York-based developer is also planning to build a 100,000-square-foot retail complex and convention space adjacent to the Mob Museum.
CIM Group's investment in the Downtown Grand and surrounding Dwontown3rd neighborhood will top $200 million when completed.
"I'm thrilled with the results," said Justin Gardinier, vice president, investments with CIM Group in New York. "It took three years of hard work, but we've built a beautiful and exciting product."
Gardinier, who declined to discuss the property's financial expectations, said the firm was "CIM Group focuses on investing capital to help revitalize urban centers.
"That is the poster child for our overall investment philosophy," Gardinier said. "We define Las Vegas as a market that we see opportunity in, We are constantly looking around for investment opportunities in and around Las Vegas."
Contact reporter Chris Sieroty at csieroty@reviewjournal.com or 702-477-3893. Follow @sierotyfeatures on Twitter.