Drug trial deals new hope in woman's fight for life
October 1, 2013 - 6:05 pm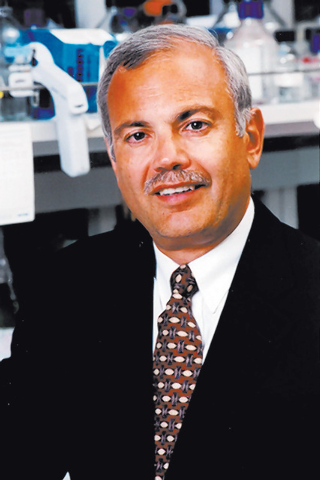 Just a few weeks before 83-year-old Mary Ann Hoban watched a breast cancer TV special last spring, she underwent testing that had a doctor marveling that the condition of her heart and liver was that of a healthy 60-year-old, and suggesting she was someone who probably had a number of good years left.
Yet, as the great-grandmother watched the special on the disease that kills around 40,000 American women each year — she hadn't had a mammogram since 2006 — Hoban became a tad uneasy when she heard a woman describing a cancerous lump as "pinching."
"I had benign lumps in my breasts for years," Hoban said recently after seeing Dr. Heather Allen at a Comprehensive Cancer Centers of Nevada office in Las Vegas. "I had surgery to take them out. But none of them gave me a pinching sensation until one I developed a short time before that show. It was like spaghetti inside the lump that was pinching. … I hadn't thought anything about that feeling until then."
Concerned, she made an appointment with her internist. Testing in April showed inoperable breast cancer, a mass already had spread to her lungs. No current standard of care treatment could arrest the disease.
"I kept thinking they had the wrong file because I didn't feel bad," said Hoban, a widow who admits putting up a brave front in front of doctors, including asking if they were on drugs and telling them she would be more apt to die from a jealous wife's gunshot than cancer. "But I went home and threw up. I was scared."
With no expectations of positive change, Hoban became part of a drug trial in June while working to convince worried loved ones she could handle cancer.
"You play the cards you're dealt," she'd say. "You hope for a royal flush, but sometimes you get flushed. At least I don't have to get butchered and lose my hair."
Then came her Sept. 20 appointment with Allen, the oncologist who asked her to join the 450-person study of palbociclib, a drug targeting the CDK4/6 protein which causes cancer cells to spread.
"Look," Allen said, holding a medical scan and smiling. "Your cancer's going away. These are great results."
Hoban, seldom at a loss for words, clearly was.
"Wha-What?" she stammered, teary-eyed. "Are you sure?"
"Yes," Allen said, holding the scan closer to Hoban, whose eyesight is compromised by macular degeneration.
It appears that palbociclib is putting the brakes on cell proliferation and Hoban's tumor cells apparently have stopped growing. What may be happening to Hoban already has been seen by researchers in the preliminary second phase of the trial, according to Dr. Dennis Slamon, the Los Angeles researcher investigating the drug with Dr. Richard Finn at UCLA's internationally renowned Johnsson Cancer Center.
In Las Vegas recently to share study data with physicians from Comprehensive Cancer Centers of Nevada — many of Comprehensive's 170 current clinical drug trials are done through a research affiliation with UCLA — Slamon noted that palbociclib is likely to give new hope to women with estrogen-receptor-positive breast cancer, which affects 60 percent of the women who get breast cancer.
"The data certainly seems to support it," said Slamon, whose research with colleagues led to the development more than a decade ago of the breast cancer drug Herceptin, which has extended the lives of many women by targeting a specific genetic alteration — HER-2/neu — found in about 30 percent of breast cancer patients.
"The results so far are as exciting as the initial results we saw for Herceptin, but represent a new approach for a different and larger subset of breast cancers."
FDA officials have been so impressed that earlier this year they did something seldom done — give a trial drug a "breakthrough drug" designation. That means during the drug approval process a review of trial results of palbociclib will be expedited. That could make the drug available to the general public far sooner.
Unlike chemotherapy drugs, the drug is well tolerated. It doesn't cause hair loss or nausea and vomiting.
"I haven't noticed any side effects from it if I'm getting it and not a placebo," said Hoban, who takes two pills a day during the study.
Phase 2 studies were performed in 165 advanced breast cancer patients — some of whom lived in Las Vegas — who had estrogen-receptor positive cancer. Some patients were given the current standard of care, letrozole (along with a placebo), while others received letrozole in combination with palbociclib.
Results of the Phase 2 study released in December showed that women who had the drug combination experienced a median progression-free survival of 26.1 months, compared with 7.5 months for those on letrozole alone. The benefit rates for patients — tumor shrinkage and/or stable disease for a minimum of six months — were 70 percent for those receiving combination therapy, versus 44 percent for letrozole only.
It's possible the drug could be available late next year, but it's more likely in 2015, Slamon said.
Allen is hopeful the drug will be approved to not only treat women with aggressive late stage breast cancer that has already spread to other parts of the body, but also to women in earlier stages of the disease.
"Once you see the value of a drug," she said, "the next step is to move it into an earlier stage of the disease."
That Hoban hadn't had a mammogram since 2006 may well have played a role in her breast cancer not being diagnosed until it was well-advanced, Allen said.
But the oncologist is not at all critical of Hoban.
"She was busy doing what many women do," Allen said, "taking care of people and forgetting about herself."
Hoban's husband of 58 years, Eugene Hoban, who worked much of his life at the Nevada Test Site, died in 2008. Suffering from both prostate cancer and a heart condition, he was cared for at home by Mary Ann for the last several years of his life. Their 62-year-old son, Robert, who has had a heart condition that often had her frantic with worry in recent years, is now in the hospital and not expected to make it through the holidays.
"Life isn't always easy. My 23-year-old daughter Sheila and her fiance were killed two weeks before their wedding by a drunk driver. But my husband and I dealt with it," Mary Ann Hoban said. "I have great memories of going to Ireland, on cruises. I loved being a Cub Scout den mother, Girl Scout troop leader, raising funds for Bishop Gorman, St. Anne's, being with grandchildren, great-grandchildren, their friends and my posse of five old ladies.
"And now I get to test a drug that may help women a lot younger than me. It can't help me much. I'm 83. But if I'm helping someone, that's a big part of what life should be about. That makes me happy."
Reporter Paul Harasim can be reached at pharasim@reviewjournal.com or 702-387-2908.
More coverage
October is breast cancer awareness month. For more coverage, click here.