Applicant for Nevada charter school program under federal investigation
January 26, 2017 - 5:23 pm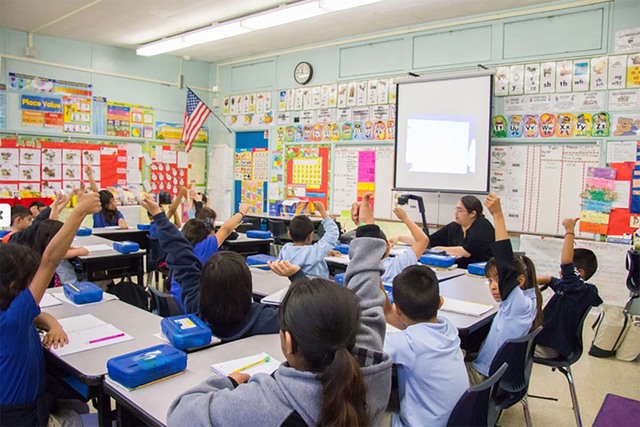 The five Clark County schools eligible for conversion to charter schools under a controversial state program will get a one-year reprieve after one of the charter operators became the subject of a formal investigation by federal agents.
Celerity Educational Group, based in Los Angeles, was raided Wednesday night. The charter group has previously been criticized for fraud and fiscal mismanagement concerns. The charter operator was vying to convert a Clark County school for 2017-18 and had conditional approval from the state to do so.
The Nevada Department of Education was made aware of the investigation on Wednesday through a Los Angeles Times article posted online and pulled Celerity's application from consideration two hours later, according to department officials.
"This is unfortunate. I was disappointed," State Superintendent Steve Canavero told the Las Vegas Review-Journal on Thursday. "At the same time, we feel responsible that we're committed to the highest-quality operators."
An email sent to a Celerity spokesman was not returned.
The committee that reviews charter operator applications has a thorough process, but the raid will force it to reevaluate, Canavero said.
"The process that we go through is strong and certainly we only know what we know. I think we'll need to sit down and ask some of the folks we had involved in the process and ask could we have seen any of this coming," he said.
The Department of Homeland Security and the FBI confirmed to the Los Angeles Times that both agencies were involved in Wednesday's raid. The newspaper also said the inspector general for the U.S. Department of Education is involved, citing anonymous law enforcement sources.
'A DARK CLOUD LIFTED'
The application revocation means the five Clark County schools under consideration to join the Achievement School District will stay under the Clark County School District's control for the next year, according to the state.
Cambeiro Elementary, Craig Elementary, Orr Middle School, Fitzgerald Elementary and Kelly Elementary all were under consideration to be paired with a charter operator for the 2017-18 year.
Randy Cheung, principal at Craig, said it felt like a dark cloud had been lifted off his school.
"We're elated," he said Thursday. "I'm happy for our school, I'm happy for our staff, and I'm especially ecstatic for our families."
Clark County School District Superintendent Pat Skorkowsky pointed at ways the district is working to improve achievement in all the traditional schools.
"We look forward to seeing the outcomes we can achieve when parents, staff and students work together toward student success," he said in a statement.
CHARTERS PUSH AHEAD
Although no Clark County schools will be part of the achievement district in 2017-18, Futuro Academy — a state-approved charter operator — will open as as a neighborhood option for students and families attending Cambeiro.
Cambeiro students entering kindergarten or first grade will have the option of attending Futuro instead, according to officials. Futuro will give first preference to those families but then can pull enrollment from throughout the rest of Clark County.
Agassi Prep, an existing charter, will become a Democracy Prep charter school starting in the 2017-18 year as part of the achievement district. Democracy Prep, based in New York City, is also a state-approved operator.
Charter schools were given the option to join the district. The Agassi Prep board voted to partner with Democracy Prep in December.
Contact Meghin Delaney at 702-383-0281 or mdelaney@reviewjournal.com. Follow @MeghinDelaney on Twitter.
Celerity Revocation Memo 1.25.17 by Las Vegas Review-Journal on Scribd