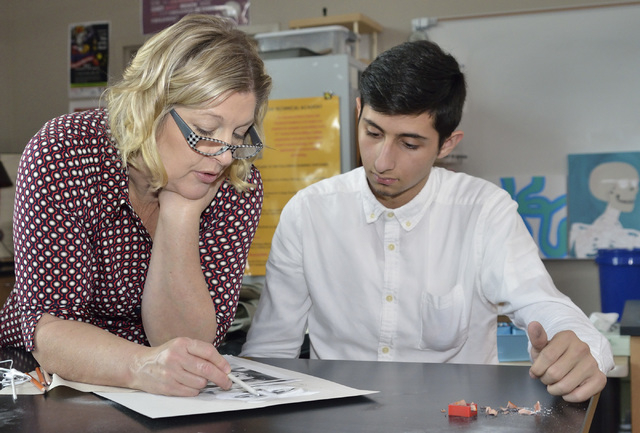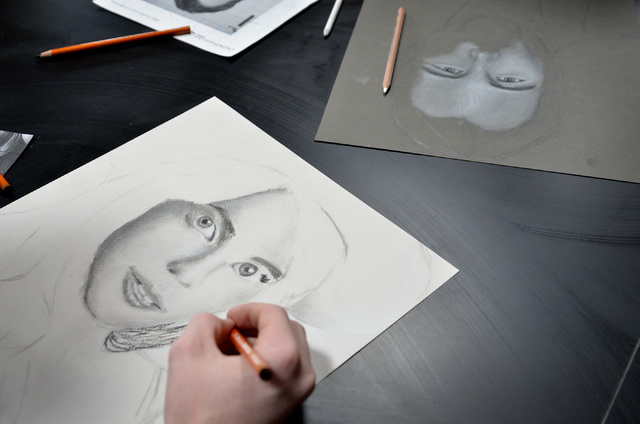 Few children grow into the adult they envision.
If they did, there'd be a lot more astronauts, princesses and professional athletes.
But Lisa Hinricksen always wanted to be a teacher. And not just any teacher.
"I knew in fifth grade. We had to stand up in class," she recalls. "I said, 'I want to be a high school art teacher.' I knew beyond a shadow of a doubt."
Decades later, she's the art teacher she vowed to become. In fact, she's been at it for 25 years in Las Vegas, with retirement five years away and closing in. Four of her students are now art teachers in the Clark County School District like her.
But it was never Hinricksen's goal to make more art teachers like Bill Williams — the art teacher she still remembers by name for nurturing her own skills. Her goal has been to merely inspire. Art, something she says most students don't realize they can do, has just been the conduit.
"I've seen so many kids do wonderful things," she said, recalling one student in particular — Amy Purdy — who won bronze in snowboarding at the 2014 Paralympic Games, participated in TV shows "The Amazing Race" and "Dancing with the Stars," toured with Oprah Winfrey and will release her memoir at the end of this month.
Purdy didn't become an artist, but her memoir will include Hinricksen, the teacher she confided in that she wanted to one day meet Oprah.
"We talk about how powerful it is to say you're going to do something. And then the universe delivers," says the teacher at West Career and Technical Academy named Clark County Educator of the Month for November.
The award, sponsored by the Las Vegas Review-Journal and Sierra Nevada College, chose Hinricksen from nominations submitted at reviewjournal.com under a link for "Contests and Promotions." A panel that includes members of the Clark County School Board, the Public Education Foundation, Teach for America and private schools chooses the monthly winner.
Hinricksen, however, wasn't nominated for what she has done with countless students over the years, but what she's just now started, taking on more than ever before in her career.
In addition to teaching at the school near Charleston Boulevard and the 215 Beltway, Hinricksen has recently become student council adviser for the class of 2017 and the district's task force leader for middle and high school art teachers, helping with the orientation and training of new teachers.
Earlier this year, she even became a member of the advisory board for The Modern, a contemporary art museum planned in Las Vegas. She's been instrumental in the museum's partnership with the district, creating a student group called Students for The Modern. What started with 35 West students will grow to 10 Clark County high school campuses by February, she said.
Students have a chance to work on The Modern's website, get internships with galleries and volunteer as greeters at Preview Thursdays in the Las Vegas Art District, learning something vital she can't teach in class.
"It's No. 1 about teaching them the importance of relationships," said Hinricksen, emphasizing how imperative it is that students know how to present themselves. Skills are vital to professional success, but so is presentation, just like with an art portfolio, she said.
When students first started volunteering at Preview Thursdays, they were scared, she said. "What do I say? What if someone asks me a bunch of questions? How do I respond?"
"We're getting them ready for the whole experience," she said.
Hinricksen has also shown that an art teacher has a very important place, even at a career and technical high school, West Principal Amy Dockter-Rozar said.
Her drawing and painting classes may be an elective for all West students — focused on their specific academies which can range from nursing to engineering, sports medicine, bio-technology and environmental sciences — but Hinricksen has made art valuable, Dockter-Rozar said. "She's the whole package. I couldn't give her higher praise."
Hinricksen folds in what students learn at their academies into art. She has sports medicine students draw the human muscular system. Environmental science students depict soil levels. Digital media students learn design, color and composition.
"That's my story. It's gone by fast," she said.
But it's not winding down.
Hinricksen plans to start a student philanthropy group next year, piling on another responsibility.
Contact Trevon Milliard at tmilliard@reviewjournal.com or 702-383-0279. Find him on Twitter: @TrevonMilliard.