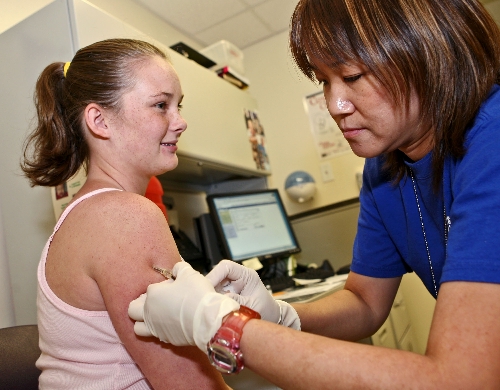 The Southern Nevada Health District is offering low-cost vaccinations for local students to safeguard from mumps, hepatitis A and B, chicken pox, whooping cough and more.
Clinics were busier than usual this summer because of the elimination of year-round schools, said health district spokeswoman Vickie Swanson. Now that every student will be starting school at the same time — instead of staggered tracks of attendance at 12-month schools — she expects more parents to be scrambling to get their kids immunized in the next two weeks.
"We're definitely seeing a surge," Swanson said. "Parents should come in sooner rather than later."
All students in Nevada need up-to-date immunizations before enrolling in the fall school semester.
Vaccine costs vary based on the type of immunization and the child's age. Most vaccines cost between $16 and $25, and insurance may negate these costs.
Swanson said they will work with uninsured families unable to pay. Parents should bring the child's immunization records if available.
For more information, visit southern nevadahealthdistrict.org.
Contact View education reporter Jeff Mosier at jmosier@viewnews.com or 224-5524.