Budget crisis threatens rural community colleges in Nevada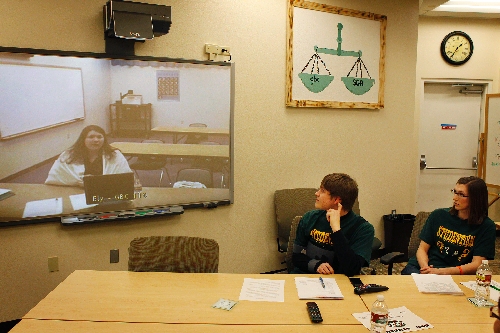 ELKO — It resembles the grounds of any small college, a cluster of brick buildings arrayed around a fountain and a clock tower.
But this campus doesn't stop at the dorms or the ball fields. It stretches south to Pahrump and north to Oregon and Idaho, taking in a swath of mountains and sagebrush larger than the state of Georgia.
Welcome to Great Basin College, the most far-reaching school you've probably never heard of.
"We've got a large service area, but there's not a lot of people in it," says college President Carl Diekhans.
Great Basin's service territory includes 54 percent of Nevada's total land area but less than 5 percent of its population.
As a result, the school ranks as the state's second smallest community college by enrollment, with about 4,000 students, most of them part-time.
But its impact is amplified in six of Nevada's most isolated counties, where the college is turning townfolk into teachers and nurses and other much-needed professionals.
Mines and schools and hospitals get skilled workers. Rural residents get careers and a reason to stay in communities hundreds of miles from the nearest big city.
"We're doing what we're supposed to do," says Bret Murphy, dean of technical trade programs and other so-called applied sciences. "We're a community college. We're serving the community and its industries."
Now school officials insist that mission is jeopardized by mounting state budget cuts and, worse, talk of consolidating Nevada's community colleges.
Diekhans calls it the worst crisis he has seen at Great Basin since he was hired as a math and computing instructor in 1980.
"I get a little possessive. This is my college, and I don't like people messing with it," he says. "They're really messing with it right now."
STATE'S OLDEST COMMUNITY COLLEGE
Great Basin is Nevada's oldest community college, predating by two years the state community college system itself.
In 1967, 10 Elko businessmen launched the school to train local residents for retail jobs and clerical positions.
Early on, Elko Community College got all its funding from local residents. Then the state stepped in but immediately found itself strapped for cash.
The college was propped up in its second year by a last-minute gift of $250,000 from an eccentric billionaire and recent transplant to Southern Nevada, a fellow by the name of Howard Hughes.
The school was eventually renamed Northern Nevada Community College and added to the Nevada System of Higher Education.
In the late 1980s, it expanded into Ely and then Winnemucca, and its name was changed once more in 1996 — to Great Basin College — to better reflect its service area.
Today the college offers about 40 different associate degrees and seven different bachelor's degrees. It has branch campuses in Battle Mountain, Ely, Pahrump and Winnemucca and 13 satellite centers in smaller towns from Jackpot to Amargosa Valley.
Last fall, the college expanded into the Nye County seat of Tonopah, where it set up an interactive video class inside a room at a local casino.
CLASSES ACROSS 62,000 SQUARE MILES
You don't deliver classes across 62,000 square miles by sticking to convention.
About a third of Great Basin's courses are offered through an interactive video network that enables a professor in Pahrump to simultaneously teach political science to students in Winnemucca, Ely and Elko.
At some of the more remote sites, most instruction is by television and computer. Tests and term papers are turned in by fax or email. Larger class projects are boxed up and put in the mail.
Sean Pitts, who teaches history part-time at the branch campus in Ely, says interactive video takes some getting used to, "but it's incredibly effective."
"You can fill a class of 20 people from five different locations."
Without that ability to draw students from across the service area, a lot of classes would have to be canceled because of insufficient enrollment.
The system is strung together with televisions, cameras and computers that are serviceable but "far from new," says Bob Hannu, interactive video coordinator for the college. "We use equipment that's probably been discontinued by the manufacturer but it still works."
Great Basin College uses roughly half of all bandwidth available to the state's system of higher education.
Longtime professor Frank Daniels jokes that he's less of an interactive video instructor and more of a "television personality."
"I've had classes where there's no one in the room. I'm talking to the camera the whole time," he says from the college's branch campus in Ely.
Oddly, though, Daniels says he gets to interact with his students far more now than he ever did when teaching and getting his doctorate degree at the University of Florida, where 50,000 students share one 2,000-acre campus.
On a recent Thursday afternoon, Jamie Barnson sits alone in a classroom in Ely and takes notes as a professor in Elko lectures on educational psychology.
When she has a question, Barnson touches a button on a nearby microphone and starts talking, prompting her image to automatically pop up on the video screen in Elko.
The 25-year-old Ely native is about a semester away from a bachelor's degree in social science, with which she hopes to land a human resources job in or around her hometown.
Once you get past the strangeness of being alone in the room and talking into a camera, Barnson says interactive video is "really no different than taking a regular class.
"And I can still get an education out here in the sticks."
Among Elko resident Brandy Nielsen's favorite instructors is an economics professor 500 miles away.
"Sometimes I would forget that he was in Pahrump," says Nielsen , who with a bachelor's degree in applied science in May will become the first in her immediate family to finish college. "You kind of forget that whole geographical divide, because it really doesn't exist."
Nielsen is fairly typical of the college's atypical student body — a 36-year-old with kids and a job.
"I really don't like the term 'nontraditional' because it makes me sound old," she says.
She first attended college 19 years ago, right out of high school in Idaho, but "life happened" and she didn't finish.
She had never even heard of Great Basin College until she moved to Elko in 2006 after 10 years in Las Vegas. She enrolled at the college in fall 2008, about year after her fourth child was born.
Later this year, she plans to start on a master's degree through a University of Nevada, Reno online program.
"If it wasn't for Great Basin College, I wouldn't have my bachelor's," she says.
$7.3 MILLION IN CUTS OVER TWO YEARS
The staff at Great Basin has been told to prepare for $7.3 million in cuts over the next two years; a $2.6 million hit in July, followed by another $4.7 million next year.
Diekhans calls it devastating: "We figure we'll be losing 30 percent of our work force, which will seriously impact our ability to provide services to students."
The college already has absorbed about $1 million in state cuts that reduced its total operating budget to just under $19 million. Those cuts, two years ago, resulted in buyouts for eight full-time employees and pink slips for another five, including one member of the teaching faculty.
Diekhans says the college stands to lose the equivalent of another 36 full-time workers over the next two years. Among them are professors, administrators and support staff.
Students, meanwhile, can expect to see tuition increase as much as 13 percent this fall and again next fall, a hike that could mean more than $1,000 in additional costs over two years for those with a full schedule of upper-level classes.
That's on top of the gradual, 25 percent rise in tuition over the past five years, and all while they see their choice of courses shrink.
"It's extremely disappointing to know that students won't get served, because they really want it. All of rural Nevada has worked very hard for this," says Dr. John Rice, the college's chief development officer. "People are very concerned, and they ought to be."
Budget cuts, however, are only part of the threat. Diekhans is far more concerned about what might happen with a state community college merger.
He considers that a death sentence for Great Basin's satellite centers in rural Nevada.
It might not happen right away, he says, but eventually the centers would be scrapped or starved out of existence by a larger college that does not consider the satellites a priority.
It has happened before. Great Basin College now runs a Pahrump branch campus for just that reason, Rice says.
Until 2006, the College of Southern Nevada operated a satellite center at Pahrump Valley High School. Great Basin took the facility over because it was better equipped for the job, even from 500 miles away, he says. "CSN has so much on their plate in the Las Vegas Valley it was kind of a relief to them. They couldn't give Pahrump the attention it deserved."
As Diekhans puts it, the Pahrump center represented "less than one percent" of CSN's operation, but it now provides roughly 13 percent of Great Basin's total enrollment.
Ely Mayor Jon Hickman credits the college with providing White Pine County High School graduates an affordable alternative to moving away for college, perhaps never to return. It also has helped the local hospital deal with an almost constant nursing shortage.
But if people in town are worried about budget cuts at the college, Hickman hasn't heard from any of them. He thinks it would take something pretty dramatic to get residents to rally around Great Basin and stop taking it for granted. "I know if it came down to losing the school, I think people would be really upset."
Diekhans says he's committed to keeping all of the satellite centers open, even at the expense of the main campus in Elko. Not everyone at the college shares that stance, he says, but he'd "rather give someone an opportunity where there is no other opportunity.
"I hope we don't decide as a state that education simply won't be available to people who happen to live in the wrong place."
One thing is certain: Diekhans is not going down without a fight.
"I will not dismantle this college," he says. "I helped build it. I won't be a part of taking it apart."
STAFF CUTS AND ENROLLMENT CAPS
In much of northeastern Nevada, a mining boom has helped insulate places like Elko from the ravages of the Great Recession. Here, there is no foreclosure crisis, no collapse in home prices, no double-digit unemployment rate.
Only sectors that depend on state funding are feeling the pinch.
With staff cuts and enrollment caps, Great Basin College is turning away students from its technical trade programs for the first time. What once was an "open-door policy" now involves applications and a waiting list.
"It's caused us quite a bit of pain," says Murphy, the applied sciences dean who 27 years ago started out as the college's first diesel instructor. "We're capping programs that are getting people jobs. It doesn't make any sense."
The college offers associate degrees in electrical systems, instrumentation, millwright technology and other trades as part of a program that crams two years of training into 48 weeks.
"This is an intensive course," says Bob Byram, who teaches electrical theory. "These guys are head down and butt up the whole time."
Murphy says nearly every student graduates into a good-paying job, including a fair number whose classes are paid for through mining company grants and scholarships.
The college also contracts with the companies to offer specific training that can be applied toward a diploma.
Cody Bond wrapped up his second technical degree in 2008, but still visits the main campus in Elko to catch up with Byram and other professors.
He says nobody in his life ever rode him like they did: "These guys were constantly on my ass to make sure everything was perfect."
Now, Bond, 23, brings home about $60,000 a year as an instrumentation technician at the Gold Quarry open-pit mine 30 miles west of Elko.
He says he earns more than most of the 20 people he graduated high school with five years ago — enough to afford a nice car and other "toys" while living less than two hours away from his family in Eureka County.
Bond plans to return to Great Basin College next semester to finish his bachelor's degrees.
"It's been everything for me," he says of the school.
Additional budget cuts will make it harder for students to get the training they need as quickly as they need it, Murphy says.
He's already starting to lose faculty members who are returning to industry jobs in the face of continued pay cuts and uncertainty. His commercial driver's licence instructor just quit to go back to more dependable work as a truck driver.
"It's disheartening to watch this take place," Murphy says. "We'll work through it, but I'm not having any fun doing it."
NURSING PROGRAM
At age 48, Marcy Funk is about to embark on a new career as a registered nurse.
The former stay-at-home mom will graduate in May with an associate degree and start work right away at Northeastern Nevada Regional Hospital in Elko.
Her husband, Craig, is a year ahead of her. He got his associate degree from Great Basin College last May and now works nights at the hospital while he pursues his bachelor's in nursing.
Before he enrolled at the college, Craig Funk spent 22 years with Newmont Mining Corp.
"And had this program not been here, he'd probably still be working in the mines," Marcy Funk says.
That's the beauty of the college's nursing program, according to professor Amber Donnelli. "It's affordable, it's fast, and you can work."
She says Great Basin doesn't churn out nurses like larger community colleges, but providing a rural clinic with even one homegrown professional can make a huge difference.
"Nurses don't typically move to these isolated areas," she says. "We're small, but our impact is huge."
'ARMPIT OF AMERICA'
Seventy miles west of Elko is the mining town of Battle Mountain, population 3,000.
It is Lander County's largest community, but outside of Nevada it's perhaps best known for a 2001 Washington Post article declaring it "The Armpit of America."
You try recruiting teachers to a town with a nickname like that.
Steve Larsgaard is interim superintendent of the Lander County School District. He says out-of-state teachers face "quite a transition" when they move to a town as small and isolated as Battle Mountain, and they often don't stick around for long.
"It's great to have local students and citizens who already know about our community," he says.
Amy Nelson, principal of Lemaire Elementary School in Battle Mountain, agrees: "If you're not from around here, it's culture shock."
Great Basin College launched its first, four-year bachelor's degree program in 1999 to address that very issue in some of the state's most isolated school districts.
"It was started so the rural areas could grow their own teachers," says education professor Sarah Negrete.
The program produces 20 to 30 teachers a year, and most of them choose to stay in rural Nevada, she says.
Lately, though, the program has run into an unprecedented problem: A few recent graduates have struggled to find work as state funding cuts reduce the number of teaching positions statewide.
The college's job placement rate used to hover around 100 percent, Negrete says, but now "we're almost getting hit from both ends."
Mindi Hammill had no trouble finding work. She moved to Battle Mountain at age 13 and graduated high school there in 1992. She went to college out of state, but after brief stints in Washington and Idaho she returned to Battle Mountain to marry and start a family.
Years later, she enrolled in Great Basin College and earned her teaching degree while working two jobs and raising two daughters. It was hard, but not as hard as it would have been without the branch campus in Battle Mountain.
"I would have driven back and forth to Elko. I would have driven to Reno. I would have moved," Hammill says.
Available college classes within walking distance of her house meant she could earn her degree and still tuck her daughters into bed at night.
Now Hammill teaches sixth-grade English in the town she considers home — one of eight locally grown teachers Battle Mountain and Great Basin College have produced in recent years.
She likes where she works, and says she plans to stay a while: "I believe I'm right where I'm supposed to be."
Contact reporter Henry Brean at hbrean@reviewjournal.com or 702-383-0350.
Editor's note: Gov. Brian Sandoval's budget proposes major cuts in funding for public schools and higher education. This series takes a closer look at those potential cuts, the effects they may have on students and how educators are preparing to deal with them.
News, poll results
The TV program examines the budget crisis that Nevada's rural community colleges are facing, including Great Basin College. The 30-minute show is scheduled to air at 5:30 p.m. on 8NewsNow.