CCSD board passes transgender policy on split vote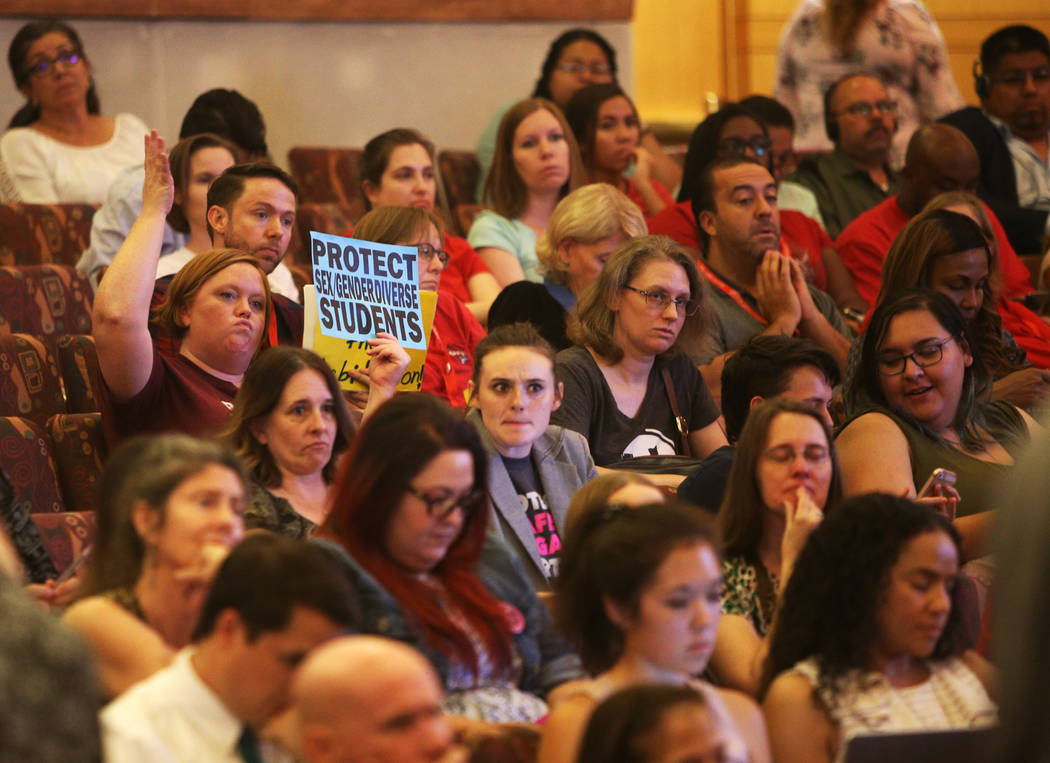 Clark County School Board trustees Thursday cast another split vote to push through a policy addressing the needs of transgender students after a final meeting of lengthy public comment that featured both support and opposition from parents.
The policy requires schools to create a gender support plan for students with diverse gender identities. The plan will be led by a school administrator or the administrator's designee.
The plan will ensure the privacy of students and compliance with the Nevada Interscholastic Activities Association rules and with state law on equal enjoyment of public accommodations.
Students may use the locker room or restroom that is consistent with their gender identity or use the room that corresponds to their sex assigned at birth or come up with another individual plan.
The same three options apply for such students who go on overnight field trips.
Students also have a right to be addressed by the name and pronoun corresponding to their gender identity, according to the policy.
The board was split 4-3 in the same manner it has in recent important votes: Trustees Linda Cavazos, Deanna Wright, Carolyn Edwards and Lola Brooks supported the policy, while Trustees Kevin Child, Linda Young and Chris Garvey opposed it.
Supporters of the policy argued that transgender youth are already abused or face a hard time in school.
"What do I want for my child?" parent Susan Johnson said. "I want her to be appreciated as a contributing member of the school community. People should not focus on what is under her clothes, but grow what is in her heart and mind."
Julie Bravo, the parent of a transgender child, argued that while she understands religious freedom is important, it doesn't take away other people's rights.
But those who opposed the policy argued trustees were ignoring the needs of the majority for the needs of the few, citing the judgment of God and Bible verses.
"The four trustees that are pushing hits policy have unequivocally acted against the privacy and rights of our children," parent Jorge Sanchez said. "You ignore the corruption and evil that this policy will open this door to."
Parents also threatened to pull their children from the district — which would lose funding — over the adoption of the policy.
"There's no way you're going to be able to protect my child from some kid who decided one day that he just feels he wants to go into a different restroom or fitting room or changing room," parent Jodie Page said. "An apology after the pictures are on the internet is going to do nothing for me, nothing for my child."
Trustees who opposed the policy cited a need to protect all students.
"Our bullying policy is not working, and now we want to add a policy on that? How dare we," Child said.
Young spotlighted the issue as yet another reason trustees should stop splitting the board.
"I'm saying we've got to stop this as trustees," she said, arguing that three of them represent 43 percent of the population. "
We keep splitting this board. We've got to come together as a board — we can come together."
Garvey restated her concern about adopting a policy before a state regulation is in place and said her constituency has been overwhelmingly opposed to the rules.
She also clarified that she doesn't believe transgender people attack others.
"I think that a lot of our students have trauma that cause them to sometimes have to work through things because of sexual assault or another trauma in their life," she said. "If they have no idea that they're going to be subjected to a situation that might trigger that trauma."
Trustees who supported the policy argued that they have listened to parents.
"I've heard from so many of the teachers and parents who are telling me, 'We need help,'" Cavazos said. "'We have had these issues for years. And we need help on how to help these kids, while at the same time making sure that all the other children are not ignored.'"
Contact Amelia Pak-Harvey at apak-harvey@reviewjournal.com or 702-383-4630. Follow @AmeliaPakHarvey on Twitter.