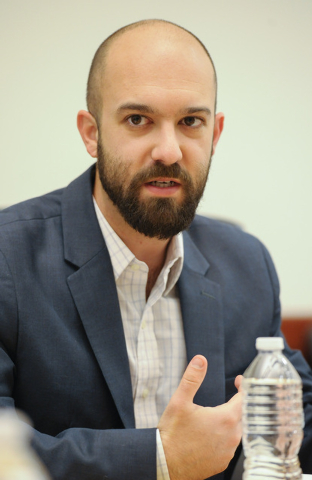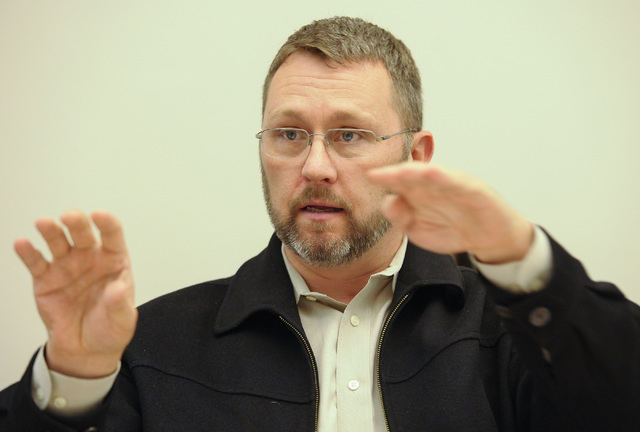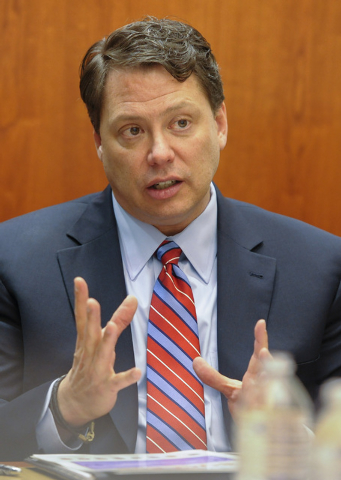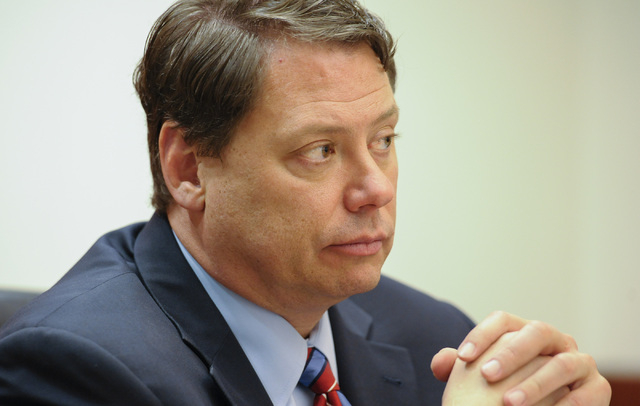 Clark County School Superintendent Pat Skorkowsky on Tuesday praised Gov. Brian Sandoval's proposals for boosting school spending by $782 million, choice with charter and zoom schools, English language programs and reforms to modernize the classroom and the Nevada system for distributing funds statewide.
"What you're going to notice is a direct link to the governor's State of the State" and Clark County plans for improvements over the coming years, Skorkowsky said to the Las Vegas Review-Journal's editorial board.
In the run-up to Sandoval's State of the State address last Thursday, in which he unveiled his spending plans, Skorkowsky said he met often with the governor's team, including state Superintendent of Public Instruction Dale Erquiaga.
"They're very much in line with what we are doing," Skorkowsky said of Sandoval's education improvement plans.
Yet, it was clear during the interview with Skorkowsky, other Clark County school officials and business leaders helping Southern Nevada remake its low-ranking school system that the nation's fifth-largest school district opposes some of the Republican governor's bolder reform plans that could reduce local power.
Those initiatives Sandoval proposed for approval in the next legislative session, which kicks off Feb. 2, include appointing instead of electing school boards; letting local governments break up large districts into smaller ones — or consolidate small districts; and revising collective bargaining laws, which could weaken the teachers' union.
Asked if Sandoval's proposals suggest a lack of trust in local school authorities, Skorkowsky said he believes the idea to appoint school boards grew out of a clash last year between the Washoe County School District and its superintendent, Pedro Martinez. The board met behind closed doors in violation of Nevada's open meeting law to fire Martinez, who sued for lack of proper cause. In the end, the board paid him a $500,000 settlement.
"I think Washoe County was the impetus," Skorkowsky said. "The governor's wife was upset," he added.
Sandoval, in another blow to local power, announced he had appointed Martinez to run a newly formed and borderless "Achievement District" that would include 78 underperforming schools to be run by the state as charter schools. The list includes 49 Clark County campuses or independent public charter schools sponsored by the district.
The list represents 10 percent of Nevada's 724 public schools.
"Superintendent Skorkowsky and the Clark County School District are working hard in these underperforming schools," Erquiaga said in announcing the list last Friday. "Our intention is to help them work even harder."
Skorkowsky didn't address the issue during the editorial board meeting, but his chief of staff, Kirsten Searer, said in a follow-up email that the board on Jan. 7 approved a legislative agenda "supporting an elected board only."
The trustees also said the board would oppose initiatives that expand the scope of collective bargaining, implement school vouchers or reconfigure district boundaries "resulting in limiting equal participation in the benefits of public education."
Otherwise, Skorkowsky said the district's priorities track with most of Sandoval's plans, including the following:
■ Revising the Nevada Plan Funding Formula to implement a weighted funding model that addresses the needs of specific student populations such as English language learners, special education, and children living in poverty.
■ Expanding full-day, state-funded kindergarten for all schools.
■ Expanding zoom schools to provide preschool, full-day kindergarten with a ratio of 21 students per teacher, reading centers, and an extended year in additional schools. Zoom schools receive additional resources to serve English language learners.
■ Addressing school construction or capital infrastructure needs of districts.
Skorkowsky said the district also backs Sandoval's plan to ensure students can read at grade level by third grade. Otherwise, they could be held back a year — a provision Clark County objected to during the previous session. Now, if better preschool and all-day kindergarten programs are implemented, Skorkowsky said he wouldn't oppose holding back third-graders who can't read — but with exceptions based on circumstances. Sixty percent of Clark County third-graders are reading at grade level. Clark has set a goal of reaching 80 percent by 2018-19.
As for capital improvements, Sandoval proposed only $5 million per year for portable classrooms for all-day kindergarten statewide. But the governor also supported rolling over existing voter-approved bonds so districts can get a start on building much needed new schools — two dozen in Clark County alone with its student population of more than 300,000 — and for maintenance.
Skorkowsky said a two-year rollover plan, which appears to have widespread support among Democratic and Republican lawmakers, wouldn't go very far. "It's not even close to where we need to go."
Clark County voters in 2012 rejected a major school bond plan, making school officials reluctant to ask voters again in 2014. If the Nevada Legislature doesn't find more capital funds, the district may have to return to voters in 2016.
Many of the more costly education reforms may not go into effect if conservative Republicans, particularly in the Assembly, refuse to approve a $1.1 billion tax package Sandoval proposed to pay for them, including by increasing an existing business license fee based on a company's gross receipts on a sliding scale.
Skorkowsky said he already is having conversations with lawmakers to urge approval of new revenue and reforms.
"Wherever needed, I will testify," he said, adding that it will be important to get "parents and community members engaged in the process" as well, both private individuals and business groups. Skorkowsky said business leaders estimate 30 percent of companies who decide against moving to Nevada cite poor education as the No. 1 reason.
The superintendent said he and the business leaders he is working with are developing tools that will help schools get the best "return on investment" by identifying programs that work and those that do not. That is in line with Sandoval's call for more accountability for education funding.
With Nevada at or near the bottom of most national lists, including graduation rates, Skorkowsky said his goal is to improve education steadily despite obstacles of a highly transient community with many English language learners.
"I'm tired of being the fastest-growing school district in the nation," he said. "I want to be the fastest-improving district in the nation."
Contact Laura Myers at lmyers@reviewjournal.com or 702-387-2919. Find her on Twitter: @lmyerslvrj.