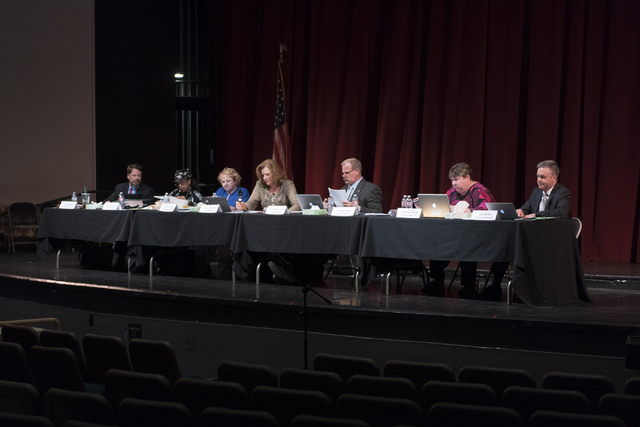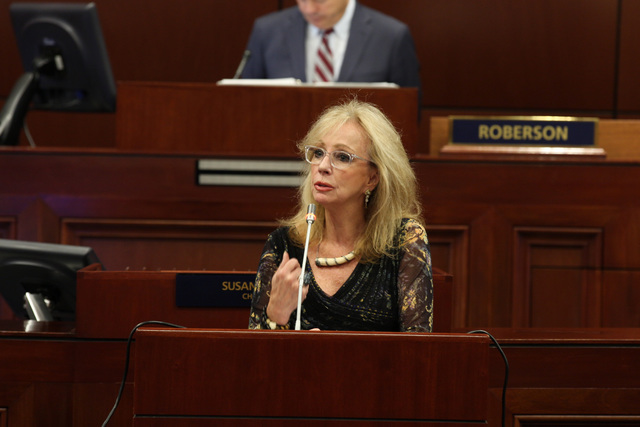 Delaying a controversial idea that has divided the Clark County School Board, trustees voted 4-3 Monday to postpone discussion on retaining a no-cost mentor to assist with the district's mandated reorganization.
The voting came after a heated discussion. Trustees Deanna Wright and Carolyn Edwards called out their peers for scheduling a meeting while Superintendent Pat Skorkowsky and two trustees were away.
At least four trustees — Wright, Edwards, Erin Cranor and Kevin Child — weren't aware of the meeting until the agenda was posted.
The proposal was to have Caesars Entertainment Corp. executive and former Las Vegas Mayor Jan Jones Blackhurst mentor the board on legislative and policy matters for one year. The plan revived an idea that some interpreted as an attempt to limit Skorkowsky's power and slow the reorganization.
Participating remotely by phone, Edwards said she has no confidence that the move is not meant to somehow undermine Skorkowsky.
"We are no longer trusted leaders. If you look at the community, we're no longer trusted leaders," Edwards said over the phone. "Right now, I don't trust half of my board."
Wright said she's disappointed in the board and thought the item could have waited. She voiced her concern that the meeting had been scheduled to get Patrice Tew's vote before Tew's term ends this year.
"Sad, sad, sadly to say, this has the feel of urgency because you need Patrice's vote," said Wright,
But Board President Linda Young emphasized the urgency of the district's mandated reorganization, which must roll out next year with a number of trustees' concerns unaddressed.
"This is an emergency situation," she said. "We are in emergency mode right now."
Trustee Chris Garvey, who proposed the idea, argued that the mentorship would be an opportunity for the board to collaborate with Caesars and tap Jones Blackhurst's expertise.
"It is a resource; it is a gift that is offered," she said. "You can take it, you can not take it. It's not any power over the board. Any kind of action would still have to come from the entire board."
Tew, whom onlookers saw as the swing vote on the matter, ultimately supported a motion to postpone the discussion until Jan. 4, when her successor, Lola Brooks, will be in office.
"I think, in the interest of vetting this and making it a process that all the trustees can be proud of, that perhaps it does need more time and discussion," she said.
But along with Young and Garvey, she emphasized that the plan is not to hinder the reorganization law.
"This is about being prepared for a legislative session," she said. "This is about having fidelity towards the governance structure that we have."
Edwards, Cranor, Tew and Wright voted for a motion to discuss the agenda item next year. Garvey, Young and Child voted against.
Trustees also voted unanimously to discuss whether to hire their own legal counsel at a January meeting.
The board is exploring retaining its own counsel to represent board members because its current attorney, Mary-Anne Miller, is shared with the Clark County District Attorney's Office.
Tew said Miller made the suggestion.
"It was her observation that not being able to dedicate her time full time put us in a precarious situation at times," she said.
Contact Amelia Pak-Harvey at 702-383-4630 or apak-harvey@reviewjournal.com. Follow @AmeliaPakHarvey on Twitter.