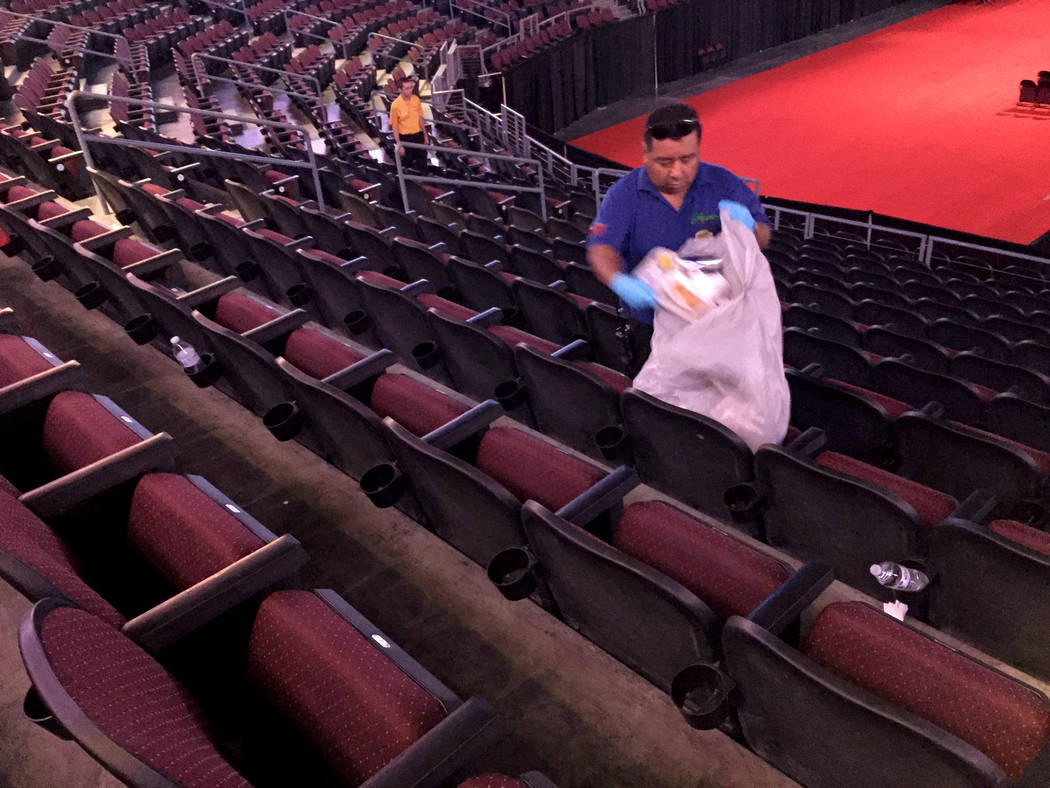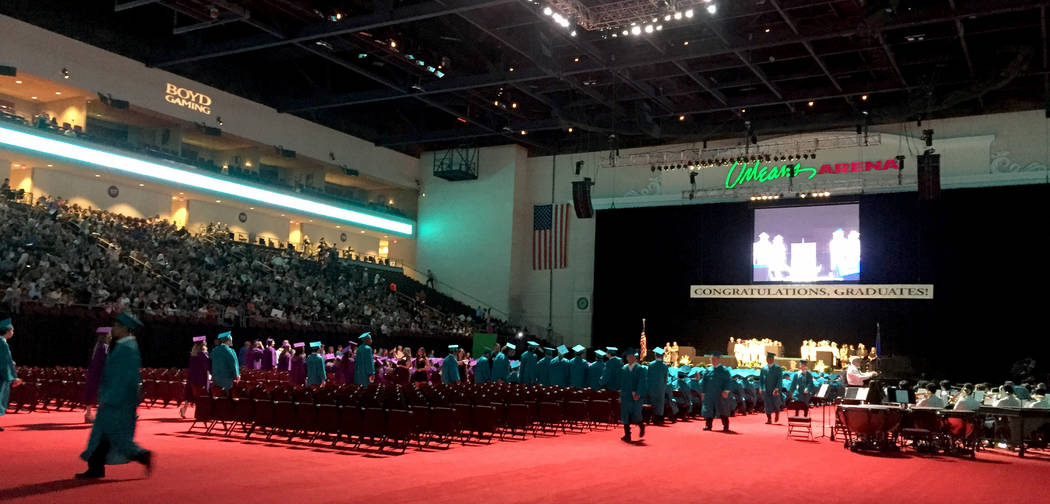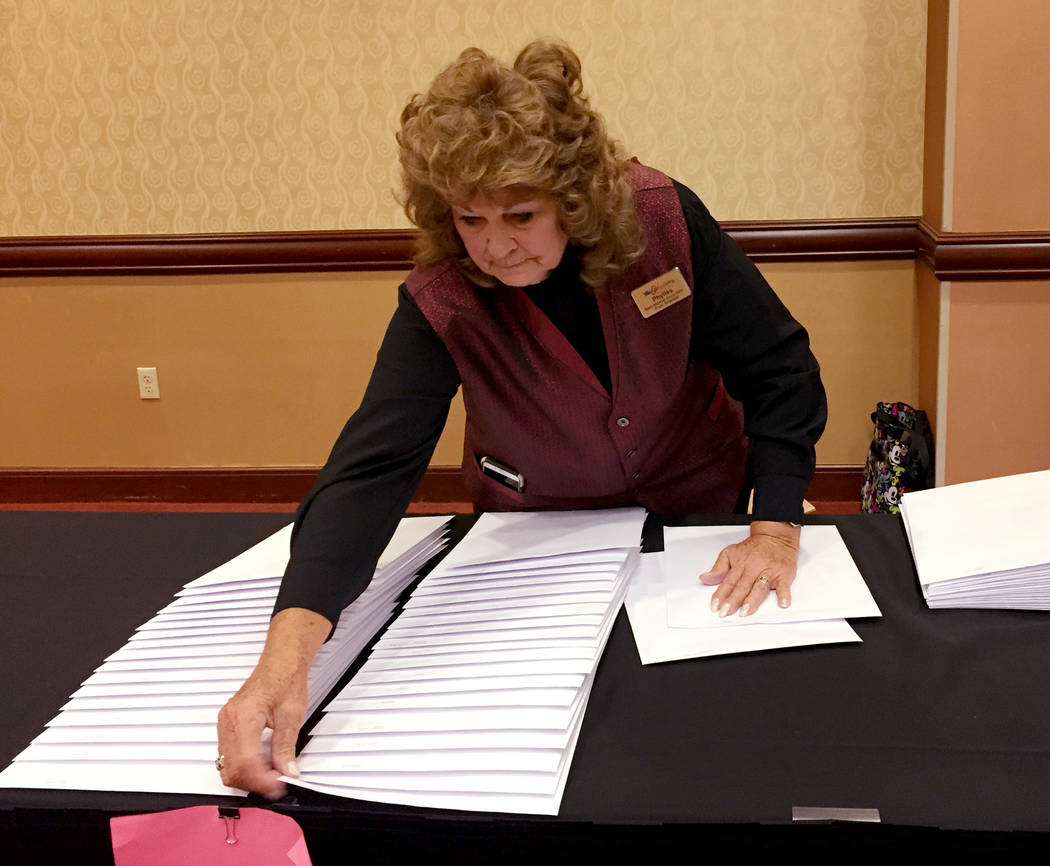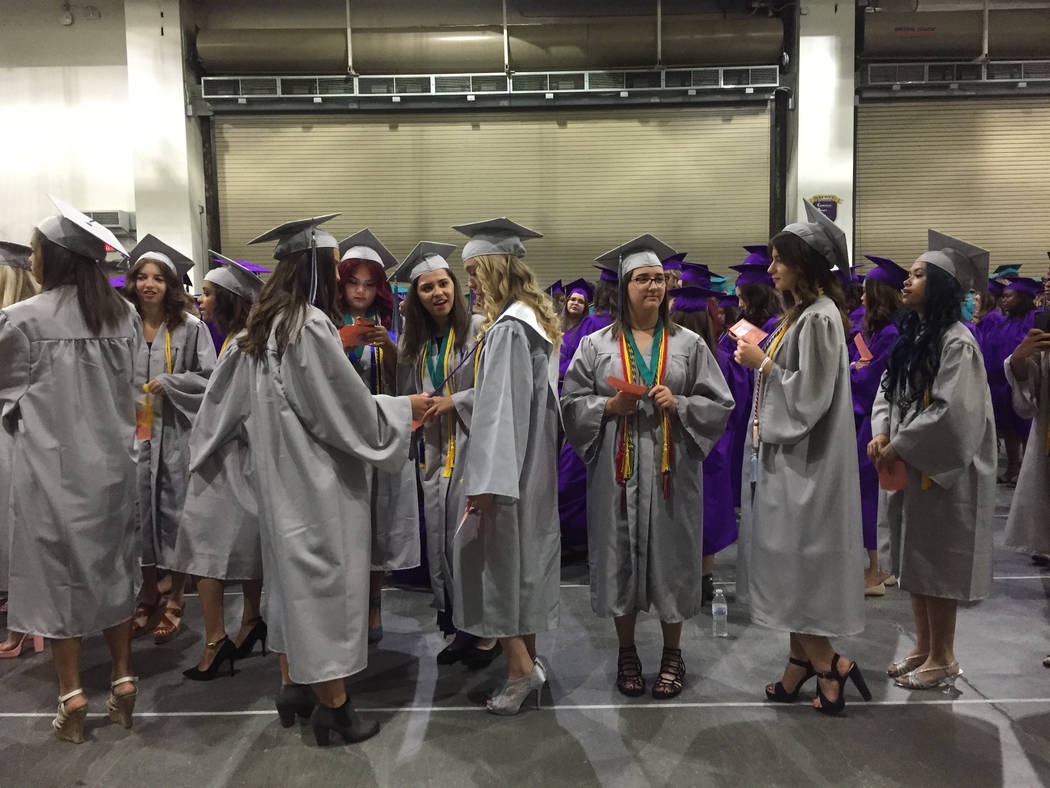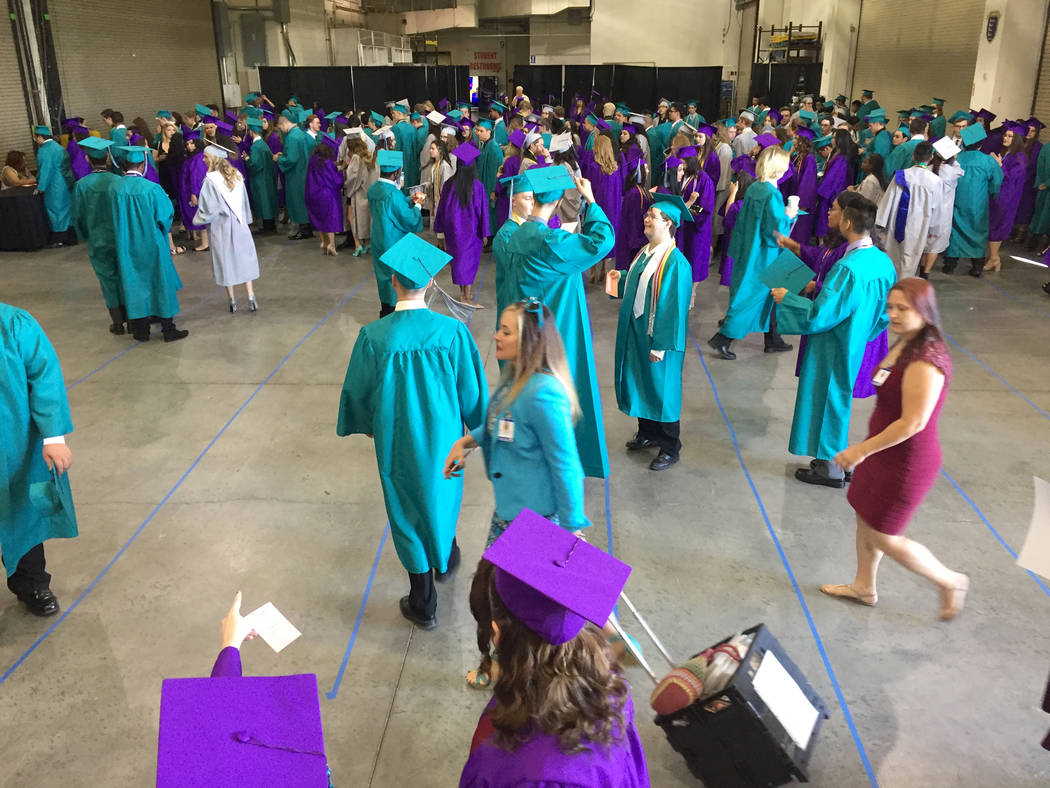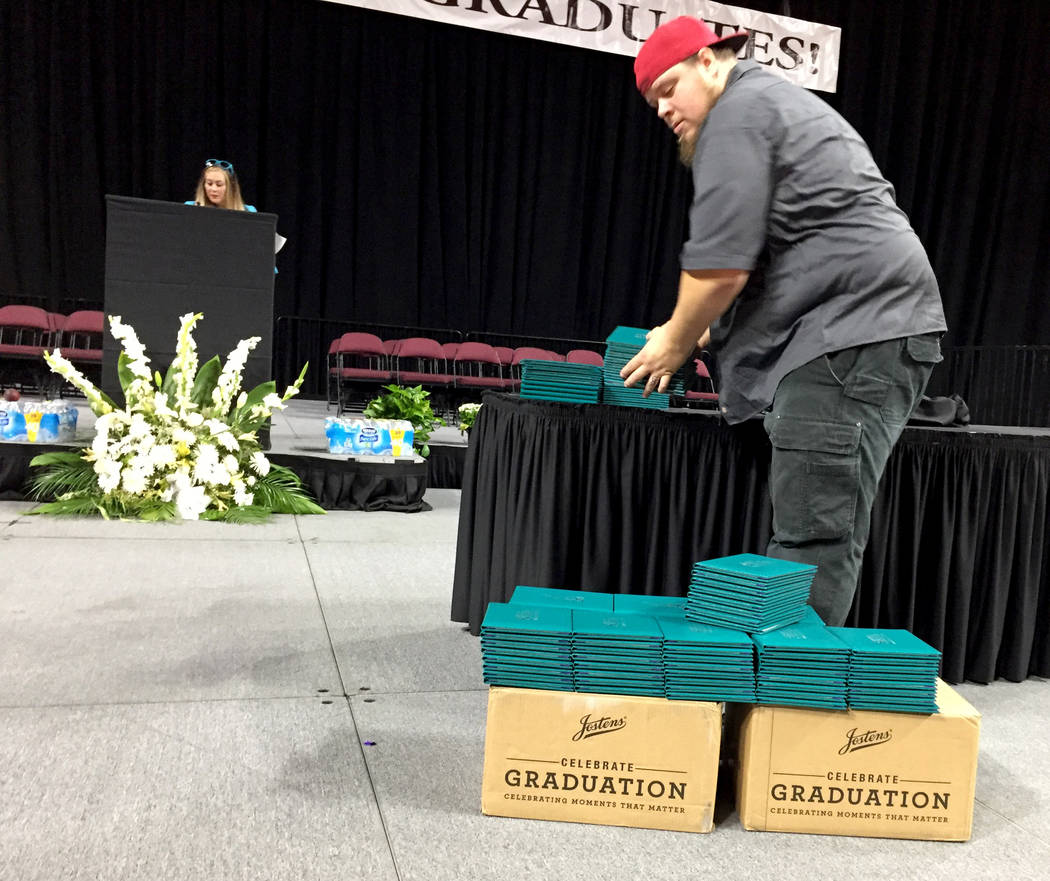 The last Silverado High School graduate crossed the stage at precisely 10:38 a.m. Wednesday at Orleans Arena. Just 36 minutes later — at 11:14 a.m. — the doors opened again to usher in families for Durango High School's noon ceremony.
In those 36 minutes, Silverado students turned their tassels, got their diplomas and headed out to find their families. The families meantime made their way through crowds to meet their newly minted grads with flowers, cards and kukui-nut necklaces.
As the seats emptied in the stands and on the arena floor, a wave of Orleans employees swept in, clearing up trash, straightening seats, setting out new diplomas on stage, and politely asking stragglers to move along.
"It's controlled chaos," said Rex Berman, the arena's executive director, who often monitors graduations on a livestream from his office.
Along with UNLV's Thomas & Mack Center, the Orleans Arena hosts the bulk of the Clark County School District high school graduations. By end of day Friday, the Orleans Arena will have hosted 28 graduations in eight days. They average four ceremonies a day: 9 a.m., noon, 3 p.m. and 6 p.m.

To try to ensure a smooth experience for everyone, arena staff and district officials arrive as early as 7 a.m. to prepare for the first ceremony and work late into the night. And they always get a kick out of seeing the students.
"I always like to see the kids walk across the stage," said Phylis Lackie, an usher who has worked graduation season since 2004, the first year the arena hosted ceremonies.
Years of practice
Berman, Lackie and almost a dozen other veteran ushers likely hear "Pomp and Circumstance" and the theme music from "Raiders of the Lost Ark" — which plays when graduates exit — in their sleep. They've learned a few things over the years.
First, the arena can only hold some of the smaller schools graduations. Anywhere between 500 and 550 students graduating is a good number. More than that and they start to run out of seats for parents and family members. The configuration for graduation holds a total of 5,632 people.
The parking lot, including an underutilized garage, holds 8,000 cars. Berman estimates each ceremony brings in about 3,000 cars, because some people arrive together. Orleans security personnel help handle the traffic flow as one graduation lets out and another is coming in.
Three entrances allow for folks to line up before doors open. The main entrance, through the casino, is air-conditioned and there are two other entrances near the parking lots.
"We want everybody to get in, get a seat," usher Sonny Ruckrigl called out before doors opened Wednesday morning. "Everybody, it'll go much quicker if you have your own ticket in hand."
Once they're in, then comes "the stuff." People bring in strollers, balloons, flowers in glass vases, noise makers and signs. Almost every one of those items is checked in and held until the end of the ceremony by the staff.
Since most graduations sit boys on one side of the aisle and girls on the other, staff make sure they have signs so families know the best side to sit on.
Rapid-fire ceremonies
Each ceremony lasts about an hour and a half, Berman said. They're set-up three hours apart to build in some cushion time. But if the ceremony gets behind, there's not much they can do.
"We just try to move faster on the cleanup," he said.
School staff are responsible for making sure the ceremonies move along. Programs have long lists of student and adult speakers, but thankfully the speeches themselves are short.
Trustee Kevin Child, who spoke at the Silverado ceremony, had a list of life lessons he rattled off.
"To win the race, first you must begin the race."
"Do life, don't let life do you."
Before the presentation of diplomas, Jaime Ditto, the Silverado principal, had a reminder for audience members: please be respectful and refrain from loud cheering or applause when your graduates name is called.
The message tends to fall on deaf ears, according to Berman, but names are read rapid-fire. At Silverado, 519 names were called in 33 minutes.
Then the grads were whisked away to college, career or the armed forces. And for the staff, the process began all over again.
"It makes for a fast day, because it is fast," said lead usher Marie Heckathorn, another graduation lifer at the arena. "We do it. We do it year after year and it works."
Contact Meghin Delaney at 702-383-0281 or mdelaney@reviewjournal.com. Follow @MeghinDelaney on Twitter.