Chaparral students march against reorganization plan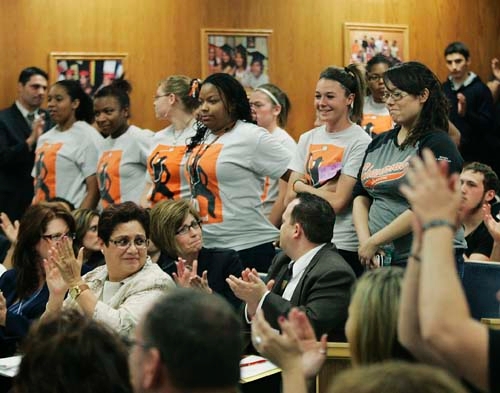 Hundreds of Chaparral High School students marched more than a mile Thursday, from their campus to a Clark County School Board meeting, to protest a school staffing shake-up.
Upset because their teachers must reapply for their jobs and Principal Kevin McPartlin is being reassigned, the students picketed outside the Greer Education Center on East Flamingo Road near Eastern Avenue. Five schools in the Clark County School District are facing reorganization required by a federal grant sought by the district.
Students wearing Chaparral's colors turned the auditorium into a sea of orange and black.
Chaparral Student Body President Dawntaya Smith-McAlister became emotional as she delivered a regularly scheduled report on her school to Clark County School Board members. She noted the positive impact school staff has had on students' lives.
"When I first moved to Chap, I was very shy and didn't care about my grades," said Smith-McAlister between sobs. "It took my teachers, counselors and administrators to talk to me to get me involved. I eventually became the student body president and a leader."
Superintendent Dwight Jones and several board members praised the students for their passion. Jones said he plans to visit the school to talk to the student council.
"I do hear you, we are committed to moving forward in the right way," Jones told students. "Ultimately, this is about you."
But Jones also stressed that the district was moving forward with changes at Chaparral and four other schools — Western and Mojave high schools and Hancock and Elizondo elementary schools. Elizondo in North Las Vegas was the last school to be identified on Thursday. Its principal, Alyson Jones, also will be reassigned.
"These schools have been (classified) as needing to show improvement for at least five years," Jones said. "It's time for us to take action."
The staffing changes are required under the terms of a federal School Improvement Grant for low-performing schools the district is pursuing. Each school is limited to hiring back up to 50 percent of its staff. Principals who have been at the school for three years or more must be reassigned. Displaced teachers may apply for other jobs in the district.
Because the district is facing funding shortfalls of $250 million to $400 million, the district must "go after every single dollar," said Lauren Kohut-Rost, the deputy superintendent for instruction.
She said the grants could provide about $850,000 to each of the five schools per year for the next three years.
Chaparral is expecting a shortfall of about $2 million next year. The grant could cut that in half and save 19 teaching positions that would otherwise be eliminated, district officials said.
Kohut-Rost said the reorganization of the school should not be viewed as ingratitude to the staff.
"No one is not recognizing the results that have been made over the last five years at Chaparral," Kohut-Rost said. "But the greater concern is what happens" to the academic programs if new funding is not found.
Students, however, said the changes were hard to take.
"If you take our teachers, you're pulling away our family," Athena Conger, 17, told the School Board.
Ashley Trudell, 17, a Chaparral junior, said students turned out Thursday to "show we really love our staff and teachers, even though we're just kids, it's still important to us and we care about what happens."
Angelique Braswell, 18, who wore her cheerleader's uniform to the meeting, said as a senior, "I've watched the school grow. It's sad to know it's all going to go by the wayside."
Chaparral Principal McPartlin declined comment.
Father Ron Zanoni, the pastor of St. Christopher Catholic Church in North Las Vegas, noted in his invocation before the board meeting that in political matters children "don't always have a voice, but they seem to have found it tonight."
Contact reporter James Haug at jhaug@reviewjournal.com or 702-374-7917.
RETIREMENT ANNOUNCED
Lauren Kohut-Rost, the deputy superintendent of instruction for the Clark County School District, announced her retirement to the School Board on Thursday.
"The paperwork has already started," she quipped.
A district educator for 28 years, Kohut-Rost said she is retiring because of family reasons and other obligations.
LAS VEGAS REVIEW-JOURNAL