Clark County School Board spares program for at-risk students
October 6, 2017 - 4:57 pm
Updated October 6, 2017 - 7:11 pm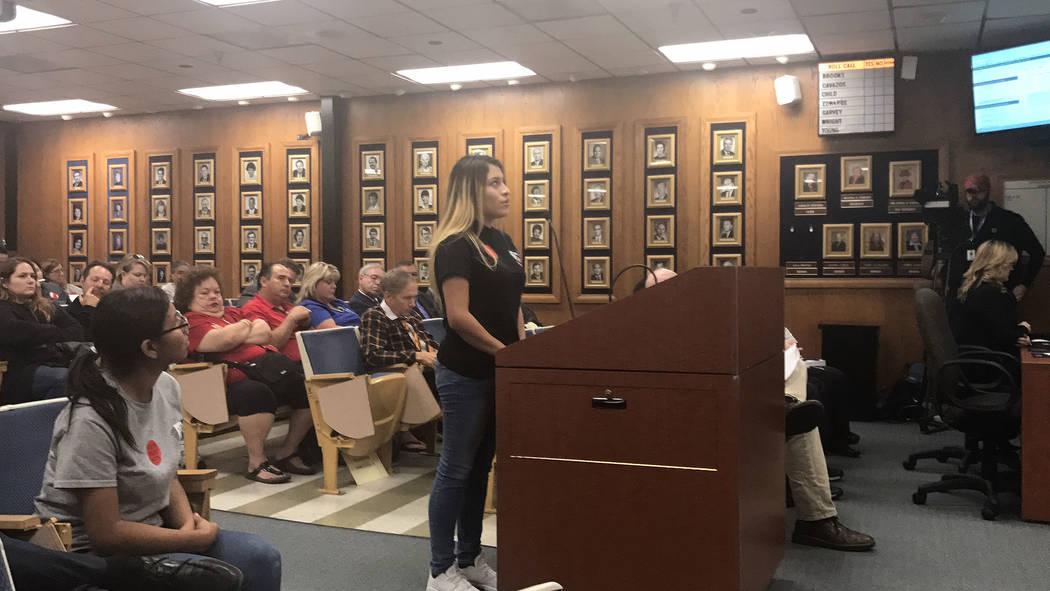 The Clark County School Board voted unanimously Friday to spare a day program for at-risk students at Burk High School, reversing a previous budget cut, to the relief of students who say they don't fit in at traditional schools.
The decision came after board members listened to heartfelt testimony from current and former students urging them to keep the Burk Horizon day program running at least through the end of the school year.
"You got to save my future — not only mine, but so many kids," pleaded Nathan Arce, a transgender student who said he battled a drug addiction, homelessness and bullying at his previous school. "I may have lost my home, but I'm more than anything happy to not have lost my family and the opportunity to continue academically."
The board voted Sept. 14 to discontinue the day program at Burk, a school for students who are credit-deficient, including those who need more than four years to graduate high school, to save about $1.9 million. The move was part of a package of cuts ordered to reduce the Clark County School District's budget deficit, most recently estimated at $50 million to $60 million.
Burk's day program will now remain open through August 2018, allowing those who were planning to graduate this year to earn their diploma.
While the students could have enrolled in the online Nevada Learning Academy, returned to their traditional schools or attended another credit recovery school if the day program had ended, they said Friday that many would drop out if they were uprooted.
Alexander Cuevas, a 2014 Burk graduate who described himself as a "throwaway child" who couldn't be helped at his zoned high school, urged the trustees not to sacrifice students who are working toward a better future.
"These kids are fighting for the chance that everybody else gets because maybe they needed that extra help, maybe they needed that extra 10 minutes to explain that topic that everybody else understood and they didn't," he said.
Even though the final vote to save the day program was 7-0, the issue still sparked dissonance among trustees.
Trustee Chris Garvey expressed concern that Trustee Lola Brooks, who works for Beacon Academy, had a conflict of interest in the matter. Garvey said Beacon, a state charter school for at-risk students, was trying to recruit students because of the impending closure of the Burk program.
Although her employer stood to gain from the decision, Brooks said that she's not involved in enrolling students or with marketing. She then voted to keep the program.
Board President Deanna Wright also accused Trustee Kevin Child of visiting Burk and telling staff that he had the votes to restore funding to the program — something he denied.
"I know you guys want to attack me all the time," said Child, who has had a rocky relationship with other trustees.
The acid exchange was just the latest sign of acrimony to emerge as the School Board has labored to erase the district's deficit. While the board has cut about $60 million so far, more cuts may be needed after the district goes through its reassignment process for employees whose jobs were eliminated.
At least two of the bigger unions, representing teachers and administrators, have rejected the district's proposal to take two furlough days in order to avoid job cuts. A district spokeswoman previously estimated the furlough days would save about $16 million.
Contact Amelia Pak-Harvey at apak-harvey@reviewjournal.com or 702-383-4630. Follow @AmeliaPakHarvey on Twitter.
"I didn't care if I was found overdosed on the highway. Now I see myself going to college because of Burk High School." — Nathan Arce, Burk student