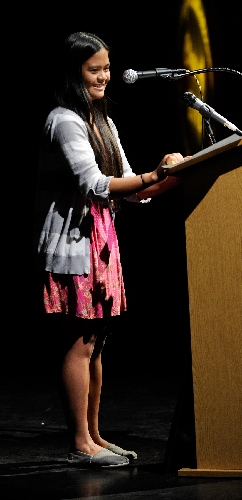 Full of pomp and circumstance, the leaders of the Clark County School District came together on stage Monday to announce some good news: More kids are graduating high school.
This is especially important here, where, historically, barely more than half the kids who enter ninth grade have ended up with a high school diploma.
The rate rose from 59 percent last year to 65 percent this year – and district officials were quick to point out that this year's numbers aren't yet final.
"Today's good news is just the beginning," said Lorraine Alderman, a School Board member.
Some students who are on the edge will be working on graduating over the summer. In fact, the district will hold its first-ever August graduation ceremonies specifically for those students.
Superintendent Dwight Jones, who is in his first year on the job, said aggressive intervention programs with seniors who were short on credits or hadn't passed the proficiency exam were responsible for the increase.
"When you're trying to transform a system, it is so important that you also celebrate those early wins," Jones said from the stage in the Clark High School Performing Arts Center, on Pennwood Avenue near Arville Street.
The district said 23,078 students began as freshmen in 2008, becoming the potential Class of 2012. Officials expect 15,000 of them to graduate this month. That is 400 more than graduated last year, including those who finished over the summer, district officials said.
An additional 2,000 will work over this summer and could graduate in August.
District officials also noted that, of the 23,078 who started as freshmen in 2008, an unknown number of students have moved out of the district without notifying officials. They are essentially counted as dropouts.
At the beginning of this school year, district officials said, they were projecting a 52 percent graduation rate.
To bring that number up, they identified 10,000 entering seniors who weren't on pace to graduate.
Of those, there were 7,500 who needed only a credit or two or were close to passing the Nevada High School Proficiency Exam.
In all, the district said, there were 5,916 students at the beginning of the school year who had failed one or more sections of the state exam. As of April, 3,575 had passed.
Additionally, the year started with 4,218 seniors who were credit deficient. As of April, there were 1,828.
The 7,500 students who were just short of graduating were given opportunities to improve through tutoring, online courses and extra classes, mentoring and boot camps.
Jones praised teachers, community groups and the students for putting in extra work.
Pedro Martinez, the district's deputy superintendent of instruction, said every high school in the district improved its graduation rate. Individual high school rates weren't provided Monday.
Three high schools that were singled out last year for low graduation rates – Chaparral, Western and Mojave – all showed dramatic improvements. The so-called turnaround schools also improved their daily attendance rates to become among the top schools in the district, Jones said.
Clark High School student Jellow Flor Gato, 17, said the district's efforts helped her graduate. She said she traveled to the Philippines during her senior year and ended up missing so much school she lost credits.
Student Kadejah Montgomery, 18, said she wasn't even close to graduating when she entered her senior year this year. She had only 14½ credits but needed 22½ to graduate.
She missed her entire junior year because she was pregnant. She gave birth to Ayana on Feb. 28, 2010.
She came back to school knowing she needed help.
"I really wanted to prove that I was going to graduate," she said.
She used the district's programs, taking online courses and making sure she wasn't absent. She will be graduating this month and has already begun the process of enrolling at the College of Southern Nevada.
She said she wants to become a nurse because she likes helping people.
Contact reporter Richard Lake at rlake@reviewjournal.com or 702-383-0307.