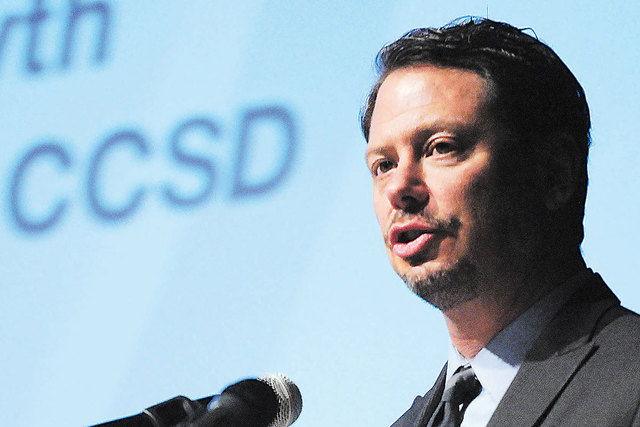 Faced with families who don't want their children transferred from crowded schools to underused but often under-performing campuses, the Clark County School District has come up with a way to persuade them.
It plans to create more magnet programs at under-enrolled elementary, middle and high schools near crowded campuses.
"Here's your out-of-the-box thinking," Superintendent Pat Skorkowsky told the School Board on Wednesday morning, announcing the 2015-16 addition of seven new magnet programs and five Select Schools, which are high schools offering specialized programs of study. Four more magnet programs will be added in 2016-17.
Clark County schools currently offer 21,185 seats in magnet and career and technical programs, a number that will increase by a fourth under the two-year expansion, adding 5,000 seats. The new programs will focus on a range of subjects, including performing arts, finance and information technology, geology, engineering and math. The district will also expand the Swiss-based International Baccalaureate program, an academically intense program, into more schools.
Seeing that the district doesn't have the money to build new schools, the School Board asked Skorkowsky to come up with creative solutions for alleviating crowding which has resulted in as many as 20 portable classrooms at some elementary schools.
"We need to utilize what we do well to deal with overcrowding," Skorkowsky told the School Board, referencing the performances of its existing magnet programs.
These programs boast some of the best student performances in the district. Existing career and technical high schools and magnet programs report graduation rates of 93 percent or better.
"Putting these programs in place is going to move forward student performance at an exponential rate," Skorkowsky said.
These programs are in demand. The district put 5,724 magnet and academy seats up for grabs in the 2014-15 school year. The district received 16,679 applications, triple the number of available seats, Skorkowsky said.
"I'm so excited about all this," School Board member Carolyn Edwards said. "This expansion is really significant."
While any student can apply for a seat in the spring of 2015 for magnet programs beginning in the 2015-16 school year by visiting ccsd.net/schools/magnet-cta/, about a quarter of a school's program seats are reserved for neighborhood students.
This ensures the goal of alleviating school crowding is accomplished, said Jhone Ebert, the district's chief innovation and productivity officer.
Piggott Elementary School, near Charleston Boulevard and Fort Apache Road, will start an International Baccalaureate program in 2015-16. Piggott is 8 percent below its student capacity, but surrounding southwest valley schools are bursting at the seams.
To Piggott's south, Christensen Elementary School is 18 percent over capacity.
To its west, Ober Elementary School is almost 19 percent over capacity.
On its two other sides, Bonner Elementary School is a quarter past its maximum student capacity and Derfelt Elementary School is 21 percent over capacity, with all these schools relying on portable classrooms and even portable bathrooms for students.
Situations are similar around the other schools to receive magnet programs.
"This truly is an expansion," board member Linda Young said. "This is huge, absolutely huge."
Contact Trevon Milliard at tmilliard@reviewjournal.com or 702-383-0279. Find him on Twitter: @TrevonMilliard.