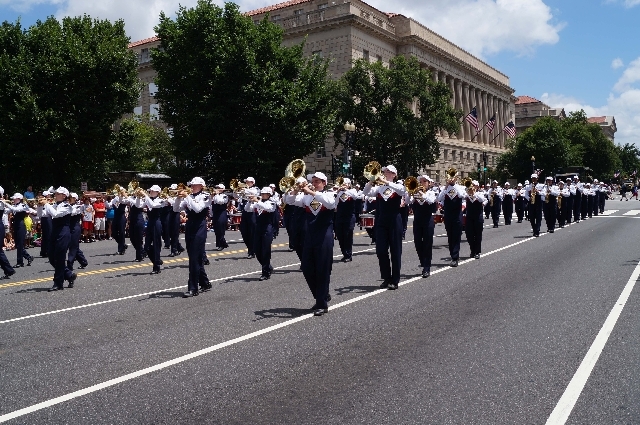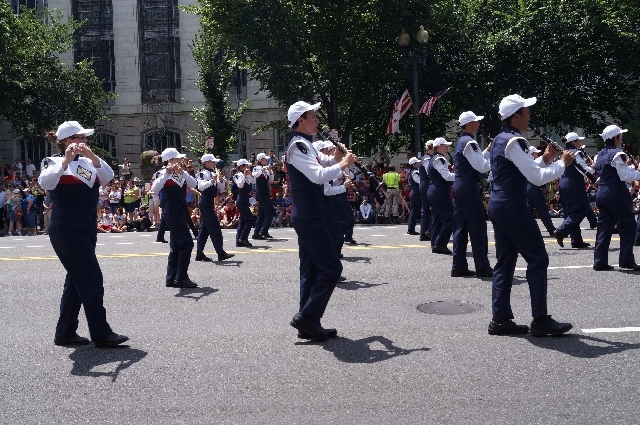 They marched through humidity, heat, sweat, exhaustion and nerves.
They spent months practicing and raised thousands of dollars.
The Coronado High School marching band represented their school, Las Vegas and their country in the National Independence Day Parade on Thursday morning in Washington D.C.
"I was really nervous not to mess up," drummer Jason Finer said. "It was kind of nerve-wracking throughout the parade, but it was a cool experience."
Finer was one member of the 82-piece marching band accepted into the parade after being a nominated by U.S. Rep. Joe Heck, R-Nev.
Finer also earned the distinction of being part of a four-member group to lay a wreath at the Tomb of the Unknown Soldier at Arlington National Cemetery.
"I thought that was a really great way to honor them," he said. "It was a really special thing to be a part of."
The band started practicing for the parade in March and held fundraisers to pay for the trip.
"The most difficult part was motivating the kids in Las Vegas to practice in the heat outside," band director Benjamin Franke said.
The heat in Las Vegas prepared the students for the heat in Washington, and the kids worked hard to impress during the parade. "Even though they were exhausted and hot, they pushed through to the end and played the last note like the first note," Franke said. "They were hot and sweaty, but they did a great job."
The heat contributed to some of the anxiety for the students.
"My hands got slippery, and it was hard to hold the drumsticks," Finer said. "I was really happy I could take my drum off (after the parade) and get cold water. I was relieved and excited that it was over but really glad that I got to do it."
The pressure not to mess up because so many people were watching was another source of anxiety, mellophone player Malia Zinn said.
"My first reaction was surprise as we rounded the corner of the archives and saw all of the flags and all of the people," she said. "That was very shocking and exciting."
All of the students worked hard and performed excellently , Franke said. They all loved touring the city and being able to interactively put their lessons into perspective.
"I was proud to have been able to represent Nevada," Zinn said. "It was, wow. I just performed in the nation's Fourth of July parade."
Contact Rochel Leah Goldblatt at rgoldblatt@reviewjournal.com or 702-383-0381.