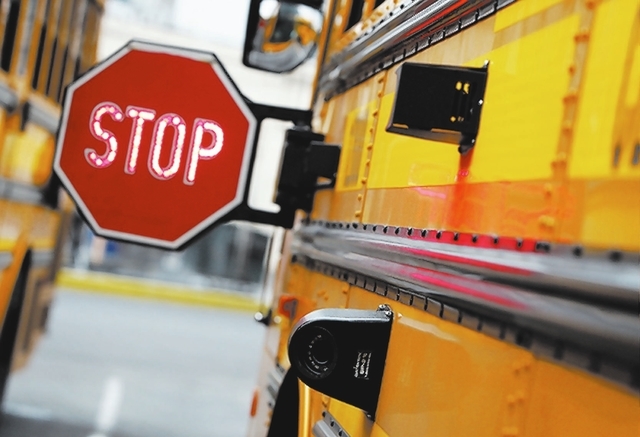 District-wide rezoning.
It has the potential to shift thousands of students to different schools. The 315,000-student Clark County School District hasn't undertaken district-wide rezoning since 1994 when it had 156,000 students.
But the time may have come to move the lines around schools, agreed members of the Clark County School Board on Thursday who've avoided the divisive topic in recent years.
"This has to be taken seriously," said board Vice President Linda Young. "No one wants to do district-wide rezoning, quite frankly. It's a terror through people's hearts. But it has to be on the table."
Schools have grown increasingly disparate, especially the district's 217 elementary schools. Some have empty classrooms or even vacant school sections. Others have students spilling into as many as 21 portable classrooms aligned in rows on campus blacktops and backfields.
The district is using 1,872 portable classrooms, which is the equivalent of 40 elementary schools. The average age of a district portable is 15 years, but a quarter of its portables exceed their 20-year lifespans.
"I know it's not easy, but we need to get out of our comfort zone to solve this problem," said board member Deanna Wright, who supports rezoning.
The School Board started earnestly discussing the option Thursday as a way to even out the student population, which officials contend can't be done by building new schools because the district lacks the money. Wright was disappointed that Superintendent Pat Skorkowsky didn't bring forward any information on available seats or schools to focus on.
"I'm disappointed we don't at least have some information tonight," said Wright, pointing out that the board gave him direction months ago to start looking into district-wide rezoning. "Or is it more grief and pain than it's worth doing?"
New schools aren't an option, Chief Financial Officer Jim McIntosh said.
In a 2-1 vote, Clark County constituents refused the district's 2012 request for a $669 million increase in property taxes, Young pointed out.
"Now, we are literally running out of seats and we have no money," said Young.
The board unanimously passed on a similar property-tax request this year to fund school construction, realizing defeat was likely.
Skorkowsky acknowledged Thursday that "some schools are underutilized," and his staff will report back July 17. At that time, he'll provide the number of available seats and which schools with seats to spare are within close proximity to crowded campuses. Included will be an analysis of whether student transportation costs would be increased by moving students to underutilized schools.
The School Board also on Thursday:
■ Updated the district's anti-smoking policy to prohibit use of e-cigarettes, which vaporize a nicotine-laced water into an aerosol and have recently become an issue among adults on campus, more so than among students.
■ Settled with former first-grade teacher, Jacqlyn Smith, for $150,000, closing a disability-discrimination lawsuit dating back to 2009. Smith taught first grade until a chronic back condition prevented her from standing for prolonged periods, according to lawsuit documents. She sought training and became certified as a literary specialist at Henderson's Kesterson Elementary School in 2007. But Principal Michele Wooldridge told Smith later that same school year that she was being reassigned as a kindergarten teacher. Smith said that would be physically difficult and requested to remain a literary specialist. A few days later, the principal advertised the literary specialist position. Smith applied but wasn't interviewed. The principal instead hired a teacher already on staff who didn't earn a literary specialist certification until two months after being hired, according to the lawsuit. That teacher also was licensed for kindergarten and didn't have any record of physical restrictions.
■ Was asked by a group of district parents to allow seniors who haven't passed state-required exit exams to take part in commencements.
■ Heard Superintendent Pat Skorkowsky's $638,000 transition plan for taking back control of seven elementary schools – Cahlan, Crestwood, Lincoln, Lynch, Park, Ronnow and Elizondo – last run by for-profit company Catapult Learning, which recently took over the contract from another for-profit educational services provider, EdisonLearning. Skorkowsky decided earlier this year to not renew the contract because of lackluster student performance and returned school operations back to the district.
Contact Trevon Milliard at tmilliard@reviewjournal.com or 702-383-0279. Find him on Twitter: @TrevonMilliard.