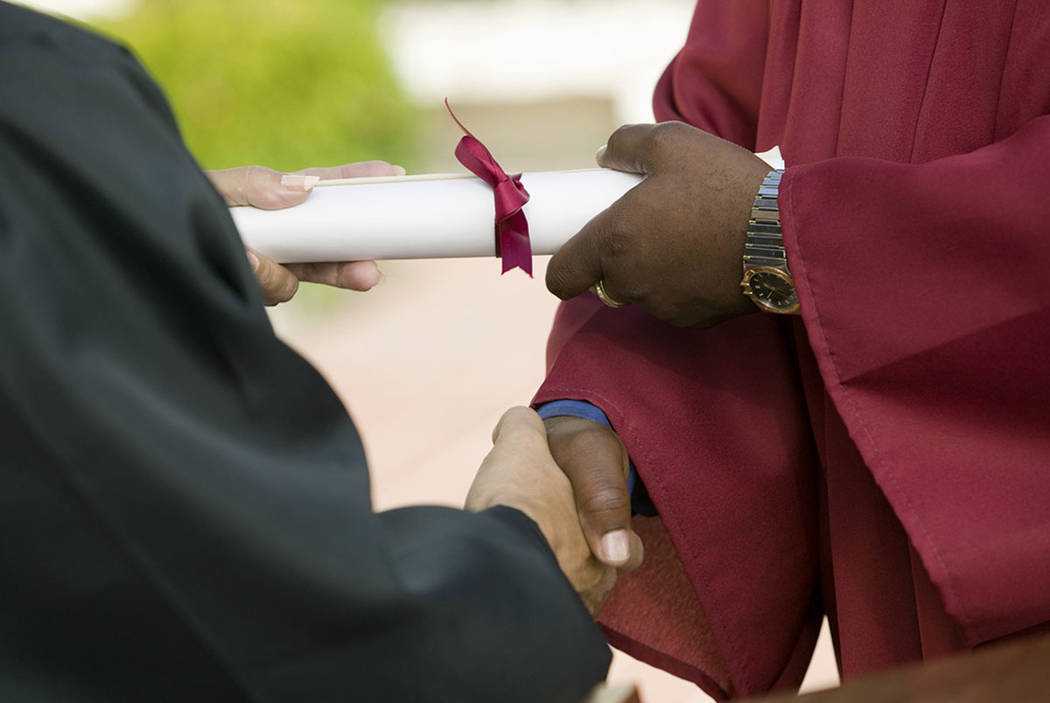 The deadline is closing in on College of Southern Nevada officials as they work to recruit mentors for the state's new Promise Scholarship program.
Maria Marinch, executive director of Inclusive Learning and Engagement at CSN, said the college ideally would like to recruit 1,500 people to mentor the more than 9,000 high school seniors who applied.
But they're a long way from that number, and the deadline of Dec. 31 as spelled out in the new legislation is nine days away.
"We're hoping we can pull together, cross the line and get the mentors we need for these students," Marinch said.
Meeting with an assigned mentor is just one requirement students must meet to be eligible for the last-dollar scholarship program — which covers student fees at a community college after other aid sources, such as the federal Pell grant — have been exhausted.
According to Marinch, 811 people have signed up to be mentors, and of that number, 350 have completed the required 20-minute online training.
"The needle is moving every day," Marinch said, adding that the overall time commitment for a mentor will be between two and five hours in the spring.
Student applicants have to complete their own online training, which provides an introduction to the program and CSN, to remain eligible. If all 9,386 students complete the training by the end of the year, college officials will need to identify at least 950 mentors to keep the ratio of students to mentors at 10 to 1, as required by law.
The Nevada Legislature this year approved $3.5 million for the pilot program, which is modeled after the Tennessee Promise Program.
Nate Mackinnon, vice chancellor for community colleges for the Nevada System of Higher Education, said mentors don't have to know the ins and outs of the college admissions process or be associated with CSN — they just need to be a responsible adult, he said.
"We're overwhelmed by the incredibly positive turnout from students, and we're trying to get the same equally overwhelming response from busy adults willing to be mentors who may not know they can give back in this way," he said.
While not ideal, Mackinnon said the college will continue recruitment efforts in January if the needed mentors are not secured.
"We believe the legislation and the spirit of the legislation is to promote student success," he said. "We view our ability to get mentors as essential to that. We're working as hard as we can, and we'll continue to do so."
He said speed bumps like this are not uncommon for new programs such as the Promise Scholarship.
"I think the college has done yeoman's work to get people to apply," he said. "It's really hard. It's the first year of the programs. We spent months educating high school seniors, guidance counselors and parents about the program so they could apply. And once they applied, we had to spend time educating everyone else."
K.C. Brekken, executive director of the CSN Foundation, said organizations across the valley have provided several hundred mentors, including Dignity Health, with more than 35, and Nevada Energy, which has recruited more than 50.
"We have mentors who serve in hospitality, mentors who are teachers, police officers, retirees, nurses and CEOs of major corporations," Brekken said. "This community has embraced our Promise students. It's incredible."
Contact Natalie Bruzda at nbruzda@reviewjournal.com or 702-477-3897. Follow @NatalieBruzda on Twitter.
Promise Mentor qualifications
The state law that created the Promise Program requires potential mentors to undergo a criminal background check. A person convicted of a felony cannot serve as a mentor.
Mentors must be 21 years old.
Mentors may not employ the person being mentored.
Mentors may not be related by consanguinity or affinity within the third degree to the students being mentored.
Mentors may not be compensated for their service.
To apply, visit www.csn.edu/mentor-application.
Source: College of Southern Nevada