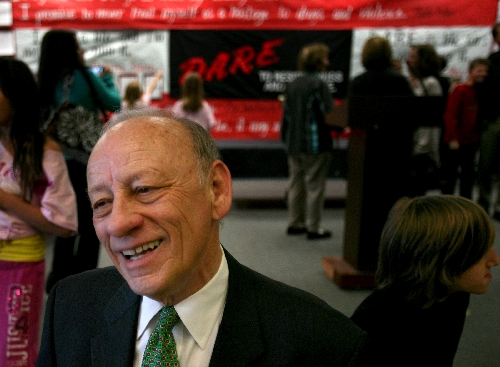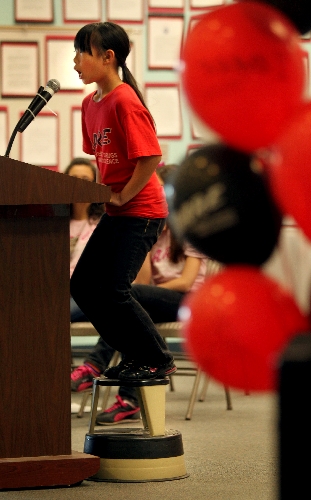 Charlie Parsons, former director of the FBI's Los Angeles division, sat discreetly in the audience of 150 picture-taking parents.
The man who also previously worked as a Las Vegas FBI supervisor smiled and clapped as 154 Bonner Elementary School fifth-graders celebrated their Drug Abuse Resistance Education graduation. D.A.R.E. is a set of lessons led by police officers teaching children to resist peer pressure, drugs and bullying.
"Falling for peer pressure is like living a life of Simon Says," student Andrew Cannata said.
Parsons' FBI career spanned 27 years and earned him a presidential award for his leadership during the 1992 Los Angeles riots, but he now devotes his time to D.A.R.E. America. He has been president and CEO of the program since 1996, trying to reach children in time to prevent crime and drug use, as he did in his former career.
"We're trying to inoculate them before they get to junior high," he said.
After the graduation ceremony, students at the northwest valley school ran to the stage to take a picture with their teacher, Las Vegas police officer Ed Schumacher.
For most of them, D.A.R.E. was their first interaction with police and the effect of the contact will be lasting, Parsons said.
D.A.R.E. has tracked groups of children who were and weren't exposed to D.A.R.E. for five years. Those who graduated from D.A.R.E. had lower drug usage rates in their teens, he said.
Parsons echoed that point, emphasizing that illegal drug use in this country is half of what it was when the program began in 1983.
Studies haven't been done specifically in Las Vegas, where fifth grade is the right time to talk about drugs, said Schumacher, a six-year D.A.R.E. instructor who was just named Nevada's D.A.R.E. director. He would like to know D.A.R.E.'s local impact but won't anytime soon.
"Everything costs money, and we have none," Schumacher said.
Las Vegas has 17 officers and one sergeant teaching D.A.R.E. at a minimum of eight schools each. That is 188 elementary schools. But two officers are retiring next year, and their 18 schools aren't being passed on to others, Schumacher said.
"Vegas needs this program," he said, noting that 210,000 Las Vegas fifth-graders have graduated from D.A.R.E. since 2000. "I know it sticks with them."
Contact reporter Trevon Milliard at tmilliard@reviewjournal.com or 702-383-0279.