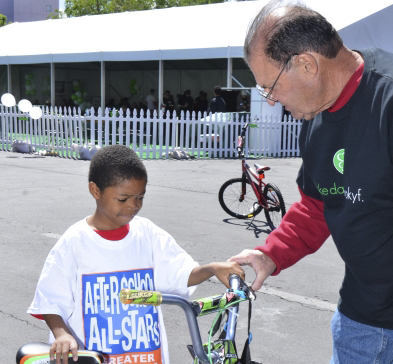 MISS NORTHEAST NEVADA SPEAKS AT MOUNTAIN VIEW ELEMENTARY SCHOOL
Students at Mountain View Elementary School, 5436 E. Kell Lane, watched a presentation on March 10.
According to the Mountain View Elementary School website, "Students enjoyed a presentation by Miss Northeast Nevada Ellie Smith titled Bullying: Don't Let It Get You Down."
For more information, call 702-799-7350 or visit mtnview.net.
FESTIVAL OF COMMUNITIES, GREENFEST TO BE HELD APRIL 12
The Festival of Communities, GreenFest and an undergraduate research and creative activities symposium are scheduled at 8 a.m. April 12 at the UNLV, 4505 S. Maryland Parkway.
According to a UNLV release, "The festival celebrates the rich cultural diversity of the school and the Las Vegas Valley."
The program features more than 180 cultural booths and attracts more than 8,000 participants, the release said.
GreenFest, which is part of the event, is held in honor of National Earth Day and features green vendors, entertainment, recycling and conservation exhibits and more.
Also at the event, an undergraduate research and creative activities symposium will allow the public to learn about the work, research and accomplishments of the university students.
The event is open to the public.
For more information, call 702-895-0898 or email megan.downs@unlv.edu.
GREENSPUN COLLEGE OF URBAN AFFAIRS NAMES NEW DEAN
Robert Ulmer is set to be the new dean of the Greenspun College of Urban Affairs at UNLV, effective July 1.
Ulmer is a professor and chairman of the Department of Speech Communication at the University of Arkansas at Little Rock. He holds two secondary appointments with the College of Public Health at the University of Arkansas Medical Sciences. The co-author of six books, he is a recognized expert in risk management and crisis communication.
ITALIAN AMERICAN CLUB ANNOUNCES SCHOLARSHIP WINNERS
The Italian American Club of Las Vegas has announced winners of its 2014 scholarship awards. Seven high school and continuing education students each received a $500 award. The winners are Emily Andreola, Brittaney Bolduc, Marissa Leininger, Bridgette Raucci, Sydney Rogers and David Sanchez.
HISPANIC LANDSCAPE TRAINING WORKSHOPS PLANNED FOR APRIL, MAY
The University of Nevada Cooperative Extension plans to host a series of free landscape training sessions for Spanish-speaking individuals at the Lifelong Learning Center, 8050 Paradise Road. Workshops are planned from 5:30 to 8:30 p.m. The April 22 class is set to cover proper pruning techniques; April 29, protecting trees during construction; May 6, insect management; and May 20, tree care (fertilizing, mulching and planting and irrigation).
Participants will receive a certificate for each class. To sign up, call 'Chelle Reed (English) at 702-257-5536 or Marcel Fernando (Spanish) at 702-275-5580.
YES! THINK GREEN CONTEST ANNOUNCES STUDENT WINNERS
The Yes! Air Conditioning & Plumbing has announced the student winners of its Think Green contest, which asked Clark County School District students in grades kindergarten through 12 to submit essays, drawings and models to demonstrate energy-saving ideas. Six winners were chosen from 250 entries: first place, Luis Guzman, Clark High School; first place, Sarah Rinehart, Sandy Valley High School; second place, Heavenly Harris, Robison Middle School; second place, Klarissa Pope, Robison Middle School; third place, Mikayla Capers, Cunningham Elementary School; and third place, Chantry Harris, Hayden Elementary School.
Robison Middle School, 825 Marion Drive, had the most student participation and will receive $500.
MIRACLE MILE SHOPS TO TURN FOUNTAIN BLUE FOR AUTISM FOUNDATION
In honor of Autism Awareness Month, the fountain at the Miracle Mile Shops inside Planet Hollywood Resort, 3667 Las Vegas Blvd. South, is scheduled to turn blue through April to raise awareness for the Grant a Gift Autism Foundation. All coins tossed into the water feature during April will benefit the nonprofit.
CLARK COUNTY PARKS AND RECREATION OFFERS DAY CAMPS FOR KIDS
Clark County's Parks and Recreation Department is offering spring break day camps for children 6 to 12 April 14-18.
The cost is $15 per day or $70 per week per child. Activities vary at each location but include group games, arts and crafts, sports and recreational activities. Campers bring their own lunch and snacks (no food requiring refrigeration).
For the registration form or more information, visit clarkcountynv.gov. Parents should fill out the application and mail it or drop it off in person with payment to the center their children will attend. Camps fill up on a first-come, first-served basis. Mail-in registration is underway, and walk-in registration was to begin March 24 at participating centers.
Camps are being offered at the following centers: Desert Breeze Community Center, 8275 Spring Mountain Road, 702-455-8334; Hollywood Recreation and Community Center, 1650 S. Hollywood Blvd., 702-455-0566; Paradise Recreation Center, 4775 McLeod Drive, 702-455-7513; and Walnut Recreation Center, 3975 N. Walnut Road, 702-455-8402.
COX COMMUNICATIONS ANNOUNCES SCIENCE CHALLENGE
Cox Communications, Las Vegas hopes to discover Clark County high school students who are Stars of Science for its Science Challenge 2014. Students can participate in the challenge by creating a two-minute digital story (video) that shows "science at work" in one of three categories: applied science, natural science and health science.
The first-place participant in each story category will receive $1,000 plus $500 for his teacher and $500 for his school. Winners are set to be announced May 3 during the 2014 Las Vegas Science and Technology Festival at Cashman Center.
Entry deadline is April 15. For more information, visit coxstarsofscience.com.
NEVADA CONNECTIONS ACADEMY TO HOST INFORMATION SESSION
Nevada Connections Academy, a virtual public school for students in grades kindergarten through 12, plans to host an information session regarding enrollment for the next school year from 7 to 8:30 p.m. April 17 in the Holiday Inn Express near the 215 Beltway, 6220 S. Rainbow Blvd.
4-H SCIENCE DAY SET FOR APRIL 17 AT LIFELONG LEARNING CENTER
The University of Nevada Cooperative Extension plans to host 4-H Science Day from 9:30 a.m. to 3:30 p.m. April 17 at the Extension's Lifelong Learning Center, 8050 Paradise Road.
Activities and demonstrations on rocketry, chemical reactions, electricity, geocaching, wind energy and more are planned, along with hands-on events.
SONS OF NORWAY TO HAND OUT SCHOLARSHIPS
The Sons of Norway's Vegas Viking Lodge is seeking applicants for its eighth annual scholarship for post-high school studies.
To be eligible, applicants must be of Norwegian descent, legal residents of Clark County or Alamo or a member of the Vegas Viking Lodge or a child or grandchild of a lodge member and at least a high school senior or ongoing full-time student.
The scholarship is at least $500. Last year the lodge gave away six $500 scholarships. Winners will be chosen based on grades, financial need, extracurricular activities and an essay expressing appreciation for their Norwegian heritage.
Applications must be postmarked by April 19. Applications are available at vegasviking.com/scholarship.html.
Tax-deductible contributions to the scholarship fund, including naming gifts, are welcome. To donate, mail a check payable to Vegas Viking Sons of Norway Scholarship Fund to treasurer Warren Halvorsen, 830 Kingston Springs Way, Las Vegas, NV 89123-3643.
For more information, call Suzan Sibert at 702-645-6666.
EDUCATION NONPROFITS PLAN SPLASHDOWN FOR KIDS AT WET 'N' WILD
Communities In Schools of Nevada and After-School All-Stars Las Vegas plan to host a weekend of summer entertainment at their first Splashdown For Kids, set for April 26 and 27 at Wet 'n' Wild, 7055 S. Fort Apache Road.
Proceeds will benefit the nonprofit groups. Presale tickets are $20 at wetnwildlasvegas.com. Tickets at the door are $35. Children 2 or younger will be admitted free. For one-day tickets, use the promo code CISASASday.
For event sponsorship information, contact Brittany McCoy at brittanym@cisnevada.org or Ranna Daud at ranna@asaslv.org.
MARINELLO SCHOOLS OF BEAUTY TO HOST RAW TALENT SCHOLARSHIP COMPETITION
Marinello Schools of Beauty has announced its sixth annual Raw Talent Scholarship competition, in which high school seniors can win scholarships for up to $10,000 each.
Marinello plans to award 23 scholarships throughout 62 campuses. Applicants in each region will have the chance to win a $10,000 scholarship, $5,000 scholarship or three one-day professional beauty and wellness workshops valued at more than $1,000.
Candidates are required to submit an essay about how they plan to make a difference in the beauty and wellness industry. Essays may be submitted via mail or at marinello.com/highschoolscholarship. The second part of the application process includes a hands-on competition in which candidates will perform hair and makeup looks on models at their local Marinello campus.
The deadline for essay and photographs submissions is midnight April 28.
For more information, call 877-642-1085 or visit facebook.com/marinelloschoolsofbeauty.
STUDENT FILM FESTIVAL PLANNED FOR MAY 2 AT UNLV
The Las Vegas Student Film Festival plans to showcase films produced by local high school students on May 2. The festival is produced in conjunction with the UNLV Department of Film and the UNLV Short Film Archive. Local high school students are invited to submit their short films by April 12.
For more information, email lvstudentfilmfest@ gmail.com or visit facebook.com/lvstudentfilmfest.
DETROIT CONNECTION PLANS SCHOLARSHIP AWARDS LUNCHEON FOR JUNE 1
Detroit Connection Inc. plans to host its 16th annual scholarship awards luncheon from 1 to to 4 p.m. June 1 at Cili at Bali Hai Country Club, 5160 Las Vegas Blvd. South.
The keynote speaker is scheduled to be basketball legend Spencer Haywood, and live entertainment is planned.
Tickets are $60. For more information, call 702-642-2628.
PARENT-CHILD CLASSES PLANNED AT CAMBRIDGE COMMUNITY CENTER
The University of Nevada Cooperative Extension is offering a series of parent-child classes for children 3 to 5. The three-program series at the Cambridge Community Center, 3900 Cambridge St., features All 4 Kids, Family Storyteller and Little Books and Little Cooks.
All 4 Kids is a 12-week interactive program that focuses on activities to promote physical activity, healthy eating and living healthy at any shape or size. The program is set for Mondays and Wednesdays.
Family Storyteller is a six-week program that trains parents to play a role in early literacy development. Beginning April 7, each class will have parents and their children participate in reading and language activities together.
Little Books and Little Cooks is a seven-week program designed to promote healthy eating, family literacy, positive parent-child interaction and the child's school readiness skills. Beginning June 25, each class will have parents and children learning about nutrition, reading children's books and cooking and eating together.
For more information or to register, call 702-948-5942 or email all_for_kids@unce.unr.edu.
FREE PROGRAM TO OFFER HEALTHY LIVING TIPS FOR PRESCHOOLERS AND FAMILIES
All 4 Kids, a program of the University of Nevada Cooperative Extension, is offering a 13-week program for preschoolers (ages 3 to 5) and their parents. Families will be provided interactive experiences that promote healthful habits regarding physical activity and eating. Free materials will be given to families to continue activities at home.
Classes are taught in English and Spanish. The program is free and is scheduled to be offered at the Pearson Community Center, 1625 W. Carey Ave. in North Las Vegas, from 11 a.m. to noon Tuesdays and Thursdays.
Space for the program is limited. To register, call 702-948-5942 or email all_for_kids@unce.unr.edu.