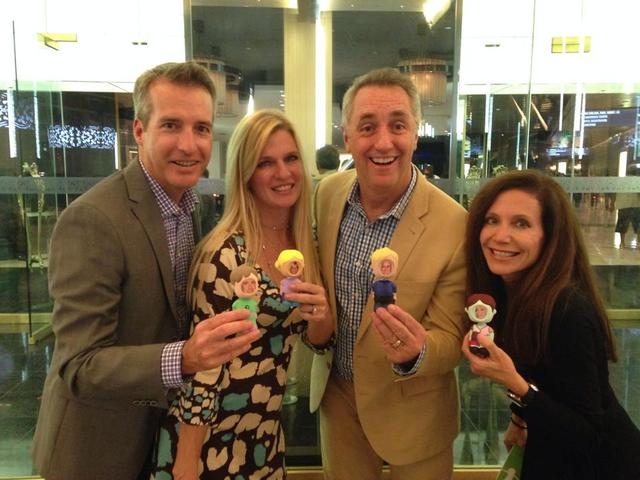 SCHOOLS RECEIVE GRANTS
CenturyLink Inc. has announced 28 Las Vegas-area winners of the CenturyLink Clarke M. Williams Charitable Foundation's Teachers and Technology grant program. The program, which has been offered since 2008, awards grants to schools in CenturyLink's local service areas on behalf of teachers who have developed plans to implement technology in their classroom.
The winning teachers' schools each received grants from $500 to $5,000 for purchasing technology for the classroom. The top three grant winners in the valley included:
Givens Elementary School, 655 Park Vista Drive, was awarded $5,000 to purchase iPad Minis equipped with Garage Band, iMovie and iTunes for its Readers' Theater Radio Show project. The iPads and programs will allow students in music class to learn through the common language of technology. The project was submitted by teacher Orlando Santos.
Sewell Elementary School, 700 E. Lake Mead Drive, in Henderson was awarded $5,000 to purchase Google Chromebooks for its Digital Library initiative, as well as management systems for these computers, allowing students access to a greater volume of information through technology. The project was submitted by teacher Charlotte Severe.
Clark High School, 4291 Pennwood Ave., was awarded $3,500 for Inspiration and Innovation with TI to purchase resources to strengthen its Educate and Inspire Each Student for College and Career Readiness program. The project was submitted by teacher Filomena Vine.
TWO MEDICAL STUDENTS GET STATE AWARD
The Clark County Medical Society has selected two recipients for its 2014 Student Rising Star Award that honors outstanding medical students studying in Nevada. This year's recipients are Ori DeVera from Touro University Nevada and Elizabeth Telles-Richardson from University of Nevada School of Medicine.
DeVera is a third-year osteopathic medical student at Touro University Nevada's College of Osteopathic Medicine. DeVera served on DOCARE International medical outreach organization's mission to Guatemala where he and his team saw more than 1,200 patients over the span of four clinic days. He served as both the first-year chief class officer and student body president.
Richardson is a third-year medical student at University of Nevada School of Medicine and wants to be an obstetrician/gynecologist. While putting herself through college, Richardson did extensive volunteer work with hospitals and cancer foundations.
For more information, visit clarkcountymedical.org or call 702-739-9989.
ALL 4 KIDS TO BE OFFERED AT CAMBRIDGE COMMUNITY CENTER
The program All 4 Kids: Healthy, Happy, Active, Fit is set to be offered by the University of Nevada Cooperative Extension for children 3 to 5 beginning June 2 at the Cambridge Community Center, 3930 S. Cambridge St.
The program encourages children and their parents to be healthy, active and fit by providing interactive experiences that promote healthful habits.
The program is free and is scheduled from noon to 1 p.m. Mondays and Wednesdays through Aug. 18. Space is limited, and classes are taught in English and Spanish.
To sign up, call 702-948-5942 or email all_for_kids@unce.unr.edu.
SCIS WELCOMES FIVE NEW CITIZENS AT STATON SCHOOL
U.S. Citizenship and Immigration Services was set to welcome five of America's newest citizens during a naturalization ceremony May 14 at Staton Elementary School, 1700 Sageberry Drive.
Forty-three students, including 27 winners of a Great American Award for fifth-graders and 16 winners of a Great Nevadan Award for fourth-graders were set to watch the ceremony to receive a real-life civics lesson.
U.S. District Judge Nancy J. Kroppe was scheduled to administer the Oath of Allegiance, and Pat Skorkowsky, Clark County School District superintendent, was slated to deliver the keynote address.
DETROIT CONNECTION PLANS SCHOLARSHIP AWARDS LUNCHEON FOR JUNE 1
Detroit Connection Inc. plans to host its 16th annual scholarship awards luncheon from 1 to to 4 p.m. June 1 at Cili at Bali Hai Country Club, 5160 Las Vegas Blvd. South.
The keynote speaker is scheduled to be basketball legend Spencer Haywood, and live entertainment is planned.
Tickets are $60. For more information, call 702-642-2628.
JUNIOR ACHIEVEMENT TO HOST POKER TOURNAMENT JUNE 1
Junior Achievement of Southern Nevada plans to host its fourth annual poker tournament and VIP party from 11 a.m. to 7 p.m. June 1 in The Deuce Lounge at Aria at CityCenter, 3730 Las Vegas Blvd. South.
Entertainment, food and drinks and a grand prize seat at the 2014 World Series of Poker's Main Event is planned. The Texas Hold'em tournament also will feature cash and recreational prizes, a raffle giveaway and a silent auction.
All proceeds will benefit Junior Achievement, which hopes to raise $130,000 to offer educational assistance to students in the community.
Buy-in is $250 per person. Spectator and party passes are $100 before the event and $150 at the door. To register, visit jalasvegas.org.
NEVADA CONNECTIONS ACADEMY PLANS JUNE 5 INFORMATION SESSION
The Nevada Connections Academy plans to host an information session from 5:30 to 7 p.m. June 5 at the Centennial Hills Community Center YMCA, 6601 N. Buffalo Drive. The session is for families interested in meeting the virtual public school's teachers and parents of children currently enrolled.
For more information, call 800-382-6010 or visit connectionsacademy.com.