Education Notebook: School news and events for Nov. 12-18, 2015
November 12, 2015 - 4:00 pm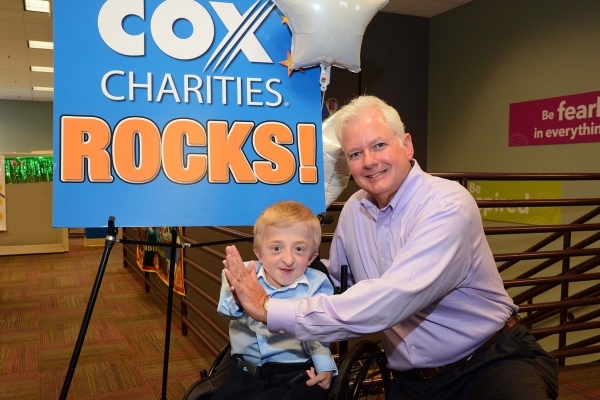 Finance park open house events set: Parents, school officials and members of the community are invited to see eighth-graders learn how to pay bills, manage their mortgages, determine childcare for their "kids" and much more at Capital One/Junior Achievement Finance Park. Now officially open for 2015, the interactive park immerses students in real-life scenarios to learn the importance of financial literacy. Sponsored by Capital One Financial Corp., 16 Clark County schools are participating during the 44-day simulation run, which will host up to 100 students daily and involve more than 800 volunteers guiding students through the personal budgeting simulation. Junior Achievement is inviting the public to the following open house dates: from 8:30 to 10 a.m. Nov. 13 and 11 a.m. to 1 p.m. Dec. 10 at the Las Vegas Library, 833 Las Vegas Blvd. North. At each open house, breakfast or lunch will be hosted, followed by a brief presentation and concluding with observing and interacting with students in the Park. Visit jalasvegas.org.
MathMatters contest: Coral Academy of Science Las Vegas, 1051 Sandy Ridge Ave., plans to host the 12th annual math contest, MathMatters, at 10 a.m. Nov. 14. The event is free and open to all fourth- and fifth-grade students. Students can test their skills by solving 15 math questions ranging from fractions to operations and algebraic thinking. Attendees can enjoy the science demonstration on defying gravity by Mad Science of Las Vegas. Winners of the competition will receive prizes including an iPad Mini 2 for first place, an iPod Nano for second place, and an iPod Shuffle for third. The academy is a K-12, state-sponsored, tuition-free, public charter school where students are selected by a lottery system. The school's curriculum focuses on STEM: Science, Technology, Engineering and Mathematics.
Vegas icons to speak to students: Longtime College of Southern Nevada hospitality professor, former UNLV Runnin' Rebel and Las Vegas native Lonnie Wright is inviting all his classes to the inaugural Let Las Vegas Be Your Classroom series, featuring former Las Vegas Mayor and now the Las Vegas Convention & Visitors Authority's Las Vegas Host Committee Chairman Oscar Goodman, and former U.S. Ambassador to Iceland and public relations expert Sig Rogich. The two Las Vegas icons are scheduled to speak to Wright's students at 1 p.m. Nov. 18 in Room I-108 on the Charleston campus, 6375 W. Charleston Blvd.
Matt Smith announces scholarship winners: Matt Smith Physical Therapy and the Latin Chamber of Commerce have selected three students to receive the 2015 Changing Lives Scholarship, which provides money for college and ongoing mentoring from healthcare professionals. The scholarship recipients also are enrolled in a cohort program, designed by the Latin Chamber with participation from Matt Smith Physical Therapy. The cohort program enables students to achieve success by pairing them with executives from companies and educational institutions. The group of Las Vegas professionals meets monthly with scholarship recipients, helping to ensure they have what they need to succeed. This is in addition to the in-clinic mentoring program held at Matt Smith Physical Therapy, an ATI Physical Therapy Company. The 2015 Changing Lives Scholarship recipients are Ana Barragan, Angely Regalado and Susan Quesada. Visit mattsmithpt.com.
Think Green contest winners: Yes! Air Conditioning & Plumbing and the Clark County School District recently announced the winners of the Think Green & Clean Contest, which encouraged students in kindergarten through 12th grade to submit ideas on how to conserve water, energy or both in their local Las Vegas Valley community in the form of written essays, drawings and models between Sept. 21 and Oct. 16. The winners are:
— Middle School, First Place: Ardian Agolli, seventh-grader at Fertitta Middle School, for his essay and picture illustration on eco-friendly and biodegradable oil plantations and rigs.
— Middle School, Second Place: Kaitlyne Ibay, seventh-grader at Fertitta Middle School, for her essay and picture illustration on how going outdoors can save energy.
— Elementary, First Place: Daniel Alvarez, fourth-grader at Lincoln Elementary School, for his essay on energy and water saving.
— Elementary, Second Place: Alex Tirado, third-grader at Fong Elementary School, for his essay and picture book on saving water.
Doodle for Google: Students in grades kindergarten through 12 are invited to take part in the 2015 Doodle 4 Google contest. Like all Google Doodles, each doodle must incorporate the letters G-o-o-g-l-e. One national winner will receive a $30,000 college scholarship. The contest is open for entries through Dec. 7. Enter at google.com/doodle4google/enter.html.
Adventure to Santa: On Nov. 4, the Fashion Show mall, 3200 Las Vegas Blvd. South, kicked off the holiday season with an event for 250 Clark County School District students enrolled in the After-School All-Stars program. The children were the first to experience Adventure to Santa — A DreamWorks DreamPlace. Adventure to Santa offers the traditional holiday visit, blending the latest technology with stories while Shrek and his friends guide family members of all ages on an adventure to the North Pole to meet Santa. Adventure to Santa is set to be open during regular shopping center hours through Dec. 24.
Coral Academy accepting applications: As of Nov. 1, Coral Academy of Science Las Vegas is accepting applications for the 2016-17 school year. The academy selects its students by a random lottery system. Parents are notified via mail of the results within five business days. Applications are due by noon Feb. 28, 2016. Those received after that date will be subject to an additional lottery, if applicable. The lottery will be held Feb. 29, 2016. Students whose parents have completed an application form electronically via the school website will be eligible to be entered in the lottery. The academy does not base admission on intellectual ability, measures of achievement or aptitude, athletic ability, or discriminate on the basis of ethnicity, race, religion or disability. Visit coralacademylv.org/admission/admissionprocess.aspx.
Wells Fargo donation: Wells Fargo Bank, longtime supporter and partner of Communities In Schools of Nevada, presented a $15,000 check Oct. 28 to the nonprofit with assistance from Fitzgerald Elementary School students, who will directly benefit from the donation.
Summit on Nevada Education: The UNLV College of Education's Summit on Nevada Education is planned from 9 a.m. to 5 p.m. Dec. 7 in the Student Union Ballroom at UNLV, 4505 S. Maryland Parkway. The event is a policy summit on the education initiatives derived from the 78th legislative session with particular focus on the important roles community constituents must play in ensuring the quality of education in Nevada. Through Nov. 6, ticket prices are $60 for general admission and $30 for UNLV students. Registration includes entry into the summit, continental breakfast, lunch and parking. Visit eventbrite.com/e/summit-on-nevada-education-registration-18562610267.
Drawing competition to honor Leif Erikson: Las Vegas-area children in first through fifth grades are eligible to win $875 in gift cards for submitting winning drawings that depict Viking explorer Leif Erikson's legacy. The winning drawings must be submitted on 11-by-8½-inch or 11-by-17-inch paper using any medium. The winning students in each grade will win Walmart gift cards valued at $100, $50 and $25 for first, second and third place, respectively. Entries must be postmarked by Dec. 14 and mailed to the attention of Christian Schoyen, Leif Erikson drawing competition, 1930 Village Center Circle, No. 3-211, Las Vegas, NV 89134. All entries must include the child's name, address, grade, home phone number and school. The fourth annual contest, sponsored by the Vegas Viking Lodge of the Sons of Norway and Schoyen, should depict the Viking Leif Erikson and his men traveling to America. The four key traits of Erikson and his men should be incorporated into the drawings: imagination, vision, collaboration, and fearlessness. Visit leiferiksonday.com or email organizers at drawingcompetition@leiferiksonday.com.
Rogers Foundation scholarship: The Rogers Foundation announced it is offering $100,000 in scholarships on an annual basis to graduating seniors of the Clark County School District. The Rogers Foundation Achiever Scholarship is for students wishing to pursue higher education both within the state of Nevada and nationwide. The scholarships will support students attending any institution of higher education, including vocational or technical schools, community colleges or state universities. Scholarships include at least one $25,000 scholarship, multiple $10,000 scholarships and multiple $5,000 scholarships. For application criteria, application materials and other instructions, visit therogers.foundation/applicants/students.html.
Heart of Education Awards: The Smith Center for the Performing Arts and The Rogers Foundation are planning the inaugural Heart of Education Awards to highlight deserving teachers in the Clark County School District. The awards focus on educators with at least three years of experience in the district who go above and beyond the classroom. Nominations will be accepted through Jan. 29, 2016. Nominations must have a name, contact information, a 500-word statement of commitment and a 200-word letter of recommendation. A celebratory evening with a red carpet, swag bags and entertainment is planned May 7, 2016, at The Smith Center. To nominate, visit theheartofeducation.org.
Host families sought for exchange students: International Experience USA, a nonprofit high school student exchange organization approved by the U.S. Department of State, is seeking host families in the Las Vegas Valley to provide room and board, help with transportation and provide emotional support to exchange students. The students provide their own insurance and personal spending money. Visit ie-usa.org or contact Carol Myint at 507-301-3615 or c.myint@international-experience.net.