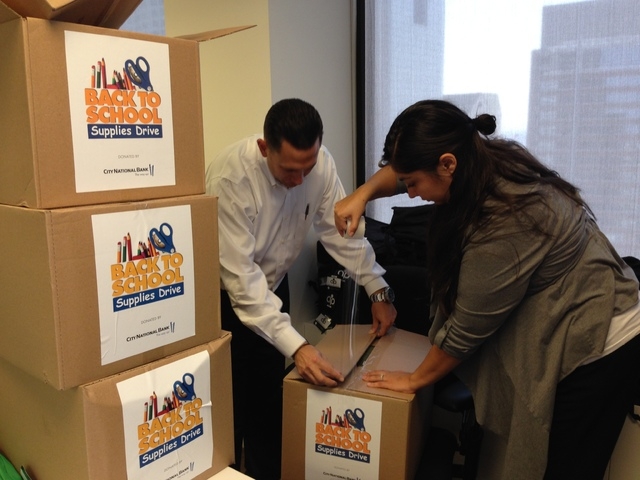 HENDERSON SCHOOL ADMINISTRATOR NAMED PRINCIPAL OF THE YEAR
Treem Elementary School principal Lee Esplin was awarded 2014 Principal of the Year by the Nevada Association of School Administrators for his leadership in education.
Esplin is set to be recognized in November at the association's fall conference, along with principal Scarlett Perryman of Garside Junior High School and former principal David Wilson of Chaparral High School, who also received the award.
For more information, visit nvadministrator.org.
WATER OF LIFE LUTHERAN SCHOOL TO HOST OPEN HOUSE SEPT. 6
Water of Life Lutheran School, 5430 S. Grand Canyon Drive, plans to host an open house from 10 a.m. to 4 p.m. Sept. 6. A facilities tour and information about the school's curriculum is planned.
The school is set to open Sept. 15, offering preschool and pre-kindergarten classes for 3- to 4-year-olds with the goal of nurturing their spiritual, emotional, physical and social growth. It is a ministry of the Water of Life Lutheran Church. For more information, visit wateroflifeschool.org or call 702-253-7087.
BISHOP GORMAN TO CELEBRATE 60 YEARS
Bishop Gorman High School plans to celebrate its 60th anniversary with a Mass celebration scheduled for 10:30 a.m. Sept. 7 at the school, 5959 S. Hualapai Way.
To RSVP, email advancement@bishopgorman.org or call 702-476-4032. For more information, visit bishopgorman.org.
ASSISTANCE LEAGUE PLANS OPERATION SCHOOL BELL FOR SEPT. 8
The Assistance League of Las Vegas plans to launch its annual Operation School Bell program Sept. 8. It provides more than 8,300 at-risk students with a back-to-school shopping experience from September through April each year. Children in grades kindergarten through eighth also receive age-specific hygiene kits.
School counselors refer students to the program. Each child shops with the assistance of a volunteer to select two complete outfits.
For more information, visit lasvegas.assistanceleague.org.
PUBLIC EDUCATION FOUNDATION TO HONOR LEADERS AT EDUCATION HERO AWARD DINNER
The Public Education Foundation plans to host its 18th Annual Education Hero Award Dinner Sept. 20 at the Mandarin Oriental at CityCenter, 3752 Las Vegas Blvd. South. The event honors leaders who have made outstanding contributions to education and the community. This year's dinner is set to honor Kris Engelstad McGarry and the Engelstad Family Foundation, Clint Holmes and Dorothy Eisenberg.
Tickets are $750, and corporate sponsorships are available. All proceeds support the foundation's programs and initatives.
Seating is limited. For reservations, call 702-799-1042 or visit thepef.org.
NEVADA ARTS COUNCIL TO COMPILE ARTS ROSTER
The Nevada Arts Council's 2015–18 Artists in Schools + Communities Roster is designed as an online resource for schools, organizations and communities to broaden and diversify participation in the arts by engaging artists in educational and community cultural residencies and programs. Roster artists visit host schools and organizations to share their expertise and encourage active learning in the arts.
Two tracks are offered, an education track for arts-based learning experiences in pre-kindergarten through grade 12 settings, and a community track for arts-based learning experiences in community settings. Artists may apply in one or both tracks. A panel of artists, educators, presenters and community members will review eligible applications in early fall. The deadline is Sept. 30.
Selected artists will represent a range of art forms and have experience in collaborating with schools and communities to conduct arts learning and cultural experiences. When accepted to the roster, artists and ensembles are promoted by the council to communities around the state for potential workshop, performance and residency opportunities.
For more information, call Maryjane Dorofachuk at 702-486-3738 or visit nac.nevadaculture.org.
SOLAR FESTIVAL SET FOR OCT. 11 AT LIFELONG LEARNING CENTER
The Conservation District of Southern Nevada plans to host the third annual Solarbration Solar Festival from noon to 4 p.m. Oct. 11 at the University of Nevada Cooperative Extension's Lifelong Learning Center, 8050 Paradise Road. The purpose of the free festival is to blend art, technology and outreach to promote renewable energy, inspire conservation and support sustainable communities. Solar-powered art, demonstrations, information on sustainable energy and live music are planned.
For more information, visit solarbration.org.
CITY NATIONAL BANK MAKES DONATION TO LITERACY PROGRAM
City National Bank has donated $3,000 to The Public Education Foundation's Reach Out and Read program, which helps preschool-age children develop a love of reading while at the doctor's office. Participating doctors give new books to children at each well visit from ages 6 months to 5 years. These books are accompanied with developmentally appropriate advice to parents about reading aloud with their children.
The program currently serves 10 pediatric clinics in Southern Nevada. The donation will allow the foundation to provide 1,110 new books throughout the year.
For more information about the foundation, visit thepef.org.
MATT SMITH PHYSICAL THERAPY, LATIN CHAMBER SELECT STUDENTS FOR SCHOLARSHIP
Matt Smith Physical Therapy and the Latin Chamber of Commerce have selected four students to receive the 2014 Changing Lives Scholarship, which provides money for college and ongoing mentoring from health care professionals. The 2014 recipients are: Guadalupe Tovar and Yajaira Dominguez, from Rancho High School, 1900 E. Searles Ave., and Jazelle Erives and Juan Guzman Morales, from Nevada State College, 1125 Nevada State Drive.
New this year is the addition of a cohort program, designed by the Latin Chamber with participation from Matt Smith Physical Therapy, which enables students to achieve success by pairing them with executives from companies and educational institutions. The group of Las Vegas professionals plans to meet monthly with scholarship recipients, helping to ensure that they have what they need to succeed. This is in addition to the in-clinic mentoring program held at Matt Smith Physical Therapy.
This fall will mark the third time Matt Smith Physical Therapy has participated in the Latin Chamber's scholarship program. Ten high-achieving students in the Las Vegas Valley have received the scholarships. Each recipient receives $1,500 from Matt Smith Physical Therapy and a $1,000 match from the Latin Chamber. To be eligible, high school students have to qualify as low-income, have a 3.5 GPA and a desire to pursue the health sciences field at an in-state school. Second-year college students need a 3.2 GPA to qualify.
WESTERN HIGH SCHOOL TO HOST 50TH REUNION
Western High School's class of 1964 plans to host its 50th reunion, the Warrior Dinner and Dancing Party, at 6 p.m. Oct. 11 at the Aliante, 7300 N. Aliante Parkway.
The class is one of the four founding classes of Western, 4601 W. Bonanza Road. A meet-and-greet event is scheduled for 7 p.m. Oct. 10 at Aces & Ales, 2801 N. Tenaya Way.
A block of rooms at the Aliante will be reserved for out-of-town attendees. For more information, call Connie Arnoldsen Davis at 702-450-9192, Lynda Craner Carson at 702 878-6186 or email dancinglit@aol.com.
UNLV FOUNDATION DINNER SET FOR OCT. 13 AT BELLAGIO
The UNLV Foundation Annual Dinner is planned for Oct. 13 at the Bellagio, 3600 Las Vegas Blvd. South, to honor Las Vegas Sands chairman Sheldon Adelson and the late philanthropist Kitty Rodman.
The event began in 1989 as a way to celebrate individuals and organizations that advance UNLV's mission through their private support.
The keynote speech at the event is scheduled to be given by former Secretary of State Hillary Rodham Clinton.
For more more information, visit unlv.edu/foundation.
CITY MISSION COLLECTING JEANS FOR TEENS IN NEED
City Mission of Las Vegas is collecting jeans for teens in need through its new program, The Kid's Closet, at 2214 N. Pecos Road. The closet is open from 7 to 11 a.m. Fridays. It needs donations of new or gently used clothing, underwear, socks and shoes for teens, hygiene products, snacks, backpacks and school supplies and food gift cards (any fast food).
For more information, call 702-384-1930.
NEVADA STATE COLLEGE SEEKS STORIES FOR STUDENT-RUN LITERARY JOURNAL
Nevada State College and its Humanities Department are looking for stories to be printed in its student-run literary journal, 300 Days of Sun. It is a print journal featuring poetry, fiction, creative non-fiction and visual art.
It is seeking submissions for its second issue through Sept. 30. The book is slated to be printed in December. Copies of the journal will be available for purchase online and through the Nevada State College Bookstore.
Faculty adviser Dr. Gregory Robinson, chairman of the Humanities Department, said the department is looking for original, unpublished work in English with the theme of Las Vegas. All submissions should involve the theme in some way.
Authors should consider this theme liberally, writing about the desert, Southern Nevada and culture outside the Strip.
For more information or to submit, visit https://300daysofsun.submittable.com/submit.
JUNIOR LEAGUE TO AWARD GRANTS FOR CLASSROOM INITIATIVES
The Junior League of Las Vegas plans to award education grants to Clark County teachers for use during the upcoming 2014-15 school year. Educators from public and private primary and secondary schools are encouraged to apply. Aided by a $7,500 contribution from NV Energy, the education grants for up to $1,000 each are applicable to any creative curriculum, in any subject area, that strives to enhance student learning.
Applications can be downloaded from jllv.org and must be submitted by Sept. 12. Recipients will be announced by Oct. 1.
AYUSA INTERNATIONAL SEARCHING FOR FAMILIES FOR EXCHANGE STUDENTS
Nonprofit Ayusa International is searching for families to host international students for the 2014-15 school year.
Host families provide three meals a day and a bedroom (either private or shared). Each exchange student is supported by a professionally trained local representative from Ayusa who works closely with the family, student and local school throughout the program.
Exchange students are 15 to 18 years old and come from more than 60 countries. All students are fully insured, bring their own spending money and are proficient in English.
For more information, visit ayusa.org or call 888-552-9872.
STUDENT EXCHANGE PROGRAM SEEKS HOST FAMILIES
The World Heritage Student Exchange Program is seeking local host families for high school exchange students from more than 30 countries, including Germany, Spain, Thailand, Denmark and France.
Couples, single parents and families with and without children are encouraged to apply to host a student for a semester or the entire school year. Each exchange student is fully insured, has personal spending money and expects to contribute to household responsibilities.
For more information, call 800-888-9040, email info@world-heritage.org or visit whhosts.com.