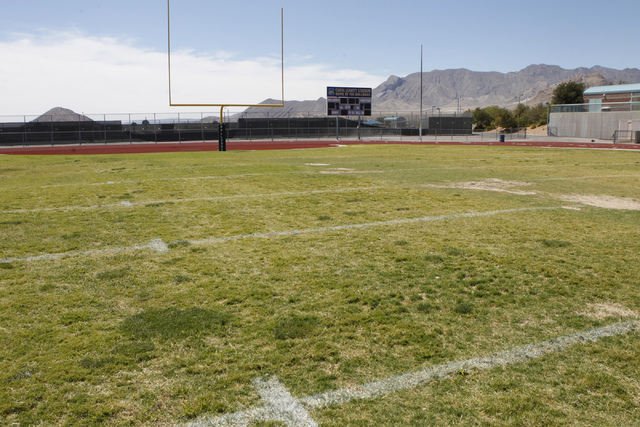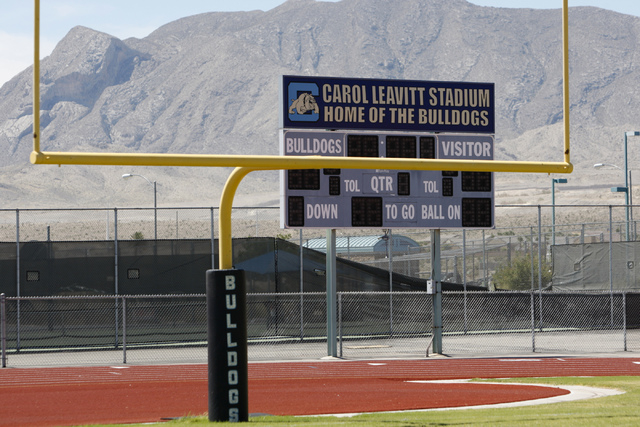 After being an educator for nearly 50 years, Centennial Hills High School's first principal left her mark on hundreds of students and educators throughout the Las Vegas Valley.
For her efforts, Carol Leavitt is eternally remembered at Centennial after the football stadium was named for her during a game in fall 2002.
"I spearheaded the request to have the field named after her," said Sally Price, a former staff member at Centennial Hills High School. "She's an amazing administrator who always has the students' and staff's best interest at heart. She is looked upon as a true leader."
Leavitt was born to Elmer and Viola Fitzgerald on Dec. 17, 1945, in Rock Rapids, Iowa.
She received her bachelor's degree in physical education at Wayne State College in Nebraska.
In 1967, she moved to Las Vegas to teach physical education at Garside Junior High. There, she met her husband, Howard Leavitt, a former basketball coach and athletic director.
Leavitt took her first job as dean at Knudson Junior High in 1969.
Shorty after, Leavitt went back to school at UNLV to get her master's in school counseling and administration.
From 1972 to 1975, Leavitt took her first high school job at Valley High School as dean and cheerleading adviser.
"Leadership kids, as in the students that are in activities and sports, are really the nucleus of the school," Leavitt said. "They help in promoting a positive attitude in school."
She then put her degree to work and helped open Bonanza High School as a counselor, where she worked for 10 years until 1986.
Leavitt quickly rose through the ranks, becoming assistant principal at Cannon Junior High from 1986 to 1989. She spent one semester as the assistant principal at Western High School.
In 1991, Leavitt helped open Cheyenne High School as the assistant principal, where she helped hire the original coaching and teaching staff.
She returned to Valley High School in 1995 as the principal for the first time. Under her leadership, two magnet programs were implemented: travel and tourism and the international baccalaureate program.
"My goal was to bring in students from all over town," Leavitt said. "A lot of students successfully transferred to UNLV, where they continued on to the tourism program."
She made her last stop before retirement as Centennial High School's first principal in 1999.
"I wanted to build a strong academic program. My vision was to push student success and community involvement," Leavitt said. "The coaching staff didn't just focus on winning but on the development of student athletes."
Shortly after retiring in 2002, the football stadium was dedicated to her during a football game.
"I was shocked. I had no idea that was coming," Leavitt said. "It was a real honor for something that I wasn't expecting."
Leavitt was inducted into the Nevada Interscholastic Activities Association Hall of Fame in 2009. She joined her husband, who was inducted in 1996.
For approximately 10 years, Leavitt stayed with the Clark County School District, working as the classroom consultant and in human resources interviewing teachers.
She has since stepped out of retirement to become a principal at the new charter school, Founders Academy of Las Vegas.
"I've liked every job I've had," Leavitt said. "But I've liked being a principal the most. As principal, you have to have a clear vision of where you want the school to go. It takes a team of supportive colleagues to reach academic success. That's always been my goal."
She said the school stood out to her because it teaches traditional and classical education, which was similar to the education that she grew up with.
"She is a shining example for her staff to follow and for her students to aspire to be," said Dan Phillips, former principal at Palo Verde High School. "She was my mentor, and my life wouldn't have been the same without her. She's given selflessly of herself for decades."
Contact North View reporter Sandy Lopez at slopez@viewnews.com or 702-383-4686. Find her on Twitter: @JournalismSandy.