Free summer meals available to children from low-income families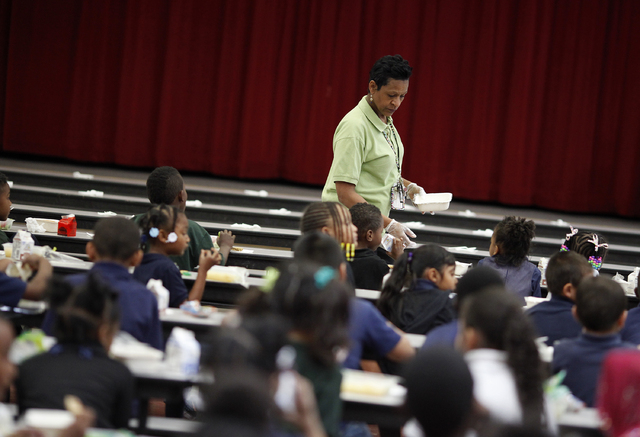 Federal officials want low-income Nevada families to know that free meals are available for their children this summer.
Officials also are looking for organizations or entities that are interested in being a site for the U.S. Department of Agriculture's Summer Food Service Program.
A "tremendous" gap exists between the number of children who receive free and reduced lunches during the school year and the number of children who receive free meals during the summer when school is out, said Kevin Concannon, under secretary for the USDA's Food, Nutrition and Consumer Services.
"There's a great need," Concannon said last week. "Part of it is the number of sites, but also making families aware of it — where the nearest locations are."
In fiscal 2013, from July 1 to June 30, 215,821 students participated in the national school lunch program in Nevada, according to data from the USDA's Food and Nutrition Service.
During the same year, 92,738 Nevada students participated in the school breakfast program, according to data.
But only an average of 9,716 students participated daily in the summer food service program during summer 2013.
Many more children are eligible to receive the free summer meals, but are not getting them, Concannon said. This is also seen nationwide.
Last year, the federal government increased the number of summer meals by 7 million for a total of 169 million meals nationwide, Concannon said. This year, the goal is to increase the number of meals by 10 million nationwide.
In Nevada, that would mean an increase of about 12 percent or 62,753 additional meals this summer, according to Michael Ladd, a Western Region spokesman for the USDA's Food and Nutrition Service. That increase would bring the total number of summer meals in the state to 585,698, up from 522,945 meals last summer.
"They are children who are more likely to go hungry," Concannon said. "We know that across the country over the course of the year, the major source of nutrition is the schools' meals program."
Participating organizations and entities are reimbursed based on the number of meals served, Concannon said. Sites can be nonprofits, churches and libraries. Organizations or entities interested in becoming a sponsor or site can find information at http://www.fns.usda.gov/sfsp/summer-food-service-program-sfsp.
The goal is to increase the number of sponsors and sites for the summer meals in Nevada by 10 percent, bringing the total number of sites to 193, up from 175 last summer, according to Ladd.
Nevada was hit hard during the economic downturn, but the need is still present, Concannon said of providing food to children in struggling families.
"We know the need is a persistent one and a continuing one," he said.
And the need is evident in Southern Nevada.
Some children, even during the school year, go hungry when school is not in session.
In March, the Salvation Army of Southern Nevada partnered with First California Mortgage and Three Square Food Bank to provide backpacks with meals for weekends for 30 children at Long Elementary School for the rest of the school year, said Phillip Hollon, director of social services for the Salvation Army.
That need only increases during the summer months because the children are not getting meals at schools, he said.
Beginning in June, the Salvation Army will begin to allow families to get food from its pantry once every 30 days. During the school year, families are only allowed to get food from the nonprofit's pantry every 60 days, Hollon said.
"We just want to make food available to children in need," he said. "To allow those kids during the summer to have more food."
Contact reporter Yesenia Amaro at yamaro@reviewjournal.com or 702-383-0440.