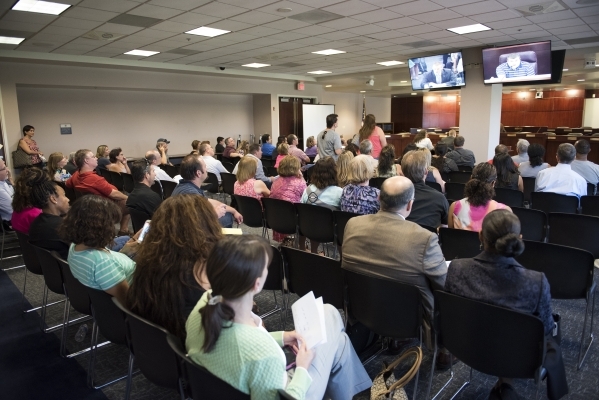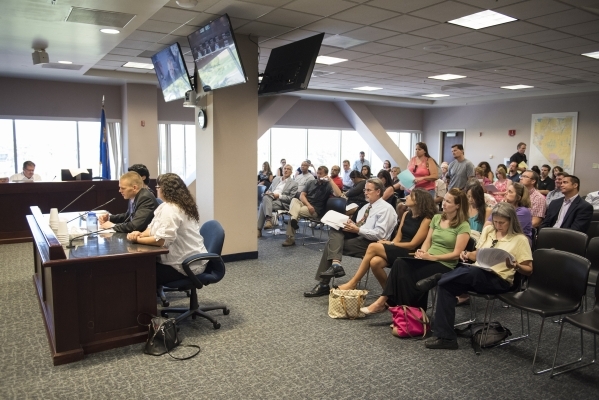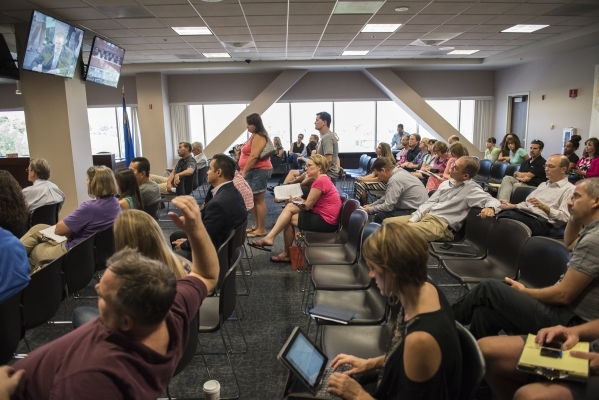 While the likelihood of Nevada Gov. Brian Sandoval calling a special legislative session remains an unknown, state Treasurer Dan Schwartz already knows what he will include on a wish list for lawmakers to consider.
Schwartz hinted during a public workshop Friday that Sandoval recently mentioned the possibility of asking the Nevada Legislature back to Carson City to revisit legislation that created the state's new education savings accounts.
The program, which offers about $5,000 for students to attend private school or for homeschooling, doesn't go into effect until Jan. 1. But dozens of parents attending the workshop, many of them emotional, criticized a statute that requires students to attend public or charter school for 100 consecutive days before gaining eligibility for that money.
They asked Schwartz to eliminate the rule so private school families don't have to enroll their students in a "deficient" public school system.
While Schwartz and his staff reminded parents that lawmakers included the 100-day rule to avoid creating a $200 million hole in the state budget, he also said the governor already had considered calling a special address to address that statutory language.
The governor's office, however, quickly denied that.
"The treasurer has misinformed the parents and interested parties who attended today's workshop," spokeswoman Mari St. Martin said in a statement. "The governor and treasurer have not personally discussed the possibility of a special session, and one is not being considered at this time."
Grant Hewitt, chief of staff for the treasurer's office, later clarified what Schwartz meant. Speculation has swirled around the chance Sandoval would call a special session to pass legislation aimed at encouraging an electronic car manufacturer to open an assembly plant in Nevada.
"If the rumors are true," Hewitt said, "we will absolutely petition the governor to include (education savings accounts). There are some real issues that need clarifying and only the Legislature can address."
Those issues include whether the treasurer's office can offer a waiver from the 100-day rule for military families, students who already attend private school and their siblings. Lawmakers also could clarify how education savings accounts apply to children under seven, who are not required to attend public school.
Enrollment applications for children under seven will remain in a pending status until that issue is resolved, Hewitt said.
At the workshop, education policy advocates urged Schwartz to reconsider draft regulations that would require private schools and other education service providers to test the academic progress of students who receive an education savings account.
"An unintended consequence with this particular language is that schools may be inclined to only admit students that are high-performing," said Denise Lasher, a spokeswoman with the Washington, D.C.-based American Federation for Children, which supports school choice for low-income families.
"Parents will be the best judge of whether a provider is providing appropriate service," she added. "They're going to speak with their feet."
Final regulations for the education savings accounts won't be adopted until October.
Also Friday, the treasurer's office launched an online enrollment application for the program.
The treasurer's office already has received more than 2,200 paper applications, with about 75 to 100 arriving each day, Hewitt said.
Contact Neal Morton at nmorton@reviewjournal.com or 702-383-0279. Find him on Twitter: @nealtmorton