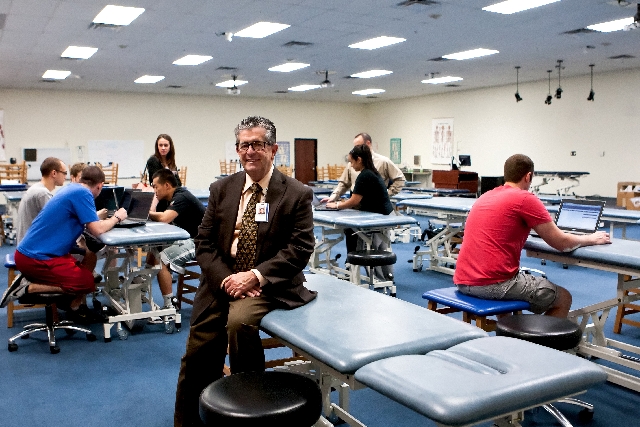 Michael Harter walks down a hallway that takes him past lecture halls, a library and a cadaver lab. As the senior provost of Touro University Nevada, he is pleased that the institution he helped bring to the Silver State in 2004 is in a position to have an effect on the state's health care issues.
"We've been proud of our growth," he said. "And now we've grown to a place where we're uniquely positioned to accommodate the changing landscape of health care."
That landscape is changing because of the Affordable Care Act, which upon full implementation will provide an additional 32 million Americans with health insurance. That means 32 million patients will need doctors, nurses, therapists and more. And Harter sees Touro University Nevada as an integral part of the solution to the anticipated deficit of care professionals.
The Affordable Care Act addresses some of the shortages through the new Prevention and Public Health Fund in primary care as it redistributes primary care residency slots, supports physician assistant training and increases the number of nurse practitioners. The Bureau of Labor Statistics points to dramatic growth in the field.
In its annual Occupational Outlook Handbook, the Labor Department notes that employment prospects in most of the health sciences fields are expected to grow significantly through 2020 — increasing by 29 percent. This growth, resulting in a projected 3.5 million new jobs, will be driven by increasing demand for health care services.
Enter Touro University Nevada and Harter.
"We came to Nevada to address critical personnel needs in health care and education and as a resource for community service in the state," he said. "With the implementation of the Affordable Care Act, we'll be taking that mandate even further."
Touro University Nevada offers degrees in five health sciences including osteopathic medicine, physician assistant studies, nursing, occupational therapy and physical therapy. In fact, the Touro's College of Osteopathic Medicine is the largest medical school in Nevada, as well as the state's only osteopathic school.
Mitchell Forman, dean of the College of Osteopathic Medicine, sees the unique nature of osteopathy as a boon to the millions of new patients who will be in need of care.
"For those students who choose osteopathy as their path to a career in medicine, they find a distinctive philosophy in which the approach to medicine focuses on the entire patient," he said. "The concentrated study of the musculoskeletal system often leads to a greater emphasis on patient-centered care."
There are more than 60 specialties in the field of medicine, according to Forman. The training medical students go through gives them an opportunity to discover what field appeals to them. Approximately 60 percent of all osteopathic physicians choose to practice in primary care disciplines of family practice, general internal medicine and pediatrics.
Although the single-building Touro University Nevada campus is unorthodox compared with many other medical schools, its accredited curriculum requires the same four years of rigorous academic training. The first two years are spent on campus and involve instruction in basic and clinical sciences. The second two years are based on clinical rotations mostly in Las Vegas and at sites across the country.
"We're doing more than creating dedicated physicians," Forman said. "We're creating the right kind of physicians — those who are well-rounded and patient-centric."
And odds are those physicians will find plenty of opportunities. The Bureau of Labor Statistics anticipates employment of physicians and surgeons to grow by 24 percent through 2020.
An essential step in securing employment as a physician is the residency. Touro University Nevada is the academic sponsor of Valley Hospital's graduate medical residency program, providing not only training opportunities for Touro students, but also a venue for medical residents to come into the state and work in a range of specialties.
The program has 83 residencies and internships in specialties such as traditional internships for first-year trainees who will progress into other specialties; the largest single internal medicine residency program in the osteopathic medical profession; family practice and orthopedics residencies; and the only ophthalmology, dermatology and neurology residency programs in the state. The program offers fellowships in gastroenterology and critical care/pulmonary medicine — and counting.
"The university is actively working to develop similar partnerships with other hospitals in the future, to further expand in-state residency opportunities and ultimately to increase both the number and specialized expertise of Nevada physicians," Forman said.
Forman points to statistics that indicate 70 percent of new physicians practice within 50 miles of their training location. To date, 20 Touro University Nevada graduates are licensed to practice medicine in the state.
Beyond physicians, physician assistants are expected to be essential in filling the health care void. A concept that originally developed from the Army Combat Medic Program in the late 1960s, physician assistants practice under the direction of physicians and surgeons.
Since then, the role of physician assistants has expanded to all areas of medicine, from primary care, internal medicine and pediatrics to surgery or the surgical subspecialties.
Typically, physician assistants perform routine duties such as physical exams, diagnosing illnesses, developing and carrying out treatment plans, ordering and interpreting lab tests, suturing wounds, assisting in surgery, providing preventive health care counseling, writing prescriptions, counseling patients and performing administrative functions. Although physician assistants see many of the same types of patients as the doctor, patients are still referred to a supervising physician when appropriate.
"(Physician assistants) are a critical part of ensuring care for all patients, providing about 80 percent of the services that a family physician can," Forman said. "We're ready to put more (physician assistants) in more of the places they're needed."
Touro 's School of Physician Assistant Studies is poised to do just that. As the first and only program of its type in Nevada, students can earn a Master of Physician Assistant Studies in 28 months.
Through 2020, the Labor Department says that employment of physician assistants is expected to increase 30 percent, Forman said. "We plan to be a big part of that, especially since Nevada's salaries for (physician assistants) are among the highest in the nation."
At Touro's College of Health and Human Services, students are being prepared to fill essential roles as physical therapists, occupational therapists and nurses.
"We're excited about the role Touro University Nevada can play in this next era of health care," said Andrew Priest, dean of the college. "We feel like we're an institution created exactly for this time, for this kind of demand."
Part of that demand includes physical therapists. These are the health care professionals who examine, diagnose and then prevent or treat conditions that limit the body's ability to move and function in daily life. This care happens in a variety of settings, including hospitals, private practices, outpatient clinics, home health agencies, schools, sports and fitness facilities, work settings and nursing homes.
Physical therapists diagnose and treat people of all ages, including newborns, children and the elderly. Typically they work in concert with other health professionals with the goal of improving a patient's mobility.
And it appears the profession itself is quite mobile, too. According to the Bureau of Labor Statistics, employment of physical therapists is expected to increase 39 percent by 2020. Touro University Nevada seeks to fill this demand through its entry-level Doctor of Physical Therapy program, which involves a professional doctorate leading to an initial position as a physical therapist.
"There is an urgency to fill demand, but we're also committed to educating only the most knowledgeable, capable physical therapists," Priest said. "Our physical therapy degree takes three calendar years of full-time study."
The same demand is true for Touro 's professional degree in occupational therapy (a master-level program). These health professionals help clients live as independently as possible by improving their ability to perform tasks in living and working environments. Occupational therapists help clients improve their basic motor functions and reasoning abilities, and compensate for permanent loss of function.
"Occupational therapy touches all ages and all backgrounds," Priest said. "Anyone who has been affected by physical or psychological illness, aging or accident can find a greater quality of life through the help of a patient, qualified occupational therapist."
Like physical therapy, the Labor Department anticipates a spike in hiring for occupational therapists, with employment increasing 33 percent until 2020.
Touro 's role in the Nevada health care landscape extends beyond the classroom. The university has a full-service, multi specialty physician's office, staffed by practicing faculty members and open to the community.
Specialties include rheumatology, primary care, geriatrics and osteopathic manipulative medicine. The state-of-the art health center also provides on-site learning opportunities for students and residents.
Developed to address another growing community need, Touro 's Center for Autism and Developmental Disabilities is a multidisciplinary, one-stop source for diagnostic services, therapy and supportive resources for families dealing with autism and other developmental disorders. The center also serves as a learning laboratory for university students across the disciplines.
In addition to its on-campus community services, the university provides community outreach efforts through its staffing and operation of the medical clinic at Shade Tree, a Las Vegas-based shelter for abused and homeless women and children.
The university also provides medical treatment at Huntridge Teen Clinic, and recently received a grant to equip and staff a mobile health care clinic to provide medical care to Southern Nevada's homeless population.
Touro also offers free health screenings throughout the community through its Caring Without Walls program.
"We came to Nevada to improve health care. That's what we're doing; that's what we'll always do," Harter said.
Melody Kelly is the director of marketing and public relations in the office of advancement at Touro University Nevada.