High school graduation rates in Nevada, Clark County, hit record highs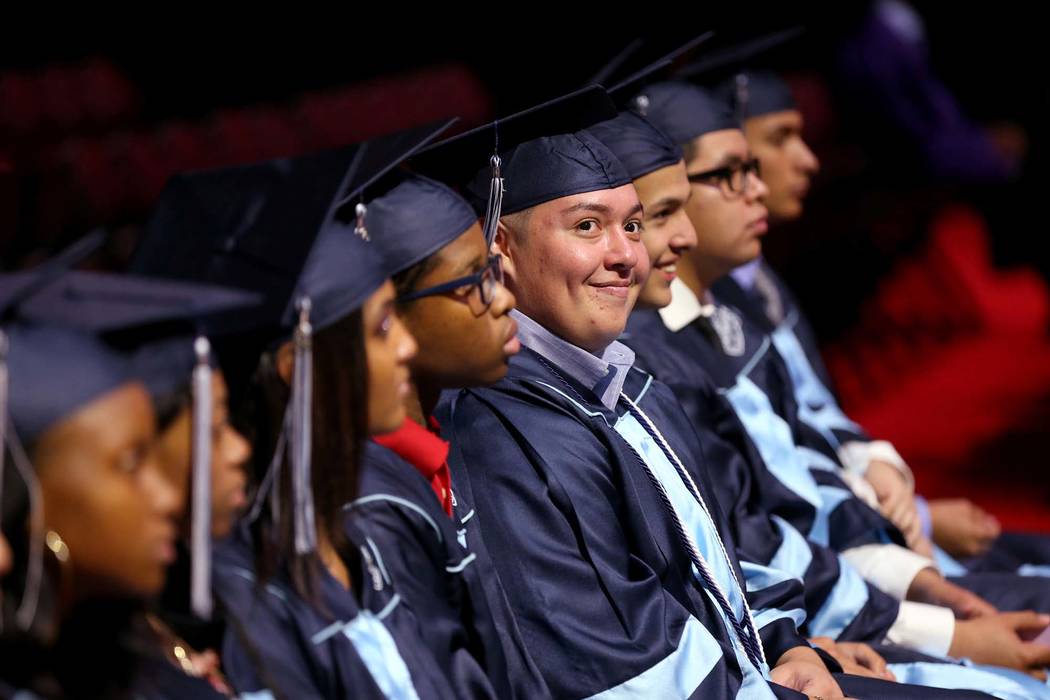 High school students in Nevada and Clark County graduated at the highest rate ever in 2018, according to state data released on Friday.
Graduation rates increased from 2017 across all but three school districts, pushing the statewide rate up to 83.17 percent. State-sponsored public charter schools also took a strong step forward, increasing 5 percentage points to a 70-percent rate
Clark County's rate jumped 2 percentage points to a record 85 percent.
"This is a great achievement by an entire staff," Superintendent Jesus Jara said at Desert Oasis High School on Friday. "We do celebrate it in our high schools, but graduation starts in elementary school — so I commend the entire K-12 community for their success."
Statewide, rates increased across all racial and ethnic groups, including a roughly 4-percentage point jump to 71.5 for black students and an increase from 79.7 to 82.3 percent for Hispanic students.
Black students also saw the largest increase in Clark County by 3.05 percentage points to 75.88 percent — welcome news for a district that struggles with closing achievement gaps.
"This is important, to close the opportunity gap across our community," Jara said.
Room for improvement
But the district still needs improvement in other areas. In Clark County, students with limited English proficiency and the Native American population both saw nearly 7-percentage-point declines in graduation rates.
Twelve high schools achieved rates of 98 percent or higher, while another 11 posted gains of 5 percentage points or higher.
That includes schools like Desert Oasis, which has grown from a 56-percent graduation rate in 2012 to 89 percent this year, a period when its student population also has grown.
"Although we are striving to work harder, we also have increased many levels of elements that make students successful at Desert Oasis," said Principal Kelly O'Rourke.
That's just why freshman Cloey Utu enjoys her classes at Desert Oasis.
"There's good electives," she said as she worked on a nightstand in a woodworking class. "And there's just a lot of good people."
True increase?
Some critics contend that the rising graduation rates are artificially inflated — in part because the state removed the requirement of passing proficiency exams starting with the class of 2017.
The tests were replaced by end-of-course exams that did not carry any weight in grades for the Class of 2018, and will be 10 percent of the final grade in 2019.
Also, while graduation rates have increased in recent years, remediation rates — the percentage of students who must take remedial classes upon entering Nevada state colleges — are still high. Over 50 percent of the class of 2016, for example, were placed in remedial math or English courses in both Clark County and statewide, according to state data.
But State Superintendent Steve Canavero said the state is adding value to graduating with new college- and career-ready diplomas — first awarded to the class of 2018.
"I think in the future, we're going to see the continued emphasis on the graduation rate and the continued emphasis on the college and career-ready diploma," he said.
The new diploma, which replaced the previous advanced diploma, requires students to earn either a college or career endorsement to ensure success after graduation.
The State Board of Education also recently adopted a more rigorous standard diploma, raising the bar for high-school students across the board starting with this year's freshman class.
Contact Amelia Pak-Harvey at apak-harvey@reviewjournal.com or 702-383-4630. Follow @AmeliaPakHarvey on Twitter.