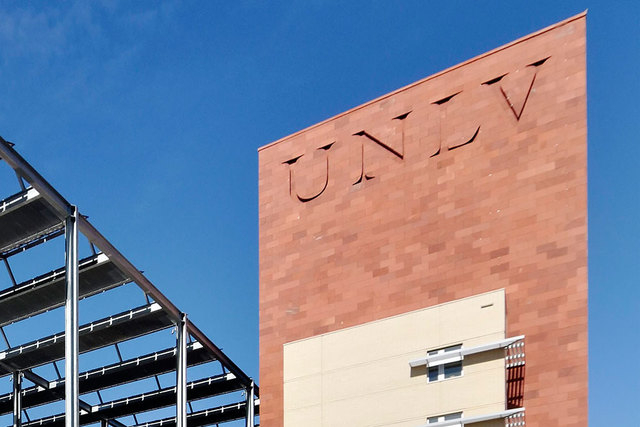 An Iranian-American woman who was suspended from UNLV's dental school has filed a lawsuit that claims discrimination led to her discipline.
Nikta Janati, 32, of Las Vegas filed the complaint Tuesday in Clark County District Court. The document also claims she was denied due process.
"We are aware of the complaint, but the university does not comment on litigation matters," University of Nevada, Las Vegas spokesman Tony Allen said in an email Thursday.
Attorney Allen Lichtenstein, who represents Janati, said his client has been trying to get into other programs in the medical field, but none will accept her as long as the suspension remains on her record.
"A major purpose of this lawsuit is to clear her name," the attorney said.
According to the lawsuit, Janati was notified of her temporary suspension in November 2013. A letter informing her of the sanction stated, "You will not be allowed to return (re-enroll) until fall semester, 2014, at which time you may be re-enrolled as a first year student."
Lichtenstein said the law considers a suspension of that length "to be the equivalent of an expulsion."
According to the lawsuit, Janati tried to commit suicide on Nov. 23, 2013, "as a proximate result of being suspended from UNLV School of Dental Medicine based on the charges of misconduct and misrepresentation."
Janati began attending classes at the dental school in the fall of 2012. According to her lawsuit, she was attending the summer session in June 2013 when she went to professor R. Michael Sanders and complained that a graduate volunteer at the school had behaved unprofessionally.
"She specifically complained that she believed the harassment was based on race and national origin," according to the lawsuit.
The following month, according to the lawsuit, Janati overheard another graduate volunteer "accuse Persian students of being cheaters." She later reported the incident to Sanders, who is named as a defendant in the lawsuit.
A few days later, according to the lawsuit, Sanders made a formal complaint as a referral to the Honor Council. The complaint "was based primarily on false allegations" made by two graduate volunteers who claimed Janati had attempted to turn in a classmate's work as her own, according to the lawsuit.
Sanders' complaint led to a hearing on Oct. 8, 2013, at the dean's suite.
"Plaintiff completed her presentation of evidence without ever being offered the opportunity to testify on her own behalf, nor was she ever informed that she could testify on her own behalf," the lawsuit alleges. "Had plaintiff been informed that she could have testified on her own behalf, she would have done so."
The formal hearing was reconvened at the dean's suite on Oct. 30, 2013, according to the lawsuit, and Janati was suspended the following month. The lawsuit claims the "detrimental actions" taken by the dental school against Janati "were based on her Iranian national origin."
Lichtenstein said Janati was born in Tehran but came to the United States in 2001 to attend the University of California, Berkeley and became a U.S. citizen. After graduating from U.C. Berkeley, she was admitted to the UNLV dental school.
Contact Carri Geer Thevenot at cgeer@reviewjournal.com or 702-384-8710. Find her on Twitter: @CarriGeer.