Las Vegas shooting a 'life change' for UNLV student
November 2, 2017 - 5:28 pm
Updated November 2, 2017 - 11:11 pm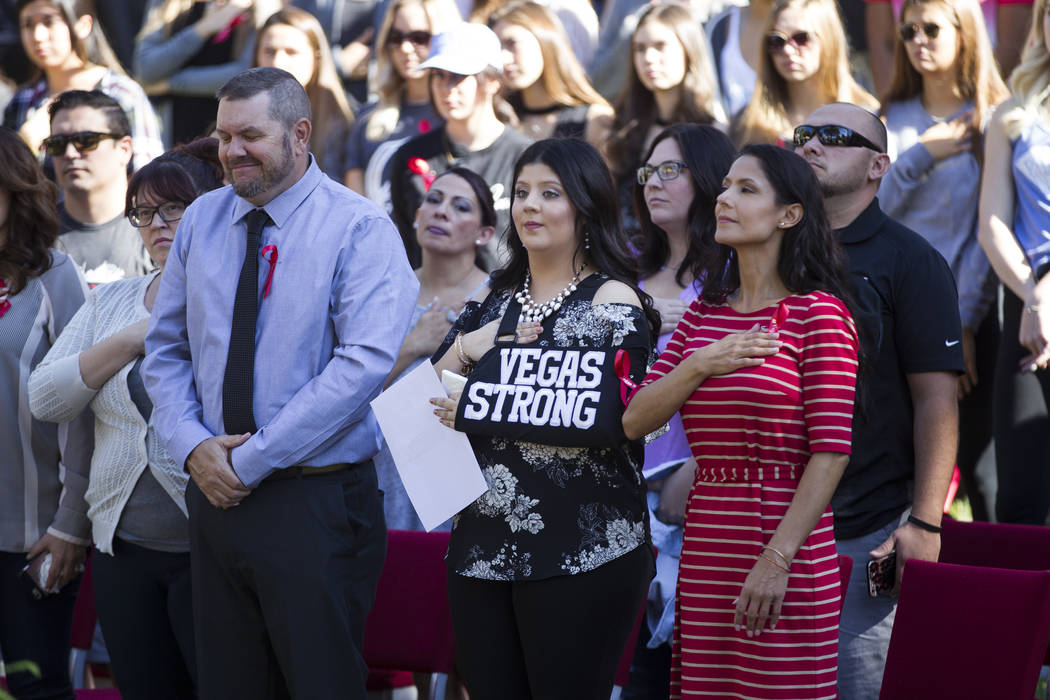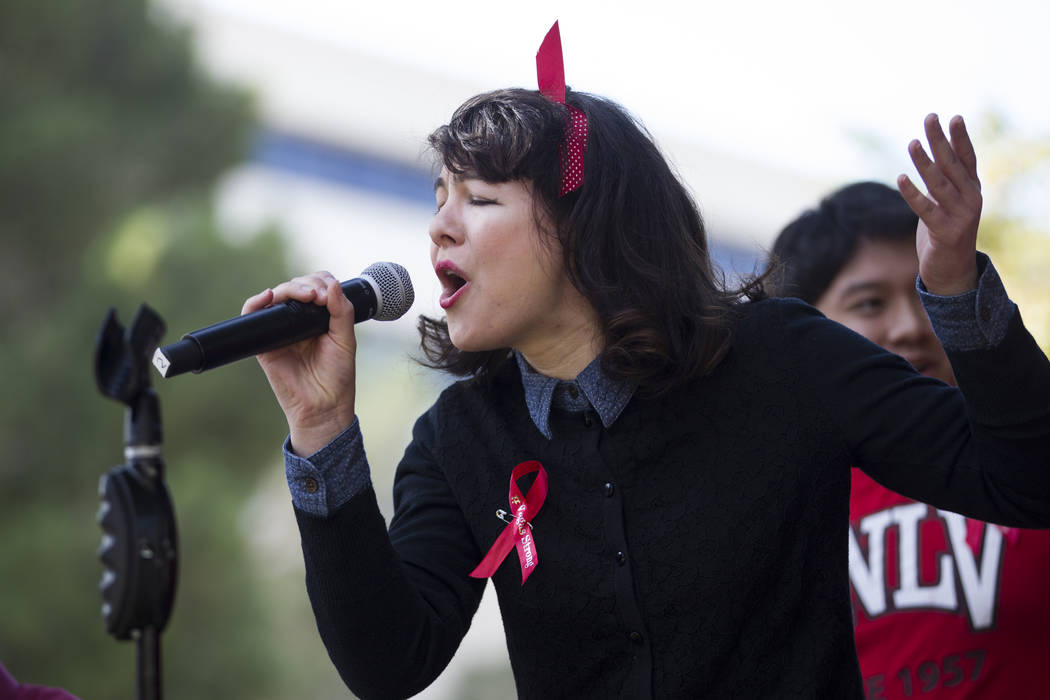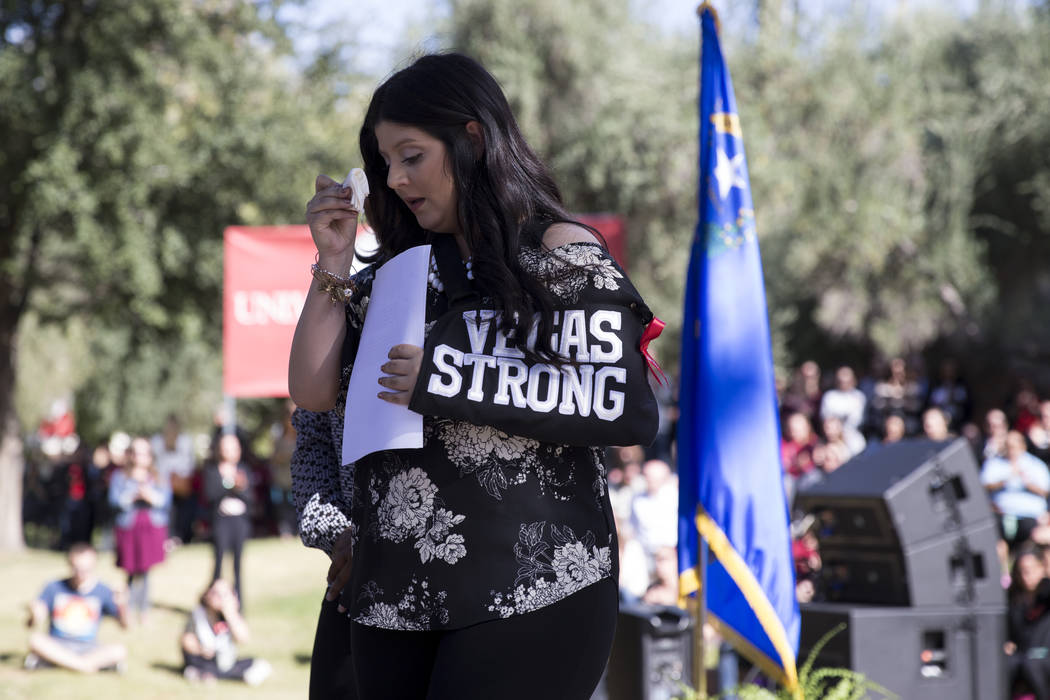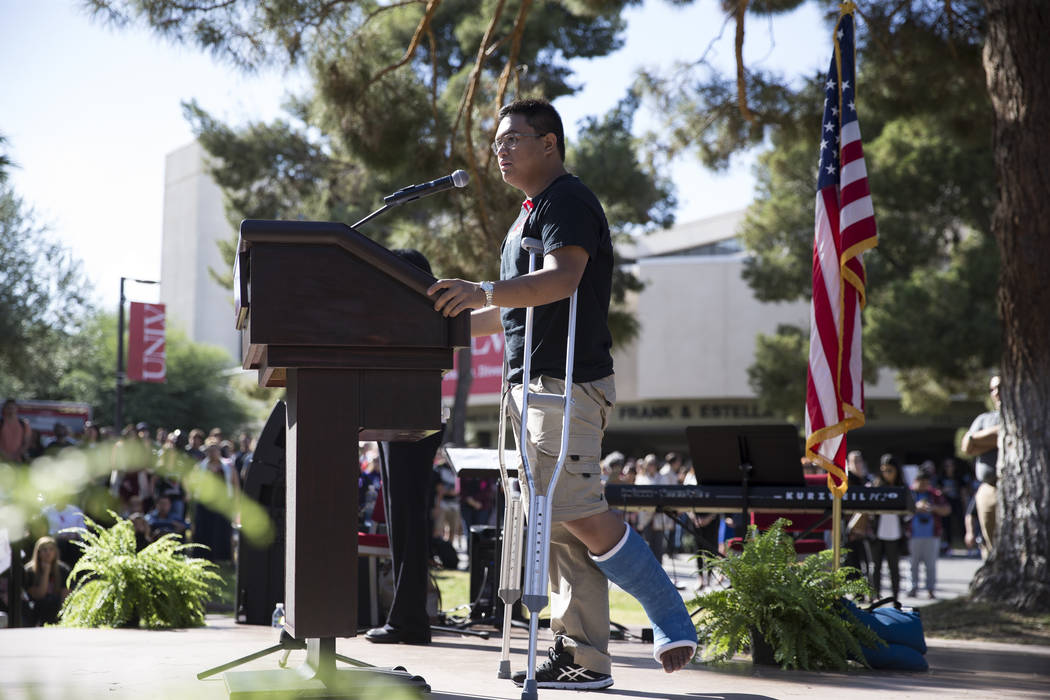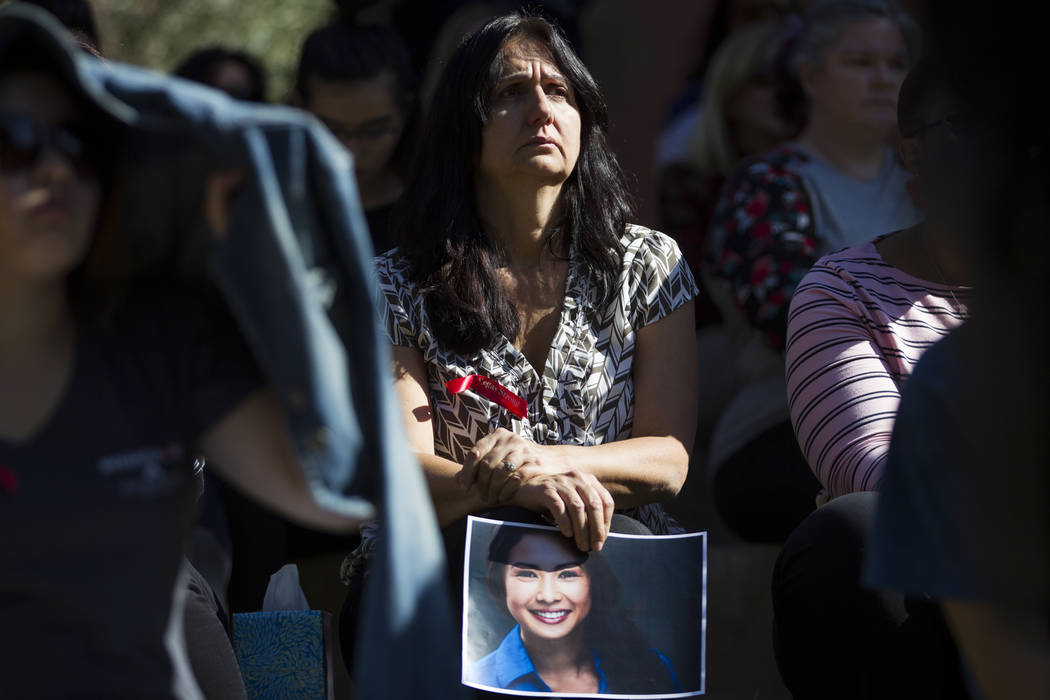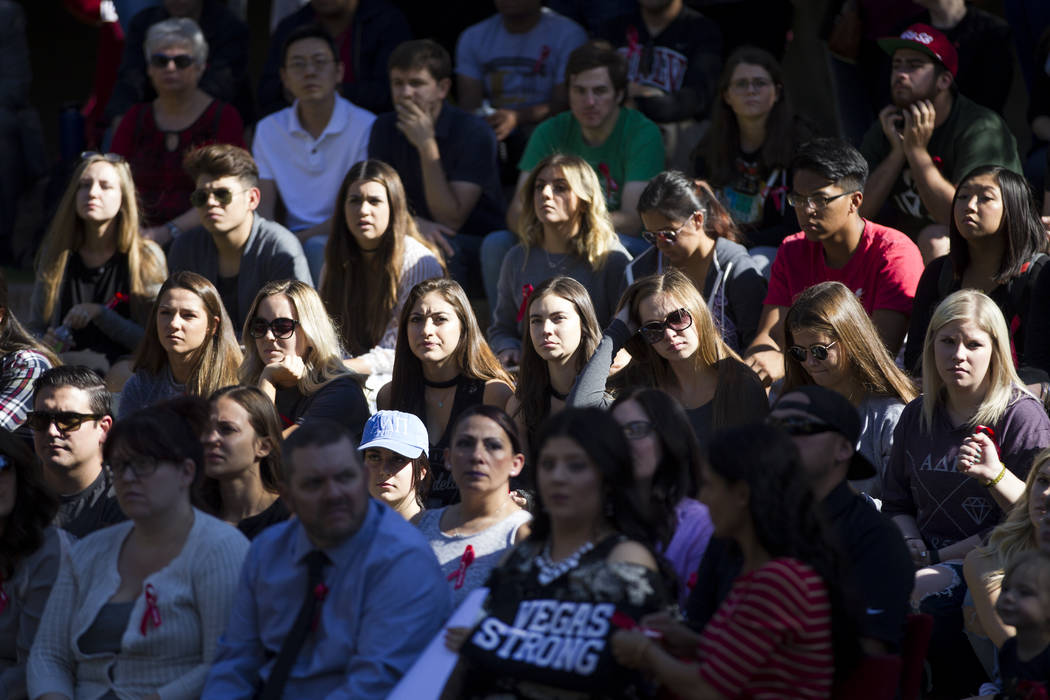 The bold words, affixed to billboards, overlook drivers as they zip by on local freeways.
They are etched on rubber bracelets handed out by area churches, and they grab the attention of television viewers as they flash across the screen in advertisements.
But the words "Vegas Strong" are possibly the most meaningful on the arm sling worn by Karessa Royce, a survivor of the Oct. 1 shooting at the Route 91 Harvest festival.
As she took to the podium Thursday morning during a remembrance ceremony at UNLV, the white text stood out in stark contrast to the black sling elevating her left arm — the resilience of the words matching her own.
"I call the events that happened at Route 91 the life change," said Royce, a junior at UNLV and a former member of the Rebel Girls dance team. "Not the shooting, not the massacre, not the tragedy, but rather a life change. Because that's really what it was. I'm calling it the life change because, for my own healing process, that's what I need to call it."
Thursday's ceremony, attended by about 500 people, came a month after Royce was injured in the Strip shooting.
She was at the Route 91 festival with her friend Pamela Rios, whom Royce credits for saving her life.
"I'm here today because someone was more focused on saving my life than protecting her own," Royce said. "When I was shot and hit the floor in shock, Pamela Rios told me that she would die there with me or that we would get out together. That either way she promised me she wouldn't leave my side."
Royce said she pushed through the shock, and together they ran.
In the days and weeks since being shot in the lung, Royce said she has challenged herself to change how she lives.
"It has clearly defined my purpose and given me the hope, strength, courage and drive to fulfill it," she said.
The message of resilience was also shared Thursday morning by UNLV assistant hockey coach Nick Robone and UNLV student Joshua Abellera.
Robone suffered a gunshot wound that grazed his lung and barely missed his heart. Abellera broke his leg as he scaled a fence trying to escape the gunfire.
Robone said he met with his doctor last week and learned his body is about 60 percent healed.
"They had to do a pretty extensive surgery," Robone said. "They had to lift up my rib cage and go in there and find the bullet. It was split in two."
He was sewn back up, but he's walking around with wires inside his body, and is waiting for the moment he can get back on the ice.
"It's been a slow process, but at the same time, I don't want to jump into anything too soon," Robone said.
In the meantime, he's reaching out to the community that has been there for him, including elementary school classrooms and youth hockey groups.
"I've been trying to get back and visit each one of those classes and each one of those teams individually to simply thank them," he said. "Without their support, I don't think my recovery process would have been as smooth."
Contact Natalie Bruzda at nbruzda@reviewjournal.com or 702-477-3897. Follow @NatalieBruzda on Twitter.