Leader's legacy at Clark County schools hurt by political battles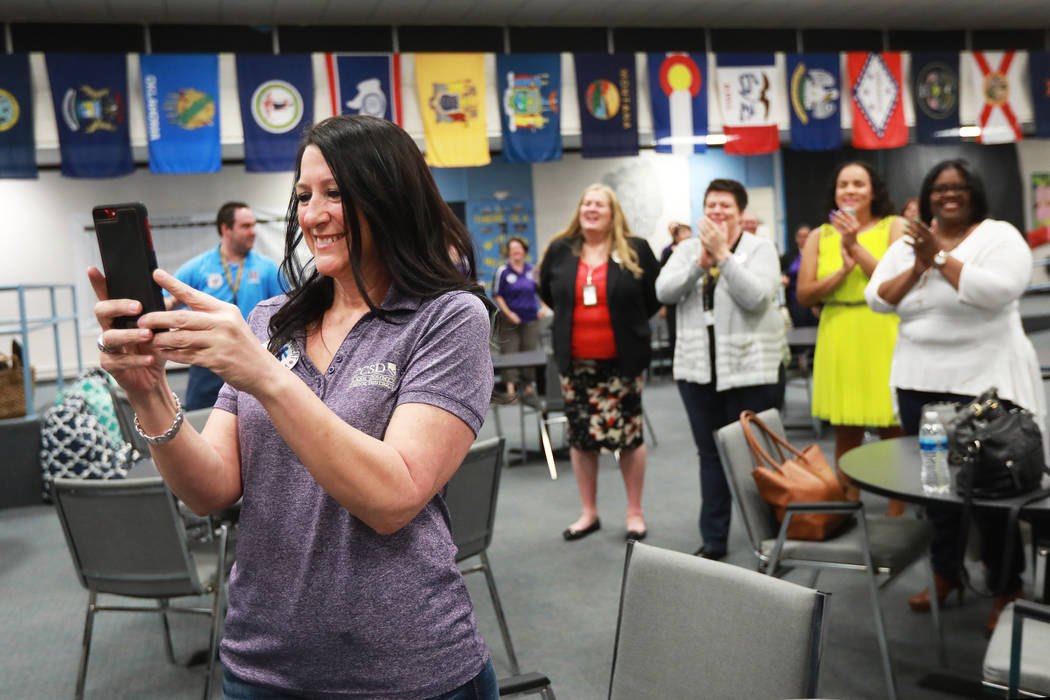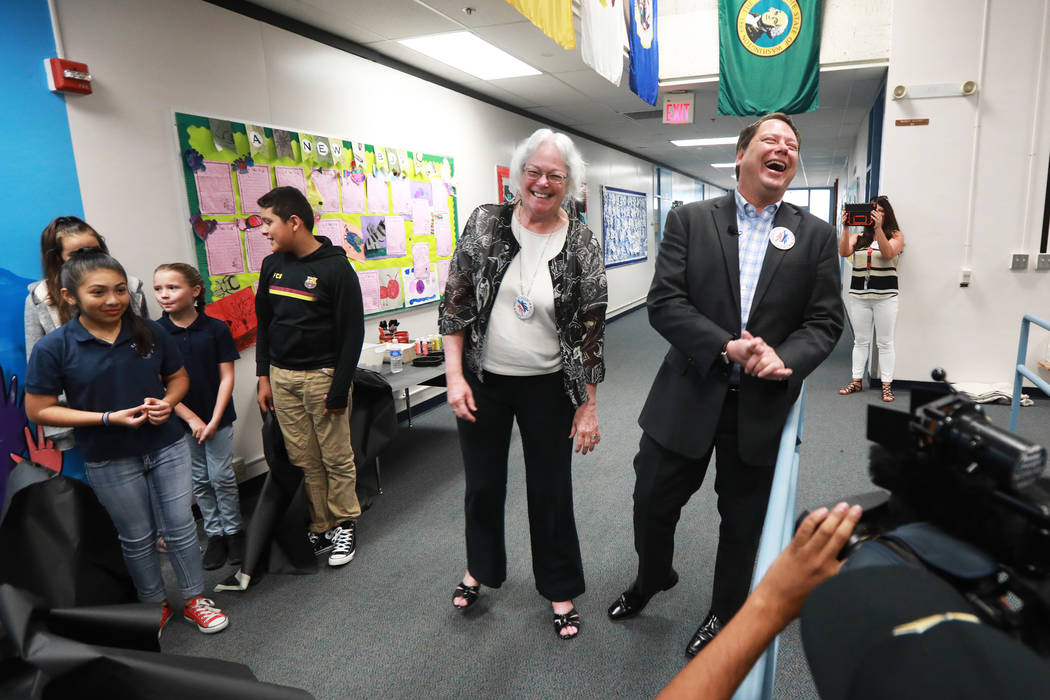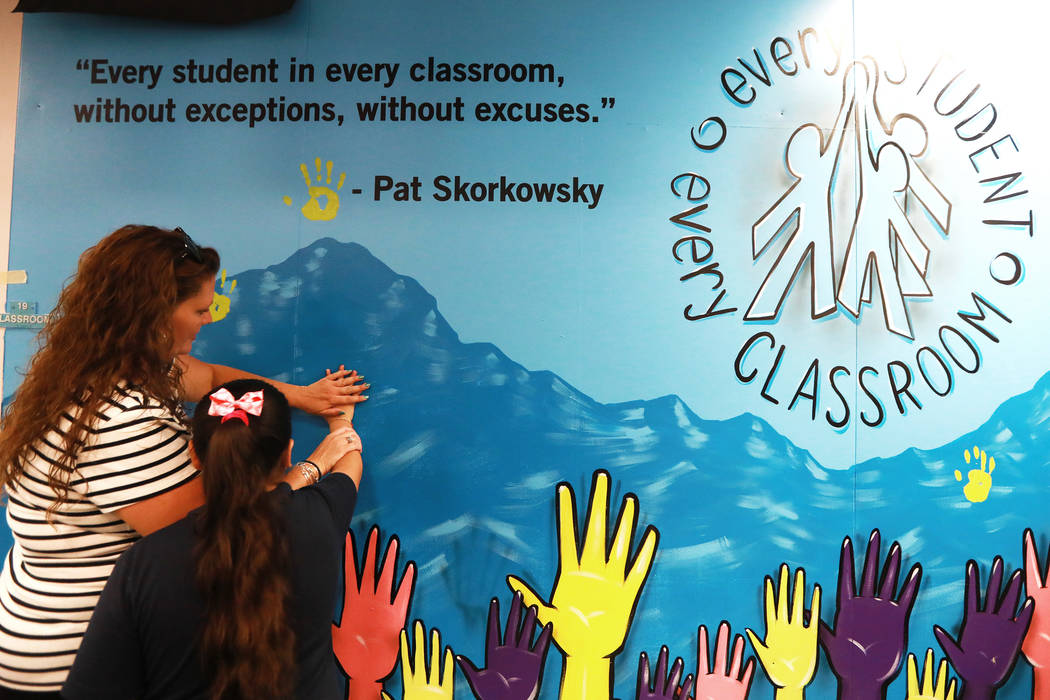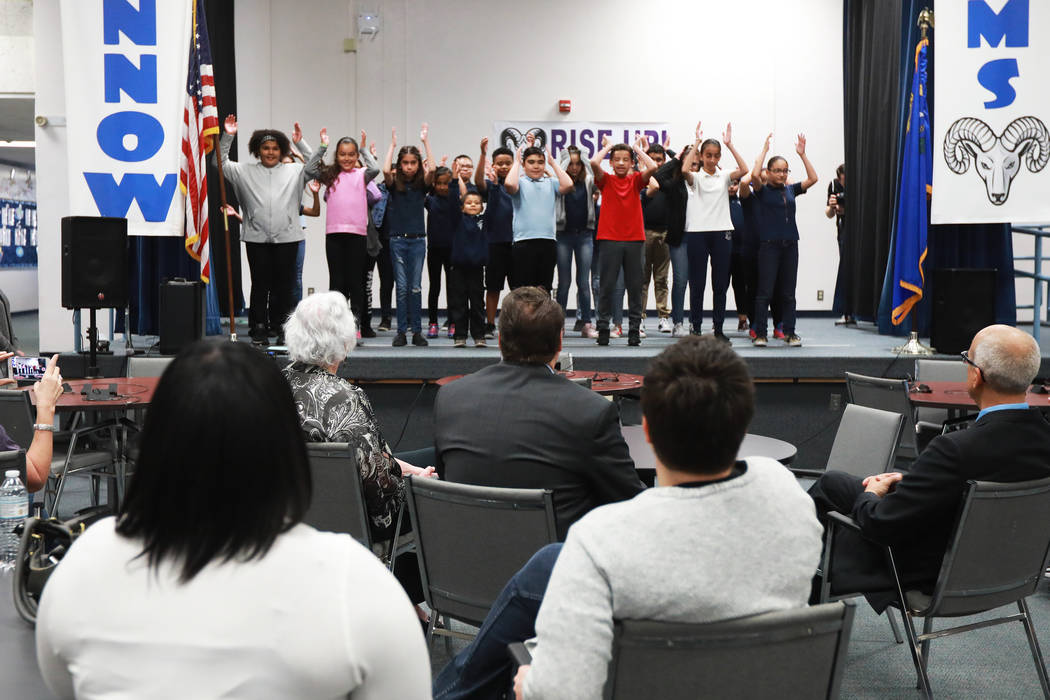 As Superintendent Pat Skorkowsky stood in a classroom at Ronnow Elementary during a surprise ceremony in May, memories of his time as a first-grade teacher at the northeast Las Vegas school nearly 30 years ago flooded in.
After students honored him with song, dance and a mural, the outgoing leader of the Clark County School District said he never imagined at the time that he would one day become superintendent.
"Whoever got here early could park in the front," he recalled of his first job out of college. "So I always was out in the front because I got here earliest."
Now, as the 54-year-old steps away from the helm of the multibillion-dollar education enterprise — his last day on the job is June 30 — he does so with mixed emotions.
"I'm extremely excited about the next step of my life," he told the Review-Journal during a recent interview. "Not knowing what that is is exciting and unnerving at the same time."
In five years running the district, which grew from 314,636 students to over 320,000 on his watch, Skorkowsky tried to keep his focus on academic achievement.
But that core goal was frequently eclipsed by bureaucratic challenges, most notably the state-mandated reorganization and increasingly tense relations with the School Board.
As a result, Skorkowsky leaves the district with mixed reviews of his performance and accomplishments.
"I think a much stronger leader could've done a lot more," said Brent Husson, president of the education nonprofit Nevada Succeeds."But I also think that it's a big job for any one person. I couldn't identify that stronger leader."
Fresh out of college
The Oklahoma native moved to Las Vegas in 1988 right after graduating with a bachelor's degree from Oklahoma State University to take an entry-level teaching job.
After obtaining a master's degree in educational administration from UNLV and advancing through the district ranks, he completed his ascent to the top job in May 2013, when he was selected by the School Board without a national search. He was the only finalist considered for the job.
In 2014, Skorkowsky and the School Board released the Pledge of Achievement — a strategic plan to reduce achievement gaps, increase proficiency in state tests, provide outreach to the community and ultimately improve academics.
But legislative initiatives and political wrangling ended up taking up significant time and energy.
The Achievement School District, a state initiative that sought to pair charter schools with the district's lowest-performing schools, prompted a strong backlash from the community and School Board, forcing the district to play defense against a takeover of its failing schools.
Meanwhile, the School Board sued the state over the reorganization, challenging the regulations that were part of the initiative to give more direct power and money to schools.
To some, that left Skorkowsky between a rock and a hard place: complying with the reorganization law, but also appeasing his bosses.
"I at times got frustrated because I needed to move quicker, but not everybody was on the same page," he said, referencing the difficulty of working on planning for the reorganization amid an ongoing lawsuit.
Anna Slighting, a member of the Hope for Nevada education advocacy group, lists the reorganization as one of Skorkowsky's biggest accomplishments.
"That was such a sticky situation from the beginning, and he handled it with decorum," she said. "We felt like he did the best he could."
Nonetheless, his relationship with two board members in particular — Trustees Chris Garvey and Kevin Child — eroded into mistrust.
Child, whom Skorkowsky banned from accessing schools after concerns emerged over the trustee's behavior toward district employees and students, has demanded a financial audit of the district.
Garvey, meanwhile, has frequently voiced concern about the central office conducting business without board input.
During the rollout of the reorganization, there were all kinds of deals being made without board approval, she said recently — citing conversations between Skorkowsky and teachers union chief John Vellardita and Sen. Michael Roberson in particular.
"I think at times, timely communication on very important issues was lacking," she said.
Building community
Despite the political intrigues, some community groups credit Skorkowsky with building relationships with stakeholders, citing creation of the Family and Community Engagement Services department in particular.
"A lot of community support or community-type advocacy groups sprang up during that time and I do think Pat can take a lot of credit for that," said Husson. "While he didn't develop those groups, it was his leadership style that allowed for them to have that access they needed to be effective, or at least try to be effective."
And in some academic areas, Skorkowsky's tenure saw great improvement.
Magnet schools increased open seats by about 10,000 over the last four years, and those programs continue to earn national accolades. Skorkowsky also was named Superintendent of the Year by the Magnet Schools of America in 2017.
Enrollment and course-completion in Advanced Placement and Career and Technical Education classes has increased, from 29,995 in 2014-15 to 36,870 in 2016-17.
Other areas, however, show less progress.
While graduation rates jumped from 70.91 in 2013-14 to 83.22 percent last year, college-level remediation is still an issue. More than half of those who enroll in state higher-education institutions are placed in remedial courses, according to Nevada System of Higher Education data.
The district also still needs to work on closing the achievement gap between subgroups of students, according to its own analysis of Pledge of Achievement goals.
Departure amid frustration
Skorkowsky also leaves the district following two consecutive budget deficits totaling more than $120 million.
Vellardita, executive director of the Clark County Education Association, said his financial stewardship of the district was a disaster.
"One of his weaknesses was he surrounded himself with people who were loyal to him versus necessarily being skilled or competent for key things to run the district, i.e., finances," he said.
Skorkowsky says the district's negotiation of a $135.5 million teacher contract in 2016, which raised the starting salary to $40,000, was probably his biggest mistake, because he tried to do too much too soon.
"I wish we would've done some incremental stuff, because it has had an impact on the overall fiscal well-being of the district," he said. "I wish we would've looked at it differently."
He also leaves during an ongoing investigation into his role in the district's employment of Jason Wright, the husband of School Board president Deanna Wright. Human resources officials recommended against allowing Wright into the Alternative Routes to Licensure program for aspiring teachers, but documents show that Skorkowsky overrode staff and directed them to allow him into the program.
While critics see favoritism behind the move, Skorkowsky defended the decision and noted that Wright still had to pass the program's course and tests before becoming a teacher.
"Here was a gentleman who had a bachelor's degree who potentially could have been a teacher," he said. "And so I think everybody deserves the chance to be able to do that."
Skorkowsky is leaving all that behind as he turns the keys over to incoming Superintendent Jesus Jara at the end of the month.
Though his post-retirement plans are still unknown, Skorkowsky said he will not be a superintendent again.
"I will not be in charge of anything ever again, no, " he said, laughing. "I'm done with that. I'm going to be a good, volunteer-type worker bee."
Contact Amelia Pak-Harvey at apak-harvey@reviewjournal.com or 702-383-4630. Follow @AmeliaPakHarvey on Twitter.