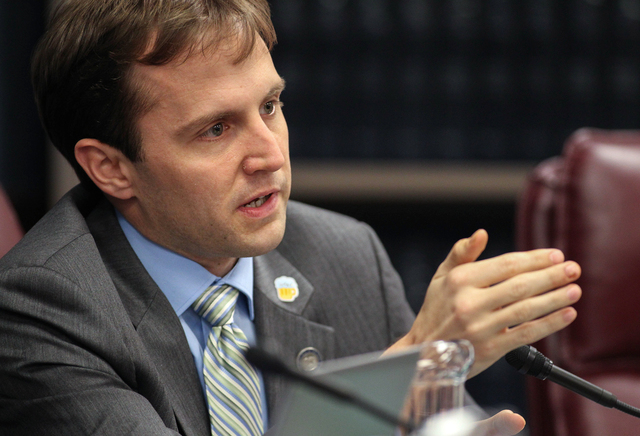 Two Democratic legislators announced plans Monday to introduce bills that would overhaul the Nevada System of Higher Education in light of emails that show the system worked to undermine the Legislature's effort to fix higher education funding in the state.
Assemblyman Elliot Anderson, D-Las Vegas, and State Senator Joyce Woodhouse, D-Henderson, have their sights set on following: Curtailing the independence the system believes the state's constitution entitles it to, boosting the Board of Regents' resources so those electeds can act as better watchdogs, taking away the chancellor's ability to hire and fire presidents, expanding whistleblower protections, creating regional advisory committees, requiring presidents to present the budgets of their institutions to both the regents and the Legislature and bringing the system under the Spending and Government Efficiency Commission.
The list of reforms follows a Review-Journal story that sparked bi-partisan outrage.
The newspaper reported earlier this month that hundreds of emails reviewed by the paper from November 2011 and September 2012 showed the system worked to control an interim legislative committee's effort to redo the state's funding formula, which had long been criticized as unfair and nearly impossible to understand.
The bombshell to many: The system presented a false document to an interim legislative committee and joked about it.
Chancellor Dan Klaich defended the system's conduct with the committee in a statement saying the emails, "reveal the intense and detailed work on my part, NSHE staff and its institutions in developing a funding formula proposal that would address, as fairly and equitably as possible, the diverse needs of the institutions and the students."
The chairman of the committee, former state Senate majority leader Steven Horsford, told the Review-Journal the emails showed a failure of the political process.
"Legislatures can't legislate, the governor can't govern, when these are the types of antics being played," Horsford said. "If this shows anything, it shows that the Legislature is not in charge. If anything they're being used as tools. That has to change."
On Friday on KNPR's "State of Nevada" Horsford said he did not understand why Klaich had not resigned.
On May 12 the Nevada Board of Regents will hold a special meeting to discuss the emails. Klaich and Board of Regents Chair Rick Trachok have said they will not comment until that time.
Contact Bethany Barnes at bbarnes@reviewjournal.com or 702-477-3861. Find her on Twitter: @betsbarnes
RELATED
Legislators call for reform of higher ed system following email revelations
Effort to mislead Nevada lawmakers over higher ed spending prompts special Regents meeting