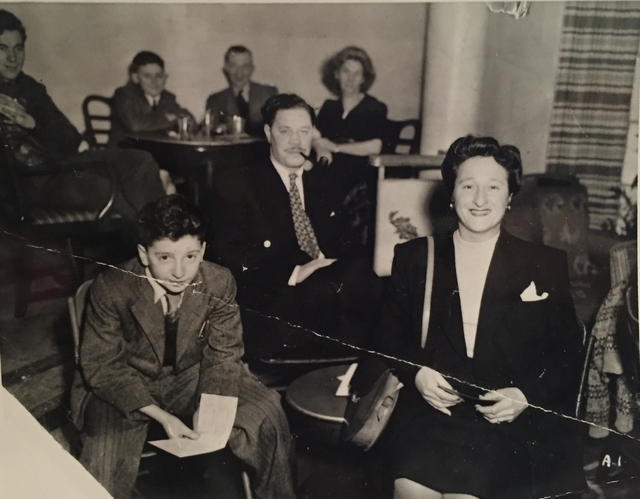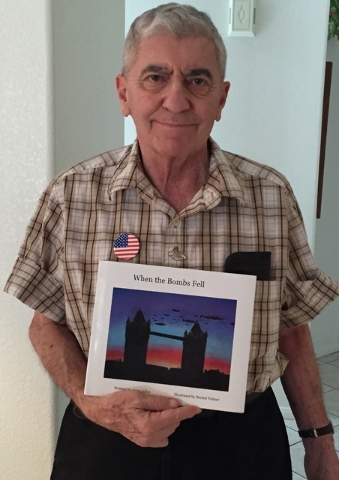 Combining his passion for reading and research with personal experiences, Henderson resident Jerry Julius is determined to keep history alive through children.
Julius printed his first children's book, "When the Bombs Fell," in time to honor the 75th anniversary of the Battle of Britain during World War II in July.
The 82-year-old uses the book as a guideline while volunteering at Silvestri Middle School and Hill and Cox elementary schools.
"I tried to make it simple enough for children to understand what a 6- or 7-year-old was going through at the time of the war," Julius said. "When I read it to children, I read the words, but I also expand on it and answer any questions they have."
Born in London in 1933, Julius lived with his mother, father, grandparents and older sister. As Adolf Hitler rose to power in Nazi Germany, he launched Operation Sea Lion in an attempt to invade England after the fall of France in May 1940.
Through a series of air raids, Hitler dropped bombs on England, marking the beginning of the Battle of Britain in July 1940.
"We lived in a part of London called Whitechapel, which is actually the east end where all the heavy damage was done by the bombing and fires," Julius said. "I was a young kid. I didn't know what was going on. I used to go up on my roof and watch the planes and dogfights. My mother almost killed me."
As invasion plans failed, Hitler turned to destroying English cities to force the British to surrender. In September 1940, more than 600 German bombers attacked London, starting the London Blitz.
"It never let up. It was like 24 straight nights of bombing in September," Julius said. "We went to the air raid shelters in the underground stations, but after a while, we stopped going because it was of no use. We decided to place our trust in the lord, and, thank God; he took care of us."
Despite the war, daily life for the Julius family continued, including going to work and school.
"There came a time when they took all the children to places out in the country where they lived until the end of the war," Julius said. "They asked my family if I wanted to be evacuated, but I refused to go."
Julius' sister married an American soldier during an air raid in August 1944 and followed him home to Chicago the following year.
"When the war finally came to an end, I told my parents I was going to America to live with my sister," Julius said. "I didn't care what they said. I was going."
After waiting three years for approval, Julius boarded the Queen Elizabeth I ship at 14 and arrived in New York in January 1948. He lived with his sister in Chicago until his parents arrived three months later.
"I went to high school with a thick British accent, and the kids made fun of me because I didn't know how to play baseball," Julius said. "Within three months, I lost my accent. I was determined to become an American."
Julius worked as a teacher and librarian for more than 50 years. He moved to Henderson in 1994 after retiring with his wife, Marsha.
"After he retired, he didn't think he would ever teach again," Marsha said. "He missed the children, so I wrote a letter to the school district out here asking if they had any teaching positions. That's why we moved here."
Although Julius said he never tried to hide his past, Marsha said she didn't know he experienced the bombings until recently.
"Even when we met in 1959, I knew he was from London, but I never knew he went through all that," she said. "It wasn't until he started working on the book that he told me and our children about it."
Julius plans to continue sharing his book with local students because he feels history is an important subject.
"I can really acquaint myself with what's happening in the Middle East with the bombing and gas," Julius said. "It's important to explain to children what war is and how civilians and children can be affected."
"When the Bombs Fell" is available online at blur.by/1LLrkHk. Prices range from $4.99 for a PDF version to $31.99 for a hardcover.
To reach Henderson View reporter Caitlyn Belcher, email cbelcher@viewnews.com or call 702-383-0403. Find her on twitter: @caitlynbelcher.