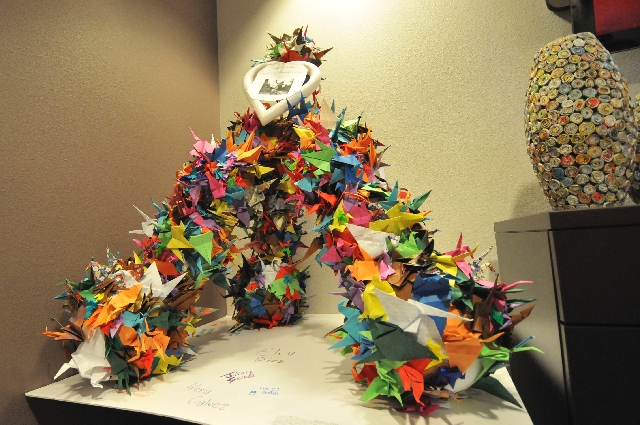 "Sadako and the Thousand Paper Cranes" by Eleanor Coerr is the true story of a Japanese girl, Sadako Sasaki, who lived in Hiroshima when the United States dropped an atomic bomb there in 1945. Because of the radiation, Sadako developed leukemia.
While in the hospital, she spent time creating origami cranes, with the goal of making 1,000. There was a Japanese legend that one who makes that many paper cranes would be granted a wish. Sadako's wish was to live.
She died in 1955 after folding 644 cranes. Her friends and family folded the remaining 356 cranes and buried them with her.
Students at Robinson Middle School, 825 Marion Drive, took the reading assignment to heart.
A class of seventh-graders folded 1,000 paper cranes, arranged them in the shape of a tripod and donated them to the Children's Hospital of Nevada at University Medical Center, 1800 W. Charleston Blvd.
"It wasn't even my idea," said Theodore Aronson, who teaches the reading and creative writing class. "I just wanted to make a few, (and) students said, 'Why don't we make 1,000?' "
Students started folding origami paper in late October, mostly at home after school. Aronson expected it would take until the end of the school year to finish, but by the first week of December, students had met their goal.
"We finished the cranes, and I didn't know what to do with them," Aronson said. "The students said to donate them to a children's hospital."
Aronson called around to different hospitals to offer the students' creation and got the first response from UMC.
Karen Gordon, a spokeswoman for UMC, said the crane sits in the hospital's family retreat room, where parents can wait or rest while critically ill children are there for extended stays.
"With the story behind the cranes, it's a source of hope and miracles," Gordon said.
She said some long-term patients like doing origami and have made cranes of their own.
Aronson said he would like for it to become a tradition for his class to donate cranes to a different children's hospital each year.
Cranes are a symbol of peace in Japanese culture. Every year on Aug.15, people visit the Hiroshima Peace Memorial Park, where there is a statue of Sadako holding a paper crane, and put their own paper cranes at the base of it.
Alejandra Almanza, a student in Aronson's class, said the book and project affected her.
"I felt sad because we don't realize how much life is worth," she said. "When someone dies, you see how much life is actually worth. I feel bad because we don't realize that and (Sadako) did.
"I thought it was a cool project because you could do the cranes for a reason. We're doing it for a person who wanted to live."
Another student, Eliu Diaz, said he hopes the cranes "give them more courage to keep living and fighting their disease."
Contact View education reporter Jeff Mosier at jmosier@viewnews.com or 702-224-5524.