Middle schools rise, elementaries dip in Nevada star ratings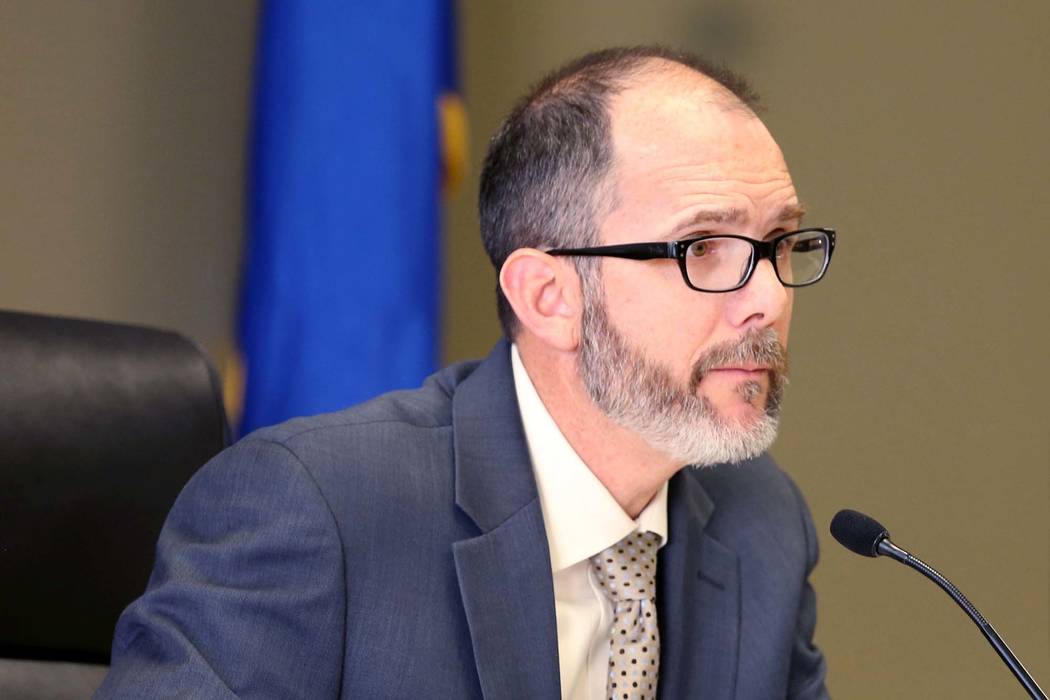 New star ratings, a quick indicator of how Nevada schools are performing, show a higher percentage of middle schools meeting standards but a decline among elementary schools.
High schools, which received star ratings for the first time in five years, performed better than either of the other groups by percentage in the ratings for the 2017-18 school year. The state released the ratings Friday.
Despite what appeared to be mixed results, Steve Canavero, the state superintendent of public instruction, said he was encouraged by the numbers, adding that in his 11 years working for the state, he has never seen such improvement in a single year.
"These (results) are massively positive, for me, confirming that we can do it," he said.
Clark County Superintendent Jesus Jara said that the district's school ratings provide a useful data point for parents and schools and that student achievement is a priority of the School Board.
"I'm here today to tell you that we all believe our team will make some great strides for our children. We know where we can start our work for academic success," he said. "In all, I think — I know — we have a lot to be proud of."
The state ranked elementary and middle schools last year for the first time in several years, a gap attributable to a testing glitch and a reworking of the performance measurements. After spending more time deliberating over the best way to rate high schools, the state has resumed rating those schools.
Schools are rated between one and five stars under the system, with five stars being the best ranking. The state uses several measures blended together to determine the ratings but places emphasis on students showing continuing improvement.
With playing a role as an understandable piece of information for the public, star ratings determine what of additional local, state and federal support schools are eligible to receive.
Star ratings
Statewide, 43.7 percent — or 190 of 435 elementary schools — in the state were performing below state standards last year, meaning they received one or two stars. That was an increase of 3.6 percentage points from the previous year.
In middle schools, 66 of 201 schools, or 32.8 percent, were below state standards. That is a decrease of less than 1 percentage point.
The state assessed 32 more elementary schools and 14 more middle schools in 2017 than in 2018, and direct numerical comparisons are not valid. At the high school level, 29 of 169 high schools, or 17.2 percent, were below standards.
A total of 127 schools statewide did not receive star ratings. Those are schools that are small and rural and can't be measured to the same standards as other schools or are schools designed to serve students with severe disabilities.
Clark County's result largely mirrored those of the state. At the elementary level, 45.5 percent — or 106 of 233 elementary schools —in the district were performing below state standards.
In Clark County middle schools, 39 percent — or 32 of 82 — were below state standards.
At the high school level, nearly 20 percent — 15 of 76 — were below standards.
The state also identified 112 "targeted support and improvement schools," as required by federal guidelines. The targeted schools have two years of data showing wide achievement gaps between their highest-performing and lowest-performing subgroups of students.
Seventy-five of the schools on the list are in Clark County. High schools were not eligible for inclusion because the designation requires two years of data.
Because of the designation, 17 schools statewide had their star ratings "capped" at 3 stars, including 12 Clark County middle schools.
Strategic improvements
There were some bright spots in Clark County's data.
In a one-year span, Guy Elementary in North Las Vegas jumped from two stars to four stars. On Friday, Clark County leaders gathered inside Debby Schmitt's kindergarten class to celebrate the school's achievements.
Principal Wendy Garrett attributed the two-star movement to two big factors: a change in culture and a focus on data.
Every teacher and every student took ownership of their data during the 2017-18 school year, and Garrett said she promoted a climate that pushed all students to achieve.
"All students, it doesn't matter who they are, can and will achieve as a result of high expectations," she said.
At the high school level, Sunrise Mountain Principal Julia Llapur also talked about a culture change. Her school earned a three-star rating from the state, but Llapur was particularly pleased with changes in the school's graduation rate.
Graduation numbers used in the state ratings lag a year behind the rest of data used in the star ratings, but they showed 92 percent of Llapur's students graduated in the 2016-17 school year.
That is a far cry the 47 percent who graduated in from 2012-13, when Llapur was an assistant principal at the school. A new principal was brought in when the school went through the school district's "turnaround" process, and Llapur became the principal in 2015-16.
Llapur said one of her big focuses is reducing absenteeism rates, and she acknowledged she has a way to go. The state data showed that 43 percent of students missed 18 or more days of school last year, compared with 28 percent of students districtwide.
On a Saturday last month, Llapur and her staff were on the march to combat that problem. They made home visits to students who already had missed a few days of school, talking to them and their families face-to-face, encouraging them to come to school.
"Our biggest struggle, I'll tell you right now, is attendance. You may think it's in our control, but it really isn't," she said. "We're really focusing our efforts on that."
Although Llapur said she's on top of her school's data and the rating wasn't a surprise, she said she was glad the state had resumed issuing them for high schools.
It helps her show those in the community who have a poor perception of the school that things are moving in the right direction.
"That's where it matters to me, that it's out in the public and that people can see that our kids are great and they're performing and they're deserving and they're just as smart as other kids," she said.
Contact Meghin Delaney at 702-383-0281 or mdelaney @reviewjournal.com. Follow @MeghinDelaney on Twitter.
Performance data points
In the two weeks leading up to the release of the star ratings, the state released various data points that factor into a school's rating.
Overall they show that Nevada's students are slowly becoming more proficient in math and English based off state standards, although student's still fall short of state-set goals to become "the fastest improving state in the nation."
In every category but one, Nevada students in third through eighth grades who took the English language arts or math exams in the spring increased their proficiency rates. The lone exception was seventh-grade English results, which slipped slightly.
Science data, however, tells a different story. In middle school, students improved overall proficiency by five percentage points, but performance on the tests declined at the elementary and high school level.
ACT scores, which the state uses in the high school rating, edged up slightly this year but still fell short of the ACT-set benchmarks.