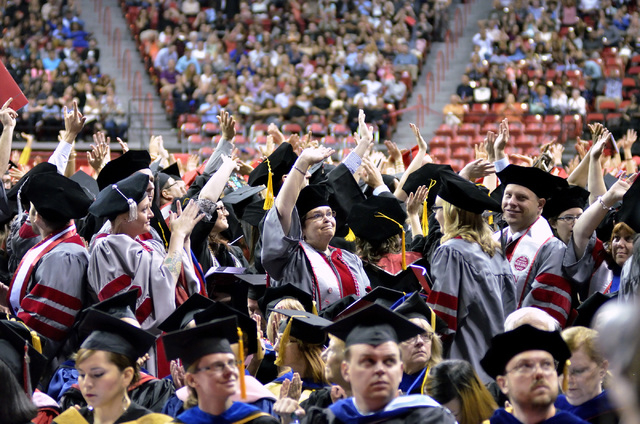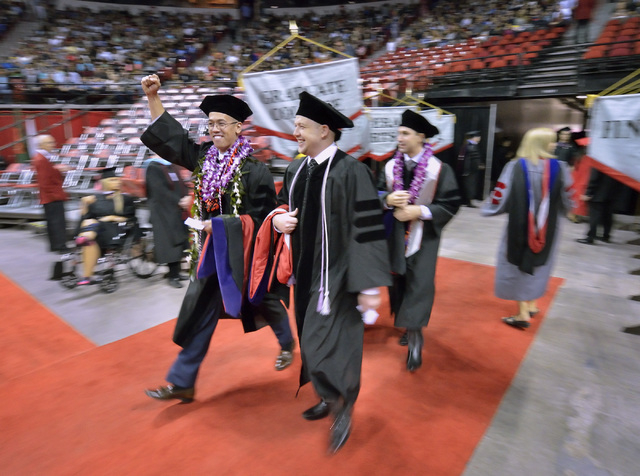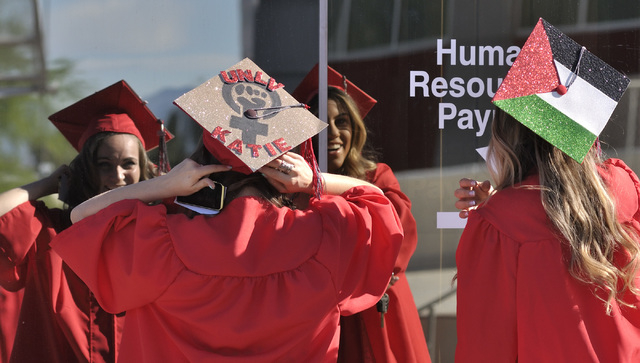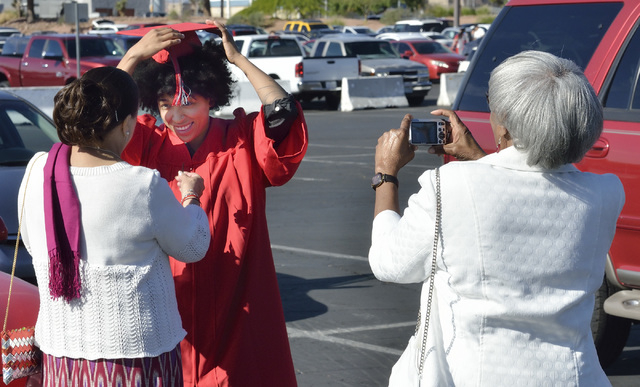 Hard work, dedication and long nights are how many UNLV graduates described their collegiate journey.
On Saturday, more than 2,700 graduate and undergraduate students graduated from the University of Nevada, Las Vegas, an increase of 15 percent from last year's commencement ceremony. The ceremonies were held at the Thomas &Mack Center.
For Las Vegas resident Astasia Lucas, graduating was special as she became the first in her family to receive a college degree.
"It means a lot and I know my family is really proud," she said of obtaining a bachelor's degree in criminal justice. "It's a huge accomplishment and I couldn't have done it without them."
Lucas, who is now moving on to the Boyd School of Law at UNLV, said she balanced online classes and working full time.
"I'm very organized and I always had a schedule," she said. "It took a lot of determination, family support and there were many long nights."
Jonevieve Wilkerson, like Lucas, knows a thing or two about balancing work and school.
The Spanish major worked full time while going to UNLV and eight years later she received her bachelor's degree.
"It's surreal," she said of graduating. "I can't believe it's over and I don't have to go home and work on anything."
She added, "It means a lot to my family. They were worried I wouldn't finish because it took so long."
Wilkerson said she's looking forward to applying for medical school and ultimately becoming a doctor.
"I've always wanted to be a doctor and I majored in Spanish so I can speak to my patients directly instead of going through a translator," she said. "I'm excited to start a new chapter and keep progressing."
The first graduation ceremony at UNLV began at 9 a.m. and included students in the graduate college, Boyd School of Law, College of Fine Arts, School of Allied Health Sciences, School of Community Health Sciences, School of Nursing, College of Liberal Arts, College of Sciences and Greenspun College of Urban Affairs.
Students of the School of Dental Medicine, Lee Business School, College of Education, Howard R. Hughes College of Engineering, William F. Harrah College of Hotel Administration and additional graduate school students received their degrees in a ceremony that began at 2 p.m.
According to UNLV spokesman Tony Allen, Saturday's graduates ranged in age from 19 to 68 and hailed from 38 states and 54 countries.
Edwin Cerna said the university's culture and diversity is one of the reasons he decided to enroll in the music program.
"I started singing in middle school and decided I wanted to make it a serious thing," he said.
As Cerna's time ended at UNLV, he said he'll be relaxing this summer before he begins the next step on his career path.
"I'm going to build up my reputation and do as many shows as I can everywhere," he said. "I want to perform on Broadway; it's been a lifelong dream."
Josette D'Espyne, who transferred from Vanguard University in Costa Mesa, Calif., to UNLV, said she had to adjust to going to school in Las Vegas.
"It was definitely hard to focus here and I was never bored," she said. "I'm trying to go into public relations and marketing so Vegas is definitely the right place."
D'Espyne added that the MGM Resorts International and AEG indoor arena, which is being built behind the New York-New York, will help her dream of becoming a publicist for an entertainment or sports team come true.
"The arena will bring more opportunities so I definitely plan on staying in Las Vegas for the next couple of years," she said. "After that, we'll see what happens."
As Stefany Guerrero was about to receive a bachelor's degree in psychology, she reflected on her time at UNLV.
"There were a lot of blood, sweat and tears," she said. "There were definitely speed bumps in the road and it was tough, but once you're on the path, you've got to keep going."
Guerrero said she's going on to the master's program at UNLV and her time as an undergraduate will serve as a life lesson for the future.
"There were times I was ready to give up but I'm proud of myself and I realized I can power through and go for the gold," she said. "Whenever I have trouble later in life. I'll look back and say, 'I did this and I can do it again.' "
Contact Ann Friedman at afriedman@reviewjournal.com or 702-380-4588. Follow @AnnFriedmanRJ on Twitter.