Nepantla helps minority, low-income students graduate at Nevada State College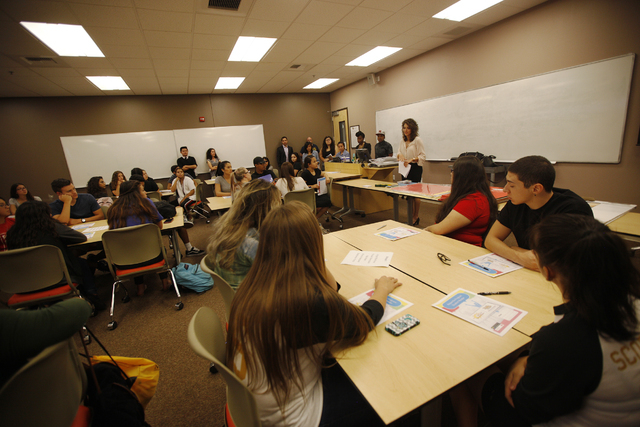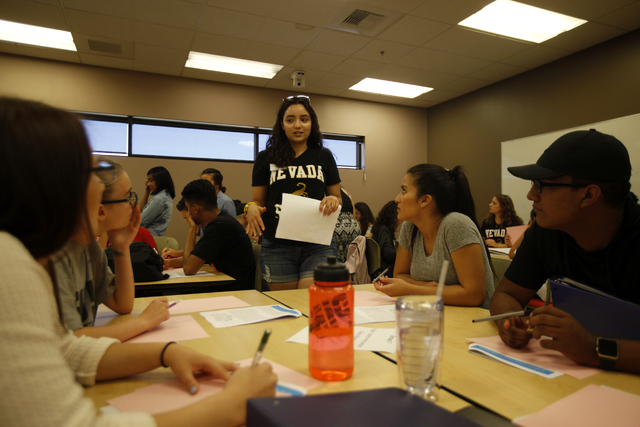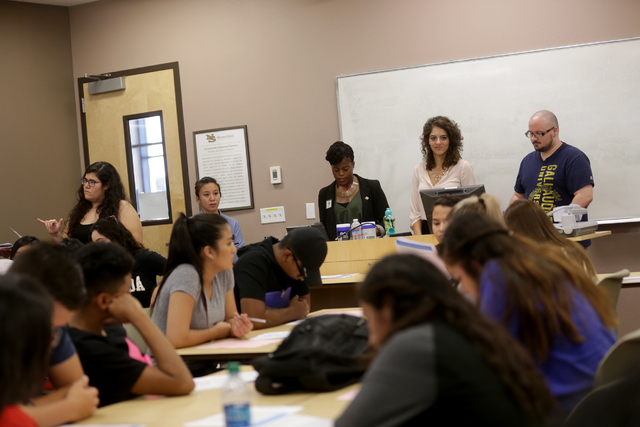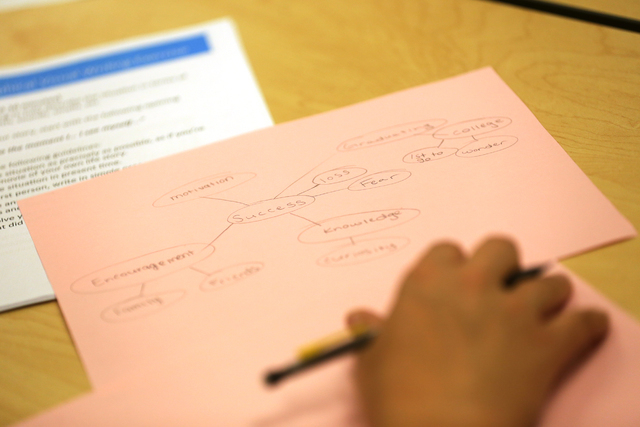 Shakyia Pope-Dorsey's family was struggling — caught in the grip of a financial recession and the looming threat of homelessness — and here she was in a comfortable Pennsylvania suburb, feeling like an outcast among fellow middle schoolers who couldn't fathom a life in poverty.
"For years, I struggled with that mindset of not having nothing, feeling like a nobody," Pope-Dorsey, 18, said as tears streamed down her chestnut skin. "I had (none of) my kind of people there, surrounded by people who are wealthy."
She was lonely. Her grades tumbled. At 12 years old, she said she contemplated suicide.
Pope-Dorsey's family eventually left Levittown, Pennsylvania, for a less expensive home in Las Vegas, where an eighth-grade teacher turned her life around. That same year, she stumbled across a college support program called Nepantla that promised to help her earn a bachelor's degree from Nevada State College, welcoming her to a network of like-minded students seeking to develop their cultural and educational identities.
The incoming NSC freshman shared her story last week with fellow Nepantla students facing their own obstacles — one classmate talked about living in the shadows as an undocumented immigrant, while another shared his battle with anxiety.
I FEEL PROUD OF MYSELF
Nepantla, named after an Aztec word representing a state of transition, was created in 2013 by two NSC professors: Nicholas Natividad, who taught criminal justice at the college until last year; and Leila Pazargadi, who teaches English classes and oversees incoming Nepantla freshmen.
"Looking back at that moment in life, I feel proud of myself," Pope-Dorsey told classmates as she reminisced over her junior high years. "I am someone, and I can make it in life."
Administrators laud the growing program for its high retention and grade point average rates. All 30 students who began the program in 2015 returned from the fall semester to enroll at NSC in the spring. By comparison, 79 percent of non-Nepantla NSC students enrolled again during that same period. The four-year program primarily helps minority and low-income students; about 83 percent of Nepantla's students are Hispanic, while 63 percent are the first in their families to go to college.
"We've gotten a lot of attention because so many institutions and so many universities across the country are trying to have a demonstrable impact on first-gen, underrepresented students," Provost Erika Beck said. "This is compelling."
The program has ballooned since inception — 23 students formed the inaugural 2013 class and 40 have joined this year. Fifty more are expected in 2017. This summer, it also welcomed its first full-time director, Leilani Carreño, as administrators seek to expand the program's scope with a boost in private funding and partnerships with local high schools and nonprofit groups.
"You know, 40 students doesn't seem like a lot, but for an institution like Nevada State, that's 20 percent of our incoming freshman class," Carreño said. "If we can manage to retain this 20 percent and really make them strong students and empower them, that ripple effect goes on when they're in their individual classes."
CHANGING LIVES
Because Nepantla helps mostly poor students of color who are the first in their family to attend college, supporters say it reinforces NSC's mission of giving the region's underserved student populations access to bachelor's degrees. Nearly half of all NSC students are first-generation, nontraditional college students.
The program guides students from their first summer out of college through their fourth year at NSC, helping them along the way with mentors and scholarships ranging between $500 and $3,000. The program awards money to undocumented students who often struggle to pay for college because they are ineligible for federal aid. And it offers stipends for public bus transportation and other basic needs.
"We wouldn't be able to do it if not for the generosity of our donors," Beck said, noting that the expensive program is funded largely through private donations totaling roughly $200,000 per year. Its biggest financial backers are The Rogers Foundation, the Elaine P. Wynn & Family Foundation and Las Vegas tech giant Switch.
School leaders say the program is effective not only because of the large philanthropic contributions and generous scholarships, but also because it's so immersing for participants.
Program coordinators and Nepantla participants from earlier years hold regular group activities throughout students' four-year stay at NSC, bonding through shared experiences. The program's first graduating class will finish next spring.
Pope-Dorsey's class, which began taking math and English courses this summer at no charge, will graduate in 2020. Last week's exercise was the second time the 2016 class met to interact as a group.
"The Nepantla program is incredible," said Glenn Christenson, chairman of the Nevada State College Foundation — one of many supporters who tout Nepantla as one of NSC's most effective student support initiatives. "It's very creative, and it's changing lives."
Contact Ana Ley at aley@reviewjournal.com or 702-224-5512. Find her on Twitter @la__ley