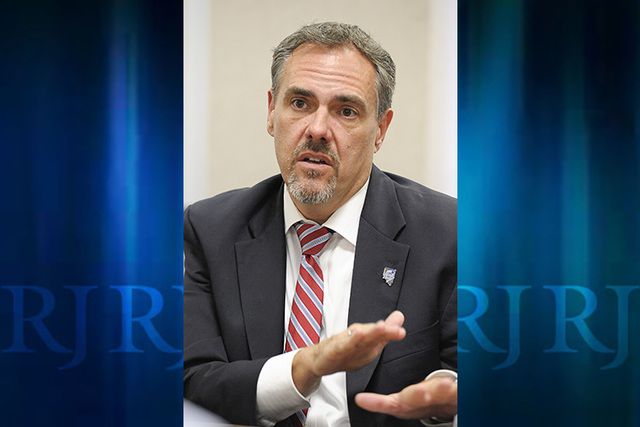 Nevada public schools have at last risen above the lowest-performing states, according to a national report on ACT scores that also puts Nevada's 2014 class above the national average.
But the accolades come with a caveat included in the ACT report.
Nevada high school seniors may have averaged a 21.2 composite score out of 36 points possible — calculated by combining the English, math, reading and science portions of the ACT — coming in slightly higher than the national average of 21.0.
However, few Nevada high school students took the college-bound test, not providing a true representation of whether teachers are preparing students for college, said Seth Rau, policy director for Nevada Succeeds, a bipartisan nonprofit advocating for improvements to Silver State schools.
Even more important is the fact that Nevada's near worst scores came from those planning to become teachers themselves, scoring higher than only students majoring in athletic training, criminology, medical assisting and hospital/facilities administration.
"I find that part to be very alarming," said Rau, noting how only a quarter of education majors scored high enough in math or science to meet the benchmarks deeming them ready for college. Only 15 percent of planned education majors met these benchmarks on all four portions of the ACT.
The state's participation rate showed only 36 percent of Nevada's 2014 high school graduates even took the ACT. In reality, that is about 25 percent of the entire 2014 class, including those who didn't earn diplomas. The state has not released the official graduation rate for 2014.
Higher scores are to be expected with such a small percentage of the most advanced students taking the ACT, Rau said.
After all, Maine posted the highest average composite score of 23.6 on the ACT, but it also had the lowest participation rate of 9 percent. The 12 states making all seniors take the ACT posted the lowest average scores, ranging from 18.9 in North Carolina to 20.8 in Utah. The other full-participation states were Colorado, Illinois, Kentucky, Louisiana, Michigan, Mississippi, Montana, North Dakota, Tennessee and Wyoming.
Starting in the 2014-15 school year, Nevada lawmakers have said all high school juniors must take the ACT, a requirement that will also be started in Arkansas, Minnesota, Mississippi, Missouri and Wisconsin.
"Our composite scores are going to drop," said Rau, noting that 4,000 more students currently take the SAT than the ACT.
Nevada students won't have to attain a certain ACT score to graduate, as required with the state's four exit exams. However, the state's ACT report will show a 100 percent participation rate in two years, providing truer data on whether students are graduating "college and career ready," as was the intention of the requirement.
"It has become increasingly important for us to pay attention to these national tests," said State Superintendent of Public Instruction Dale Erquiaga on Thursday, prepping state officials for ACT results.
Allison Serafin, vice president of the Nevada State Board of Education, agreed that the composite score will likely drop in two years. But the ACT will serve a valuable purpose, showing all students if they're prepared for college, surprising some who never planned to take the ACT or go to college, she said.
When Colorado and Illinois schools started requiring the ACT, they respectively found that 13 and 18 percent of students who hadn't planned to attend college at the time of the ACT ended up enrolling in college.
"You may earn a score allowing you to change your mind," said Serafin, adding that it's "exciting our students will have exam results giving them currency for a college education."
Contact Trevon Milliard at tmilliard@reviewjournal.com or 702-383-0279. Find him on Twitter: @TrevonMilliard.