Nurse residency program hones skills
November 28, 2010 - 12:00 am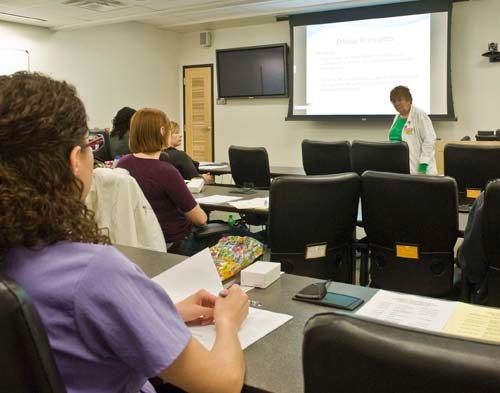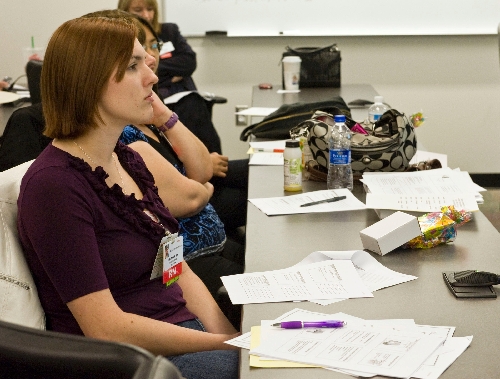 Out of nursing school for just a few months, 24-year-old Elizabeth Martinez already realizes how easy it would be to burn out.
Or to make a mistake that can mean the difference between life and death.
"There's so much to keep track of," the registered nurse at Valley Hospital said last week following a nurse residency training session. "It's a lot different than school. There's a lot more stress."
On this day in the Clinical Simulation Center of Las Vegas off Shadow Lane and West Charleston Boulevard, Martinez and other nurses new to their profession heard from 72-year-old Ellie Powell, who has been there and done that as a registered nurse, particularly in her chosen field of helping people work through end-of-life situations for their loved ones.
Powell always lets young nurses know that they can cry with a family who is losing a relative and still be professional.
"It's so important when you're first starting out that we have people with experience to talk with, that you feel you have people backing you up," Martinez said.
She noted that college nursing students are always supervised while working at a hospital, and also have far fewer patients under their care.
"I'm really happy that the nurse residency program is around," she said. "Sometimes you just need confirmation that you are doing the right thing."
With nurses and hospitals around the country complaining that nursing schools do not adequately prepare students for the real world of nursing — as many as 40 percent were quitting hospital nursing jobs in their first year — nurse residency programs first began in parts of the nation about six years ago to fill the gap between school and practice.
Southern Nevada first saw these programs, which address everything from correct administration of medication to how to deal with doctors, three years ago at the Desert Springs and Valley hospitals. Now the three other hospitals within the Valley Health System — Centennial, Spring Valley and Summerlin — are included.
The retention rate for first-year nurses jumped — to 80 percent the first year, 90 percent in the second year and 100 percent in the third. There are 35 nurses in Valley Health's program this year.
St. Rose Dominican Hospitals now have their own program, and the Sunrise Health System and University Medical Center are nearing implementation of nursing residencies.
Akin to physician residency programs, the intent of a nursing residency is to continue education, mentoring and support to enable novices to become competent practitioners.
For the first year at a hospital, the nurse has a close connection with an experienced nurse or mentor who often taught them for the first three months on the job. The nurse is encouraged to ask questions not only of that nurse, but of other experienced nurses as well.
Nursing residency programs are much more involved than what has long happened in hospital orientations and preceptorships, which are generally two to three months in which an experienced nurse works with a new graduate to hone skills. Typically, the yearlong residency curriculum includes ongoing clinical education, development of critical thinking skills and social networking.
Martinez and two colleagues, Graciela Borquez, 24, and Brianna Robinson, 25, say that time spent with other new nurses is invaluable, allowing them an outlet to decompress and share experiences, often finding that others are in the same stress-filled boat.
Debra Scott, a registered nurse and executive director of the Nevada State Board of Nursing, believes residency programs can only add to the expertise and confidence of new nurses.
"It's scary when you first start practicing," she said, noting that few jobs have as much responsibility early in a career.
A recent government study found that one in seven hospitalized Medicare beneficiaries is harmed as a result of problems with medical care, with un­expected adverse events contributing to as many as 180,000 patient deaths a year.
Nurses can be seen as a very real part of the frightening equation.
The report from the Office of the Inspector General for the Department of Health and Human Services did not break down who at the hospitals was guilty of the mistakes.
Nancy Foster, an American Hospital Association official, said hospitals, doctors and nurses must do a better job.
Kathleen Murphy Jones, a former registered nurse turned Las Vegas attorney, said nurses have far more chances to make mistakes, because "they are much more involved in patient care." Often, she said, they can be the last safeguard against errors.
Jones recalled an incident in 2008 when a premature infant died at Summerlin Hospital after a pharmacist entered the wrong amount of zinc on the order for care. After a pharmacy technician filled the order, two Neonatal Intensive Care Unit nurses responsible for the child's care did not notice that the nutrition bag they hung for the baby contained 1,000 times more zinc than prescribed by her neonatologist.
In the punishment handed out to members of the staff, the nurses received a public reprimand and had to complete 30 hours of an online course on legal ethics and the Nevada Nurse Practice Act.
At the public portion of a Nevada State Board of Nursing hearing, Kathleen Shinn, mother of the deceased infant and a registered nurse herself, said: "The nurses assumed the pharmacists had done their jobs. Our health care industry is full of assumptions."
To help keep nurses from making mistakes on the job, University of Nevada, Las Vegas nursing professor Susan Kowalski got a grant three years ago from the nation's Health Resources and Services Administration that resulted in the nurse residency program beginning at Valley and Desert Springs hospitals.
Far too many nurses were leaving in their first year at a hospital. The estimated cost to replace one nurse is $88,000, according to hospital industry officials.
"A lot of it was stress," Kowalski said, adding that nursing is a job that has become far more specialized and much different than the textbook. "There just wasn't enough clinical training. Mentors are important."
To that end, mentors for new nurses help them learn to use time efficiently even as they are helping them accurately report vital signs or to prevent infections.
Thomas Castellano, coordinator for the nurse residency program for the Valley Health System, said new nurses have a mentor through their entire first year. They are encouraged to talk with them frequently, to form bonds with other nurses.
"Nursing is not an individual activity," he said. "In a crisis, it is people who are going to help you."
During their college careers, nursing students seldom end up with more than three patients at a time, and always with supervision, Castellano said.
After being on the job for three months, they generally will end up being responsible for around six patients by themselves, he said.
"It's a big jump, but we're doing all we can to make them comfortable," he said before nurse Ellie Powell had her session with nurse residents.
An experienced nurse, he said, can readily identify symptoms that a new nurse might not.
In other training sessions, problem solving may be dealt with, say, in caring for heart attack patients.
"We'll discuss an actual case — what was wrong, what was right and what could have been done better," Castellano said.
There is no question that new nurses appreciate the program.
In August, the Review-Journal visited Desert Springs Hospital and spoke with Karen Roper, who was caring for Rafael Rayes.
"It's something all new nurses need," she said.
Nurse Kelly Garza, who mentors Martinez, said it is imperative for new nurses to understand the value of teamwork.
"I won't always be at a new nurse's side after 12 weeks," she said. "But they know from our time with them that they can call us or, even more importantly, ask others for help. Teamwork saves lives."
Contact reporter Paul Harasim at
pharasim@reviewjournal. com or 702-387-2908.