Nutrition education to bloom in Coronado garden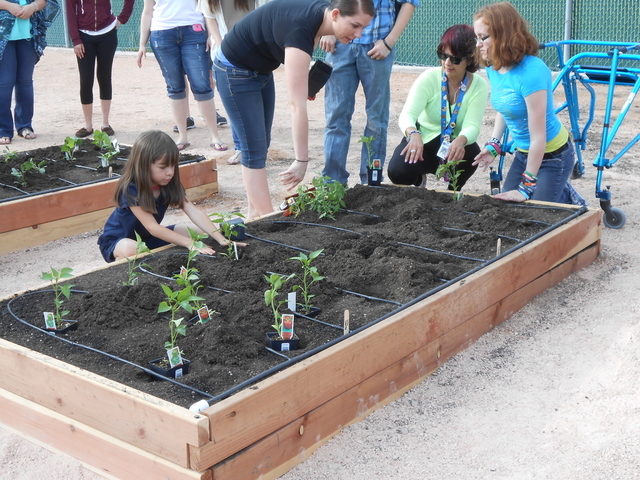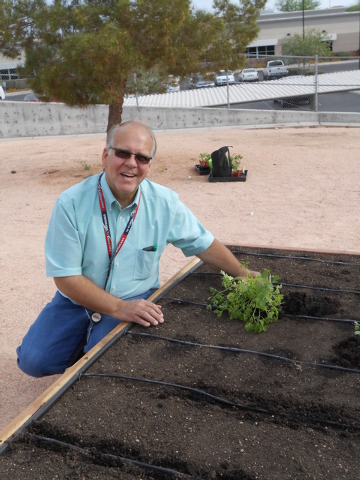 In hopes of planting knowledge about healthy eating and teaching students in the special education department about agriculture and horticulture, Gary Manning started a gardening program last month at Coronado High School.
"It gives the kids an opportunity to work, to learn skills, to learn to follow direction and really follow through on things," said Manning, an instructor in Coronado's special education program.
Manning hosted a ribbon cutting for the garden April 22 at the 1001 Coronado Center Drive school.
"It's in honor of Earth Day," he said.
Manning's special education students started the garden project last fall as a result of lessons in nutrition.
"In my classes, we have kids who love to eat," he said. "We wanted to introduce them to healthy eating."
The class covered everything from good nutrition to looking into how plants grow, planting seeds and the benefits of community gardens.
Jean Linnell, the chair of the school's special education department, said the concept of the class is important.
"I think it's important for our kids to understand good nutrition," she said. "So many kids don't get good nutrition nowadays."
Manning started taking students to weekly trips to a farmers market on Fridays.
The more he expanded his lessons, the more he thought about how he could teach students firsthand about planting.
"They only missing component we had was the garden," he said.
Putting the project together has been a learning experience. Manning and the school have sought help from gardeners around town.
It's not the first garden in the community, Manning said.
"J.T. McWilliams Elementary installed one last spring," he added.
The garden at Coronado includes six beds, in which students plan to plant with various vegetables such as beets and peas.
"We will be planting a lot later than we hoped for," Manning said. "The plan is to hit it again hard in the fall."
Manning plans to plant carrots, melons, squash, strawberries, kale, lettuce, beans, peppers, tomatoes and spinach in the future.
He would love to add fruit trees to the area.
Manning said there is more space available to expand the garden when funding is available.
Hoping to expand the program, Manning put on a fundraising campaign in an effort to raise $13,000 for the garden.
Manning's goal is to have a garden with all Coronado students involved working side by side.
He said the garden is also a good way for some of his students to prepare for potential careers in agriculture or horticulture.
For more information, visit coronadocougars.net.
Contact Henderson View reporter Michael Lyle at mlyle@viewnews.com or 702-387-5201.